It's common knowledge that our oceans have a plastics problem, in the form of water and soda bottles, drinking straws, single-use plastic bags and the like. But not as well known—and perhaps the most egregious ocean pollutant—are discarded plastic commercial fishing nets lurking just below the water's surface, destroying marine life.
Tackling that problem are Lehigh alumni Kevin Ahearn '07 (above, left) and David Stover '07, who met as first-years in the mechanical engineering program. Along with their partner and friend, Ben Knepper, they turned their passion for sustainability and love of surfing and oceans into a workable business model that is helping to remedy a major environmental hazard.
The three came together in 2011 after traveling extensively post-graduation and witnessing firsthand the impact of plastic pollution on the oceans. The company they formed, Bureo (which translates to "the waves" in the Chilean language Mapudungun), gathered discarded nets from the coast of Chile and turned them into a usable product—the Minnow skateboard, launched in 2014.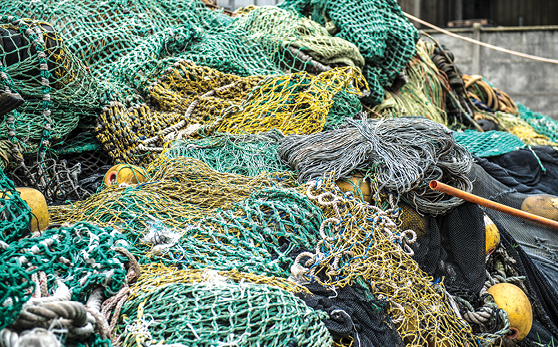 Bureo's focus at the outset was creating, manufacturing, selling and supporting a full line of products made from the recycled nets. As they grew the business, however, "we quickly realized the scale of the problem of fishnet pollution was much greater than we could solve as a small startup brand," Stover says.
With that, Bureo pivoted its model to a business-to-business approach—with the intent to be a supplier of "100% recycled fishnet, 100% traceable raw material for like-minded brands to incorporate into their already existing, robust supply chains. This allowed us to rapidly scale our impact on the ground, yet remain true to our mission of preventing end-of-life fishing nets from winding up in the ocean," Ahearn says.
Today, more than 2.6 million pounds of ocean-clogging nets collected from the South American coastline have been cleaned, sorted, shredded and processed into tiny pellets at Bureo's South American headquarters in Concepción, Chile. Besides skateboards, Bureo's pellets are turned into ergonomic task chairs, surf fins, water bottle cages for bicycles, sunglasses, and even Frisbees and Jenga games. Bureo has also partnered with Patagonia to make brim stiffeners and textiles for hats.
"Our future holds a tremendous opportunity for bettering the lives of populations around the world. It's up to all of us to embrace that opportunity."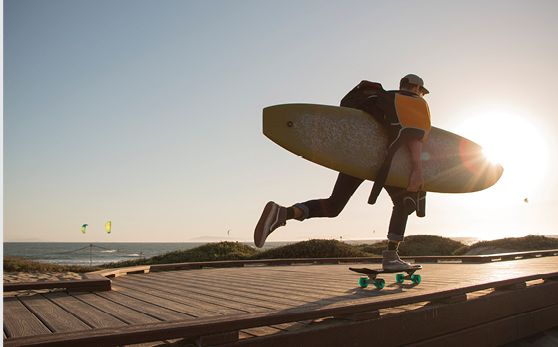 Bureo currently works with 56 fisheries throughout South America, collecting nets along the coastlines of Chile, Peru and Argentina. The company hopes to expand soon to collect nets throughout South America and, eventually, in North America as well.
While to most companies sustainability means green products or environmentally friendly business, Stover says that, for Bureo, "that's just a baseline. We didn't want to make a onetime impact and then walk away. We set out to make a lasting difference that we could scale and replicate—to create a truly sustaining business model that benefits our planet."
"Our future holds a tremendous opportunity for bettering the lives of populations around the world. It's up to all of us to embrace that opportunity!"