Websites with a lehigh.edu subdomain benefit from distinct advantages:
Search engine priority - Lehigh office, department or center websites that are part of the lehigh.edu subdomain (e.g., studentaffairs.lehigh.edu) are automatically indexed by Lehigh's Google search engine. As a result, these websites receive a higher search rank and can be immediately found by anyone. If you've worked hard to create an engaging and informative web page and spent time applying the proper Search Engine Optimization techniques, your information deserves to be found easily by the Lehigh community and external audiences important to Lehigh.
Trust and Domain Authority - Reciprocal links between Lehigh office, department or center websites that are part of the lehigh.edu subdomain help to build visibility and establish trust and domain authority.
Free, reliable domain name management - Establishing a unique and appropriate domain name for a Lehigh site is free of cost and responsibility for the web page manager. The process is reliably and indefinitely managed by Library & Technology Services (LTS). This means there's no need to pay an outside company to register, host and manage a domain for your website, and it will be available as long as you need it.
Secure hosting and convenient content management - Lehigh office, department or center websites that are hosted at lehigh.edu publish and maintain websites using Lehigh's Drupal Content Management System. These websites also benefit from secure web hosting and access administration, site management and support, backup, and site analysis (usage statistics). In addition, the institutional web architecture is constantly refined to meet the evolving needs of the academic and outreach missions of the university.
Access to official design templates - University Communications and Public Affairs (UCPA) provides offices, departments and centers with preformatted page-building templates that include documentation, and general consulting. The official web templates are standards-compliant, conform to Lehigh's Branding & Visual Identity Guide, comply with federal section 508 accessibility guidelines and utilize responsive web design techniques to allow pages viewed in a web browser to automatically adapt to fit the screen of a tablet, smartphone or desktop computer concurrently.
Why a .COM extension can be the wrong choice for a website:
Potential misrepresentation of Lehigh's academic mission - The ".COM" top-level domain (TLD) or extension is intended to be used primarily by commercial businesses, and not higher education. When .COM appears in the domain name for a Lehigh office, department or center website, it can inadvertently foster the wrong impression.
Ongoing registration and other fees - Unique domain names are registered and hosted by a commercial registrar for a recurring annual fee. Website managers and other individuals who choose to register a .COM top-level domain (TLD) or other extension to represent a Lehigh office, department or center website take on the individual burden and additional ongoing cost to the university for sustaining the domain registration indefinitely. Securing these websites from malicious intrusions may also require the purchase of SSL (Secure Socket Layer) certificates, which carry additional implications and costs.
Potential threat to reputation - Often, the registered .COM top-level domain name must be managed indefinitely even if the Lehigh office, department or center website it was established for no longer needs it. This is known as defensive registration and is necessary to defend against cybersquatting. Allowing a domain name registration to lapse can put the University's reputation at risk.
Extra work and additional risks to manage - Offices, departments and centers that self-publish content on behalf of the university to websites not hosted at lehigh.edu bear individual responsibility for ongoing site management, site security, website accessibility and site backup.
What is a subdomain and how does it work?
When a domain name (ex., lehigh.edu) is typed into a browser, a Domain Name Service (DNS) translates the name into its corresponding IP address and displays a web page as a result. To make all of this work, unique domain names are managed  by a commercial domain name registrar for a recurring annual fee.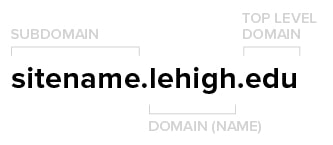 A subdomain is a subset of a registered domain name. Subdomains are most commonly used to divide websites into distinct sections that have unique web addresses. For example, "studentaffairs.lehigh.edu" is a subdomain of the "lehigh.edu" domain. Also in this example, the ".edu" portion is known as the top-level domain (TLD), and is frequently called the extension.
How do I request a lehigh.edu subdomain?
Determining the proper subdomain is part of the general consulting process that takes place when a request for a website is initiated. A Lehigh office, department or center that is interested in hosting and maintaining a website at lehigh.edu should begin the conversation by submitting a work order.