Amelia Galgon's painting of the late Sterling Ashby '92, a cofounder of the Umoja House, shows him clad in a yellow button-up against a blue-and-yellow backdrop. Using vivid shades of those colors, Galgon aimed to show Ashby as a symbol of change in the Lehigh community and to cultivate a sense of hopefulness among those who view the painting.
On the 30th anniversary of the Umoja House founding, Galgon '17 was commissioned to paint Ashby's portrait. The painting was unveiled in November at one of the celebratory events.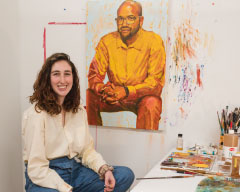 Galgon said she typically paints portraits of friends and family—people with whom she has relationships. When she was asked to paint a portrait of Ashby, she knew she faced a challenge. (He died in November 2017.) She was able to craft his portrait, however, through narratives and descriptions provided by those who had known him.
Henry Odi '98G, deputy vice president for equity and community, described Ashby to her as determined, a strategic thinker and change agent. Others mentioned his thoughtfulness.
The narratives were key in Galgon's process.
"My goal with painting his portrait had less to do with my interpretation of who he was as a person but more about representing how all the people in his life saw him," Galgon said.
What stood out, she said, was that Ashby was rarely in photos by himself. "He didn't seem like a very vain person," she said. "It told me a lot about him that he was always surrounded by friends and family in all the images that I saw of him."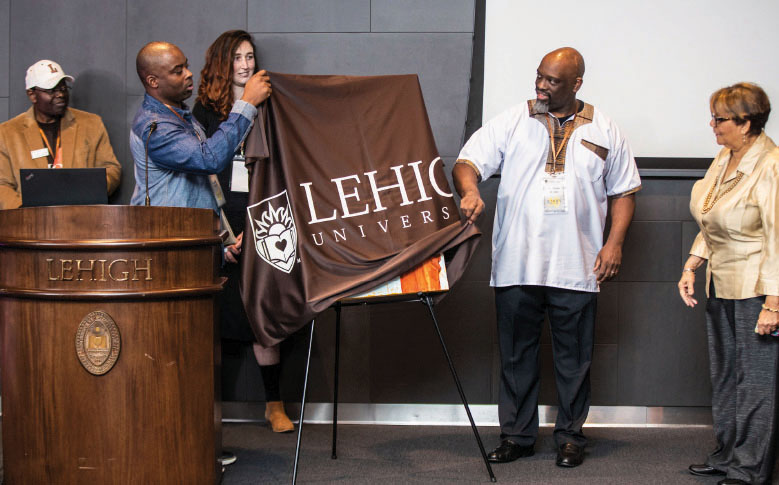 Galgon began painting the portrait in early October 2019. She said she typically uses bright colors to capture people's personality and energy. To represent Ashby's energy, she considered how people react psychologically to colors. Galgon said the yellow symbolizes hope, while the blue is intended to evoke an emotional and calming response.
"I thought that to have these two colors together would be a part of [Ashby's] legacy on campus," Galgon said. "To me, not having too many colors allows for a more direct connection with people who are viewing the portrait."
Dahlia Hylton, former director of the Office of Multicultural Affairs at Lehigh and a chair of the anniversary event, spoke about the importance of honoring Ashby. To work toward a better future for Lehigh students, she said, the community must remember and honor the past.
Galgon hopes that those who view the painting will feel a sense of empowerment.
"I think what Sterling Ashby represents is the power and the voice that the Lehigh students have," she said. "People can interpret the painting as they will, but what I can hope is that people who see the painting, specifically students of color or minorities, can feel like they have a voice on Lehigh's campus and feel like they can create change."—Kelley Barrett '20