1977 Win and Playoff Qualification
In his senior year (1977), Rieker said the team "really needed to lay a beating on Lafayette." A more impressive win would aid Lehigh in the college football polls and rank the school among the nation's legitimate championship contenders.
Rieker explained that the team was hoping to earn a spot in the Division II National Playoffs. He said that only eight teams were chosen at the time, and to stand out, a team had to be in the "top two" in their area. According to Rieker, Lehigh was among the top three or four teams in the northeast.
They needed a win against Lafayette.
Lehigh struggled in the beginning of the game. At halftime, they were losing to Lafayette 10-7.
There was still time for Lehigh to turn things around, though.
"Coach basically cut us loose in the second half and we threw the ball all over the place," Rieker said. "We ended up beating them by a pretty good margin."
According to Lehigh Sports, "Quarterback Mike Rieker '78 and receiver Steve Kreider '79 hooked up for the go-ahead 14-yard touchdown in the third quarter, with Rieker tossing two more touchdowns in the fourth quarter on the way to earning game MVP honors."
Lehigh walked off the field with a 35-17 win.
Rieker said that beating Lafayette "opened the eyes of the pollsters." After a 9-2 regular season, Lehigh was given a wild card invitation to the Division II playoffs and went on to win the Division II National Championship.
1993 Patriot League Championship
For Haynes, few moments in his football career topped his senior-year win over Lafayette. Lehigh won the 1993 game 39-14, securing a victory and Patriot League Championship in one fell swoop.
"That was huge," he said.
What stands out to Haynes isn't just the experience of winning, but the support he felt from fans and friends.
Before the game started, Haynes said he and co-captain Dave Cecchini '95 encountered some of his friends while walking onto the field.
"I hear someone yelling, 'Yo Haynes! Yo Haynes!'" he said. "Three of my friends from high school had gotten sideline passes. Let's just say they had had way too many adult beverages. Cecchini looks at me and is like, 'Who is that?' And I said, 'My boys.'"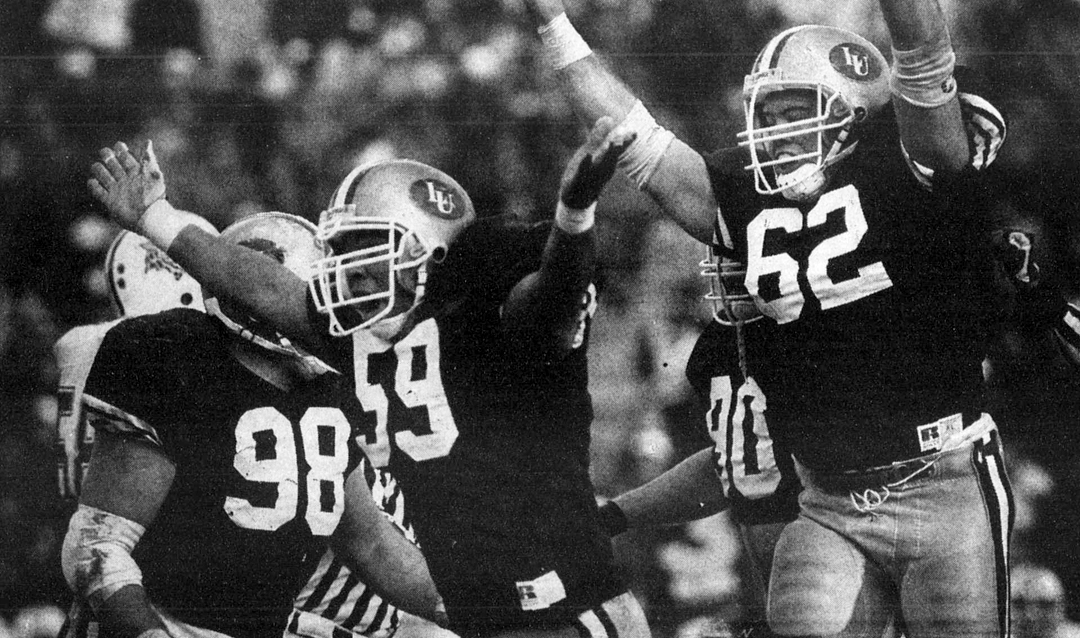 Haynes couldn't help but smile as he told the story. He said that his friends had "perfect timing," because he was so amped up for the game. That little break made him settle down and laugh.
It seems this was a good thing. That afternoon marked the first of Lehigh's 12 Patriot League Championships.
1995 Overtime Win
In the 1995 rivalry game, with the Patriot League Championship at stake, Lehigh and Lafayette were forced into double overtime. Lehigh had come from behind to tie the game after starting the fourth quarter down 30-14.
Sterrett referred to the game as one of his fondest football memories. He said that had the game not ended when it did, it might have finished as a tie because there are no lights at Lehigh's Goodman Stadium.
"We had played until it was almost too dark to see," he said.
Discover Lehigh Valley stated that the scoreboard lights were brightened as much as possible in order to provide light for the players. Under the glow of the scoreboard, Bob Aylsworth '96, completed a game-winning pass to Brian Klingerman '96, which has become known as "The Catch."
The dramatic 37-30 double overtime victory sealed Lehigh's second Patriot League Championship.
150th Meeting in Yankee Stadium
In celebration of the 150th rivalry game, Lehigh played Lafayette in New York's Yankee Stadium in 2014. A sellout crowd of 48,256 saw the Mountain Hawks lose to the Leopards 27-7.
Win or lose, however, Sterrett is proud of The Rivalry.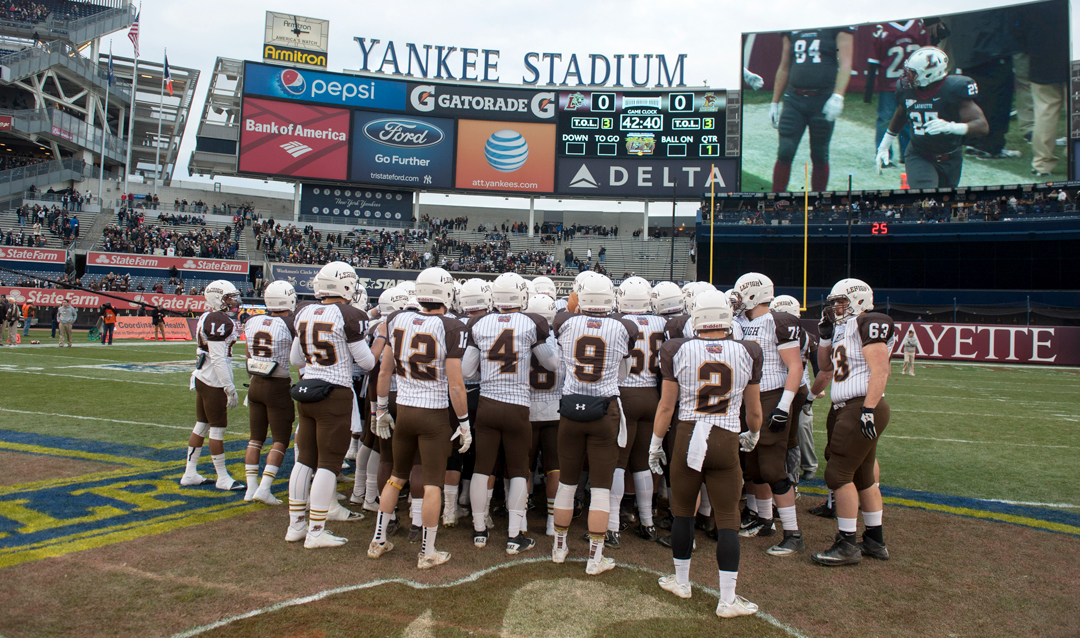 "As intense as the competition may be, the athletes respect each other," he said. "You're competing against people who are doing real school work and that are going to have careers as leaders in their chosen fields. There's a lot of honor in that. Some of the best athletes at Lehigh and Lafayette play their best under those circumstances."