Learning to fly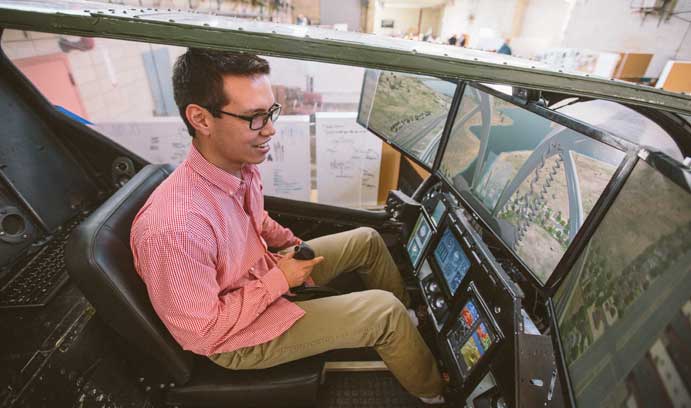 Kyle Lum '15 tries out the helicopter flight simulator built by six students in Lehigh's Integrated Business and Engineering Honors Program (IBE)
Before you attempt to build a first-rate helicopter flight simulator, it helps to know how it feels to fly a real one. Six students in Lehigh's Integrated Business and Engineering Honors Program (IBE) recently did both.
Real-world experiences—though perhaps not always as intense—lie at the heart of IBE, which seeks to prepare students for today's corporate world. Offered jointly by the P.C. Rossin College of Engineering and Applied Science and the College of Business and Economics, IBE integrates courses in business and engineering with additional requirements in mathematics, science, English, humanities and foreign language. The program offers a bachelor of science in integrated business and engineering.
A highlight of IBE is its two-semester, six-credit capstone design course, in which teams of students work with faculty mentors on the marketing, financial and economic planning, and technical and economic feasibility of new product concepts. The capstone projects provide students with challenging and memorable real-world experiences—including, in this case, literally taking flight.
Targeting the problem
During the first semester of their junior year, IBE students attend a capstone kickoff event that one student likens to corporate speed dating. After the capstone course's corporate sponsors pitch open-ended projects for student development, students ask questions, consider their options, and list their preferences.
In the fall of 2013, Marty Melochick '15, Brandyn Bok '15, Tim Moulton '15, Durlav Mudbhari '15, Emily Jiang '15, and Sheron Tang '16 were assigned to a project sponsored by the American Helicopter Museum and the Boeing Co. Their task: to build the museum's new flight simulator and create a business plan for it.
The American Helicopter Museum is located in West Chester, Pa., the birthplace of rotary flight. The museum was not operating its existing simulator, which was outdated and not user-friendly. Museum representatives wanted an appealing attraction and a business plan that would draw more visitors to the museum.
In February 2014, the IBE team visited the museum to meet with representatives from the museum and from Boeing, which provided funding for the IBE team. Together they discussed how they might develop a sustainable simulator within one year.
"This project seemed very free," says Moulton. "Some other projects had a directive already, and when we talked to the Boeing group, it seemed like they were really letting us take control of the project."
"It's really unlike any other project that I've ever heard of students being able to do," says Tang.
Mudbhari agrees. "With most projects you build prototypes. With this project we built a product that's actually going to be used in the museum, so that's exciting."
American Helicopter Museum co-founder Robert Beggs served as the Boeing executive focal point for Lehigh.
"The project was a challenging exercise in system and software integration in addition to developing a marketing and promotion strategy for the simulator," says Beggs, who retired from Boeing in July 2014. "The Lehigh IBE program, with its dual engineering and business focus, was uniquely suited to such a challenge."
The IBE team conducted market research to determine requirements for the new simulator. They observed customers and participated in activities at the Crayola Experience in Easton and the DaVinci Science Center in Allentown. They also visited local arcades and experienced flight simulators at venues such as the Franklin Institute in Philadelphia and the National Air and Space Museum in Washington, D.C.
Noting how visitors responded positively to hands-on and interactive activities, the team decided that their simulator would be highly accessible, intuitive, realistic and appealing to the general public. They spoke to museum employees to get a sense of different customer types and developed for the simulator three experience levels: beginner, which would appeal to children; intermediate, for teens and adults; and expert, geared toward experienced pilots and veterans.
In March 2014, the team visited Hangar 7 at the Lehigh Valley International Airport for a helicopter tutorial. They learned the different aspects of rotary flight and later found themselves hovering above the ground at the controls of Schweizer single-engine helicopter.
"Flying on a helicopter is one of the most complicated things anyone could ever do, so learning all of that before we actually dove into building a simulator was probably the most integral part of it," says Melochick. "We gained an appreciation for what we'd learned because we got to feel it for ourselves."
Developing a solution
Equipped with well-defined goals and a better understanding of rotary flight, students began developing the simulator. Though assigned particular responsibilities in the engineering and business aspects of the project, every student had a hand in each part. Computer engineering student Nick Hartman '15 signed on to provide software assistance. Throughout the process, team members learned from each other.
Students explored a variety of market options, acquired the necessary parts, and chose software with help from Pat Costa, professor of practice in the IBE Program; Robert Storer, co-director of the IBE Program and professor of industrial and systems engineering; and Terry Hart '68, professor of practice in mechanical engineering and mechanics and a former NASA astronaut. Hart's experience with flight simulators during his time as an Air Force fighter pilot proved especially helpful.
"The students hit the ground running," says Hart.
The team selected a Bell AH-1 Cobra cockpit, provided by the museum, to house the simulator. They incorporated realistic features, including a device that adds vibration effects to the simulator's seat. They chose a high-resolution screen to provide a convincing visual effect, high-quality speakers for superior sound, and powerful processing technology for the best possible graphics. A control panel with real-time data display enhances the immersive experience.
Beyond the development of the simulator itself, students designed concepts for customer flow through the museum, ticket design, customer takeaways and retention programs, as well as a detailed plan for a grand opening. Their business plan included recommendations for advertising, social media marketing, promotions and educational programs for schools and other organizations.
"We really hope that this project and simulator will bring much more foot traffic and recognition to the museum," says Tang.

Taking flight
Although the simulator was now operational and the business plan in place, the hard work was not yet finished.
The IBE program requires teams to present their projects both orally and in writing to sponsors and invited venture capitalists. The presentation of the project can be just as challenging as its development, as an IBE presentation must include the intricate details of the project as well as the story of its development—its heart.
"You take the room," said Costa to the team during one practice session. "I know you did the work. Bring it to life."
The team did bring the project to life, incorporating into their presentation the same spirit and enthusiasm that had gotten them to that point. On Sunday, Dec. 7, in Launch Bay C on the Mountaintop Campus, they stood in front of their flight simulator, shared their story, provided recommendations to the museum, and allowed sponsors and other invited guests to take flight.
Their presentation was well received.
"The students are focused, bright, energetic, and worked well together," says Hart. "They hit the mark just right and ended up with a design that works well and meets the needs of the museum to a much greater extent than what the museum currently had."
"The Lehigh IBE team exceeded my expectations," says Beggs. "They demonstrated strong technical skills, adaptability and dedication to the project. We are anxiously awaiting the grand opening of the Cobra Simulator at the American Helicopter Museum as an attraction that will inspire young people to careers in aviation, science and technology."
"At the beginning," says Melochick, "we knew nothing about helicopters, we knew nothing about how Boeing wanted us to work with them and we had no idea what the American Helicopter Museum volunteers expected of us. We had to understand where they were coming from.
"I'm so proud of my team and so happy with what we were able to accomplish."
Students particularly enjoyed watching their sponsors and IBE professors piloting the simulator they'd worked so hard to build.
"It was very rewarding to present our year's work to our project sponsors and receive such positive feedback," says Tang.
"I'm going to someday take my children and grandchildren and all my relatives to the American Helicopter Museum to see what my team has done," says Melochick. "This is probably the greatest thing I've done with my life so far."

Story by Kelly Hochbein
Photos by Christa Neu
Posted on:
Wednesday, January 07, 2015