Africana Studies program awarded prestigious NEH challenge grant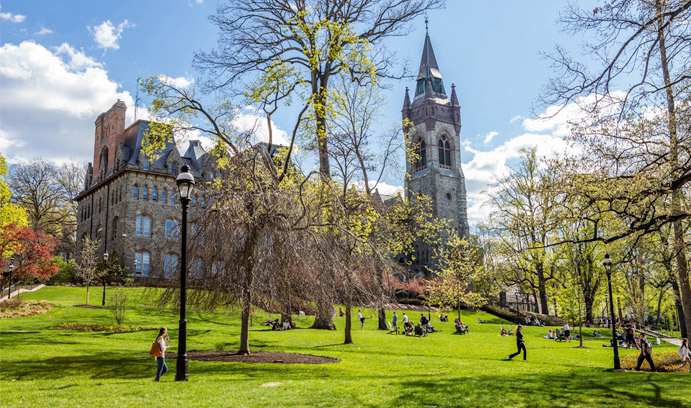 The $500,000 award from the National Endowment for the Humanities will be used to create endowment to expand public humanities initiatives.
Lehigh's Africana Studies program has been awarded a prestigious $500,000 challenge grant from the National Endowment for the Humanities, an independent federal agency that funds high-quality research, education and public programs at colleges and universities, museums and other institutions across the United States.
The three-to-one matching grant, announced in December, will require Lehigh to raise $1.5 million over the next five years. The funds will be used to create an endowment to expand the Africana Studies program at Lehigh, including enhancing curriculum, increasing public humanities initiatives and strengthening the program's community partnerships to further explore public concerns and social justice issues related to race, politics, gender, religion and other areas.
"Hearing the news that the Africana Studies program was awarded an NEH challenge grant was one of the most exciting moments in my professional career," said James B. Peterson, director of Africana Studies and associate professor of English at Lehigh. "The significance of the award acknowledges both the historical efforts of Africana Studies scholars at Lehigh—Bill Scott, Ted Morgan, Kashi Johnson and many others—and the promising future that Africana Studies has as a public-facing program committed to the interface between university and community."
Peterson is principal investigator of the challenge grant. Monica Miller, assistant professor of religion studies, and Susan Kart, assistant professor of art, architecture and design, are co-principal investigators.
"This grant comes at a most opportune time in the history of Africana Studies at Lehigh," said Provost Patrick V. Farrell. "Now beginning its third decade on our campus and energized by outstanding young and mid-career faculty, Africana Studies is greatly enriching our curriculum while broadening the intellectual and social experience of our students. The grant will expand the intellectual footprint of Africana Studies at Lehigh and will connect university teaching and research with communities both inside and outside of Lehigh."
A commitment to diversity
Africana Studies as an academic discipline grew out of the civil rights movement of the 1960s, when public demonstrations underscored the need for serious academic analysis of the structural oppression of black people. The social movements shaped a new racial consciousness. Africana Studies programs helped colleges and universities to become more diverse, extending fields of study to include historically marginalized people and ideas.
In 2011, Lehigh opened a new chapter in its increasing commitment to diversity and interdisciplinary education when it selected Africana Studies as its first academic "cluster," bringing together faculty from English, history, political science, sociology and anthropology and theater. Five new faculty positions were added, Peterson was named as director and community outreach intensified. Over the past four years, the program has developed powerful and socially relevant public programming, including a live-streamed, four-day conference in February 2015 that explored the life and legacy of Malcolm X and attracted scholars from around the world.
"Partnering with NEH highlights the national recognition of our humble efforts in and through Africana Studies over the program's whole history, but especially in the last several years," said Peterson.
"Our commitment has always been to be public facing in our programs—to engage and interact with our local schools, churches and community organizations in a deliberate effort to create programs, develop new initiatives, and build knowledge together. Winning the NEH challenge means that we will be able to sustain and enhance this commitment well into the future."
A steering committee of Africana Studies cluster faculty and community partner leaders will meet regularly to implement programming supported by the NEH grant. Among the long-range plans:
Africana Studies Public Humanities Programs, including a new Community Visions Program in which faculty and students will join with Bethlehem, Pa., residents and other community partners in forums, town halls and public meetings to deliberate on local concerns that they can address together. Areas of shared interest will produce formalized, co-created programming. Community discussions, research projects and conferences will take place in recreational centers, high schools and other places.
Student workshops. Africana Studies faculty will work in partnership with teachers and administrators to create classroom, curriculum and workshop events that regularly connect high school students with collegiate scholarship. In turn, these partnerships will help inform curriculum development in the College of Arts and Sciences.
Digital documentation. The Africana Studies program will more robustly document and archive its efforts, allowing for broader dissemination to area schools, church and community groups and possible digital packages for use by PBS 39 (Public Broadcasting Network, Ch. 39, WLVT).
Africana Studies Public Humanities Visiting Fellows. Nationally and locally recognized public intellectuals, artists and activists working in the arts, humanities and social sciences will take up two-week residencies on the Lehigh campus. The fellows could provide public lectures or performances, conduct workshops or visit classrooms at area schools, among other activities.
Africana Studies Public Humanities Graduate Fellows. A yearly tuition and stipend will be established for a graduate student pursuing work in Africana Studies and the public humanities. The emphasis will be on linking scholarship to public knowledge building through research activities directly related to community concerns. Fellows would be guided by public work and would engage with the community through teaching and learning, programming and mentoring.
Africana Studies Public Humanities Research Grants. Grants will be awarded each semester for research and humanities initiatives. Eligible projects might include gallery exhibits, oral history projects, digital storytelling or public theater performances, among others.
Community Interactions. The Africana Studies program will use endowed funding to expand partnerships into long-term collaborations and to begin working with new partners in the Lehigh Valley and beyond. To date, Africana Studies has built partnerships with the Greater Shiloh Church in Easton, Perkiomen School in Pennsberg, the School of Social Policy and Practice at the University of Pennsylvania in Philadelphia, Liberty High School in Bethlehem, and PBS-39.
'A powerful opportunity'
"This grant offers a powerful opportunity to truly transform Africana Studies at Lehigh," said Donald E. Hall, the Herbert J. and Ann L. Siegel Dean of the College of Arts and Sciences.
"Support from the NEH provides funding as the college continues to develop innovative educational opportunities for Lehigh students and surrounding communities," he said. "It is acknowledgment of the hard work by all of the faculty in Africana Studies and recognizes their efforts to develop interdisciplinary education and scholarship in an inclusive and diverse setting."
Each semester, Lehigh's Africana Studies courses draw hundreds of graduate and undergraduate students from disciplines across the university to explore public concerns and social justice issues. Since the Africana Studies cluster was established, both course offerings and student enrollments have increased significantly. In academic year 2014-15, Africana Studies faculty and affiliate faculty taught 445 undergraduate and graduate students in 35 classes on diverse topics.
The program also welcomes the public to campus events, accepts invitations for faculty to speak at local high schools, facilitates programs at churches and works with community leaders in law enforcement, politics and education. A public lecture series developed with Lehigh's Martin Luther King Jr. Committee also provides the program with a forum to interface with the community. Among those hosted by the MLK committee were scholar-activist Angela Davis and the Rev. Jesse Jackson.
If you would like to learn more about the NEH Challenge Grant or become engaged with the Africana Studies Public Humanities Initiative at Lehigh University, contact Kelly Stazi, director of development, at kbs415@lehigh.edu or 610-758-2824.

The National Endowment for the Humanities, created in 1965, supports research and learning by funding high-quality projects in fields that include history, literature, philosophy and archeology. In announcing its latest grant recipients, the NEH said the projects that were chosen will strengthen the nation's cultural fabric and identity.

Posted on:
Tuesday, January 19, 2016