3,000 Miles is Just Around the Corner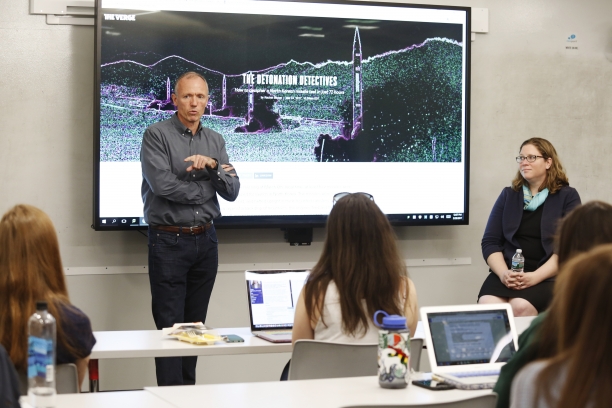 Moderating the Women in Tech class from the Lehigh campus on March 29, Tom Gillis '15P '17P '19P introduces guest presenter (at right) Melissa Hanham, senior research associate, James Martin Center for Nonproliferation Studies & META Lab. The eight-week course features female leaders in technology who share the challenges and opportunities for women in the industry. Presenters either attend the Lehigh classroom or utilize interactive video conferencing at the Lehigh@NasdaqCenter in San Francisco to speak to students.
If Tom Gillis '15P '17P '19P could physically move Lehigh University to Silicon Valley, he might consider the possibility. Instead, the tech entrepreneur is bringing the two together any chance he can through his vision, involvement, expertise, and personal and technical connections.
Gillis, co-founder and CEO of Bracket Computing Inc., was the catalyst for the successful LehighSiliconValley (LSV) entrepreneurship program in the start-up hub of California, while his son was a first-year student at Lehigh in 2012.
"I look at it as a bridge between the talent pool in Bethlehem and this vibrant cauldron of opportunity at Silicon Valley," said Gillis, who connected many of the founders and funders from Silicon Valley to participate in the pilot 2012 LSV immersion program.
LSV, a flagship program of Lehigh's Baker Institute for Entrepreneurship, Creativity & Innovation, just celebrated its sixth-year anniversary with 56 students participating. Since sparking the idea for the initial program and helping to get it off the ground in partnership with Dale Falcinelli, director of LehighSiliconValley, Gillis remains involved and has presented at all but one of the January-held courses.
"We spend lots of time and energy trying to cultivate, attract, and retain the best possible talent," said Gillis. "Our observation was that Lehigh produces very good talent, but was very East Coast-oriented. The kids at Lehigh didn't know about the opportunities at Silicon Valley…didn't even know where to start."
"Offering students innovative programs is at the core of what we do," said President John Simon '19P. "We are fortunate to have Tom Gillis involved in designing educational opportunities for our students."
As a member of the Parents' Council and the Dean's Advisory Council in the P.C. Rossin College of Engineering and Applied Science, Gillis is realizing opportunity at the university and connecting the vision with the talent and technology to make it happen. Eager to help students interested in software-engineering careers or starting their own companies, he was instrumental in assisting with the additional two-day pilot "technical track" program of LSV in 2017.
Called LSV++, students met with top executives from high-tech and start-up businesses Bracket Computing, OSISoft, Cisco, and Vectra Networks. At Bracket, students met with Gillis and Chief Technology Officer Jason Lango to examine tech details and hot topics of the company's secure cloud environment.
Isaac Wellish '17, a dual computer engineering and music major, described the LSV++ experience as "getting down and dirty in the technical realm of several software companies."
On visiting Bracket, he said, "Tom Gillis, a huge Lehigh supporter, opened the doors to his start-up for our team to pick his brain and speak with Jason Lango. Being that all members of this new team had some background in computer science, we were finally able to traverse deeper into a technical space unhindered."
Daniel Lopresti, Lehigh's chair of the computer science and engineering department, and Lisa Getzler, executive director of the Baker Institute, co-developed the LSV++ program to provide invaluable hands-on experiences to students.
"Advanced technology in the field of computing constantly changes. It is important for Lehigh faculty and students to gain knowledge from companies who are pushing the boundaries every day and are on the cutting edge of technology," said Lopresti. "Lehigh graduates will be prepared to work in the real world because of these experiences."
Eager to learn more about cloud computing security, several LSV++ students received permission to take an independent special topics course during the spring 2017 semester. Gillis is providing them access to Bracket's cyber computing environment to learn elements of the system on their own with guidance from staff.
A Lehigh Advocate
As a high school student, Gillis considered Lehigh, but chose Tufts University for his undergraduate engineering degree and Northwestern and Harvard for his advanced degrees. It was the enthusiasm for Lehigh shared by his friend and bicycling partner, Bill Kirsch '76, co-founder and managing director of venture debt firm Costella Kirsch, that caused Gillis' son, Patrick '15, to consider Lehigh.
"We looked at a broad array of schools, and I think what was interesting about Lehigh is my son was looking to do some sort of a combination of engineering and liberal arts. Lehigh really embraces that philosophy," said Gillis, whose two daughters, Anna '17 (art and design) and Siobhan '19 (psychology), also attend Lehigh.
Patrick graduated with a bachelor's degree in marketing with a minor in engineering and works in marketing at an engineering software company in the Silicon Valley.
"It's really difficult to work at a tech company if you don't understand the basics of the technology. I think Lehigh's engineering minor is perfect for someone who's not going to be an engineer … who wants to do a non-engineering job option at a technology company. It allows you to understand a language, understand a product, and understand a problem to solve for customers. It's been very successful for him."
Although his daughters chose not to pursue engineering, Gillis is committed to advancing women in tech positions and worked with Lopresti and Samantha Kahoe, adjunct professor, to develop a Women in Tech eight-week Lehigh course that started in March 2017. Offered via real-time, interactive video conferencing between guest presenters at the Lehigh@NasdaqCenter in San Francisco and students on the Lehigh campus, the course features female leaders in technology who share the challenges and opportunities for women in the industry.
During the initial presentation, guest presenter Kathleen Egan '90, vice president of client success and analytics, Quri, spoke about gender biases, breaking barriers, and the importance of a mentor, among other things. She encouraged the 15 female engineering students taking the class, saying "you can do it all."
Gillis is helping to coordinate weekly presenters and is moderating the sessions either from San Francisco or Lehigh. As part of the course, students will be matched with a female expert in the tech industry who will serve as a mentor in examining professional opportunities.
"It is hard to be an engineering student. I think it's even harder to be a female engineering student because there are just a lot of aspects of engineering culture that are dominated by men. How can women assert themselves in that world?" said Gillis. "This class is designed to allow students to get to know female leaders in the technology industry on a personal level who could act as role models and mentors."
Video conferencing from the Lehigh@NasdaqCenter – a new initiative spearheaded by the Baker Institute – is part of the tremendous potential that Gillis sees for the West Coast "campus" of the university. Gillis is working with President Simon and others to develop the s programmatic growth of the center, which was established in September 2016 between the university and the Nasdaq Entrepreneurial Center. Gillis sees opportunities for teaching classes, guest lecturers, or alumni and industry leaders participating in classes.
"There are interesting people based out here who can engage closely with students back in Bethlehem via a tele-presence link," said Gillis, who is impressed that Simon's vision for the university included establishing a footprint in Silicon Valley.
Seeing the Big Picture
Gillis continues to implement ideas that make an educational impact at Lehigh. Knowing the unique issues that need to be addressed when developing a software engineering company, he was instrumental in creating the Software Ventures entrepreneurial class taught by Joshua Ehrig, Lehigh's professor of practice in the department of management.
"So much of the innovation and economic growth in the past few years has been driven by software companies, that I thought it would be useful to focus specifically on the issues around this software venture," said Gillis, who has been a guest lecturer in the class. "My own kids took that class and absolutely loved it."
Gillis has also sponsored several independent study projects in the Computer Science and Business Capstone Project course taught by Ron Crane, an adjunct professor in the university's computer science and engineering department. The projects engaged teams of students to work on technical aspects of computer science security such as looking at performance of storage systems on public clouds to see how to stabilize those systems.
"The output was terrific. I think the most interesting thing was that we got to know a handful of really top programmers," said Gillis of the experience. "Some of them have gone on to work in technology companies at Silicon Valley."
Through Bracket Computing, Gillis is providing complimentary cloud computing security to Lehigh for research and instructional purposes, while the university begins to access super computing resources outside of the physical boundaries of the school.
"We can help the Lehigh researchers make that transition secure and reliable," he said.
Gillis is deeply rooted at Lehigh and believes that what sets the university apart is a very strong commitment to multi-disciplinary academics.
"The way Lehigh makes things possible for students to traverse the various options that the university has is really, I think, excellent. It creates an environment for broad out-of-the-box thinking, which is often what is necessary in entrepreneurship," he said. "As a parent, all I want is for my children to be happy. I think they have been able to be very happy at Lehigh."
Story by Dawn Thren
Photos by Stephanie Veto and Christa Neu
Video by Stephanie Veto
Posted on:
Wednesday, April 12, 2017