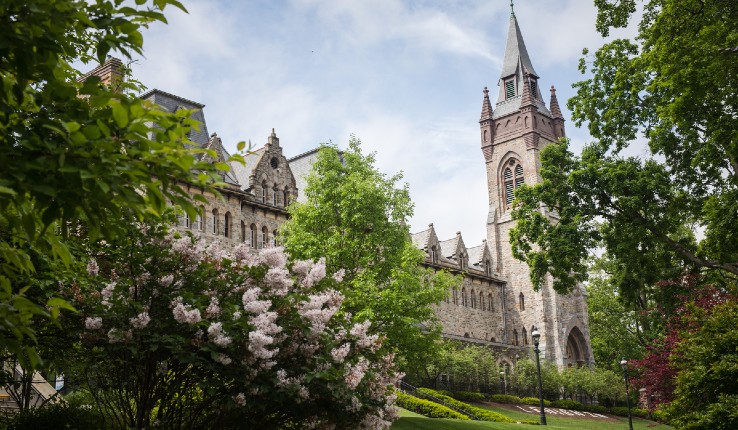 The Association for the Advancement of Sustainability in Higher Education (AASHE) has announced the PA Higher Ed Consortium—made up of Lehigh University, Lafayette College, Muhlenberg College and Dickinson College—as the recipient of a 2020 AASHE Sustainability Award for outstanding achievements and progress in higher education sustainability. AASHE bestows its prestigious awards on the institutions and individuals that are helping to lead higher education to a sustainable future.  
"Lehigh is thrilled to join our partner schools in accepting this AASHE award. We are proud of the recognition that this collaborative project has received," said Katharine Targett Gross, Lehigh's sustainability officer. "This effort is a great example of the effectiveness of joining forces with other institutions to multiply the effect of our sustainability efforts to achieve both environmental and operational goals."
 
This year, AASHE received 450+ entries that resulted in 11 winners announced across four categories. Entries were judged on overall impact, innovation, stakeholder involvement, clarity and other criteria specific to each category.
"Receiving this award is a truly exciting moment for Lehigh and our PA Higher Ed Consortium partners. It confirms the value of taking an innovative approach to securing renewable energy, and acknowledges Lehigh's commitment to becoming a more sustainable institution," said Brent Stringfellow, associate vice president of Lehigh Facilities and university architect.
The four schools announced their partnership to purchase renewable energy as a collective in February of this year. They represent the first group of colleges and universities in Pennsylvania to enter into a power purchasing agreement.
The schools have signed a 15-year virtual power purchase agreement to buy renewable energy that will be generated by a newly-constructed 200-plus-acre solar farm in Texas. The new solar farm will be the 12th largest renewable energy project involving higher education institutions, in terms of megawatts. Because it will be built as a result of this purchase, the project will add additional renewable energy to the country's grid.
"The 2020 award winners demonstrate an inspiring passion for solving some of the world's most complex challenges. They are truly pioneering the campus sustainability movement," said AASHE Executive Director Meghan Fay Zahniser.
Their entry, "Multi-Campus Collaboration Kickstarts Solar Project to Cut Nearly 100% of GHG Emissions from Electricity," was announced as the 2020 Campus Sustainability Achievement Award recipient during AASHE's live awards ceremony on Dec. 3.
 
Award recipients received recognition in a variety of formats as well as a plaque from Rivanna Natural Designs, a woman-owned B Corp with a strong commitment to sustainability. To date, more than 100 campuses have been recognized through this prestigious award program since its inception in 2006.
 
To read more about AASHE's awards programs, please visit http://www.aashe.org/get-involved/awards/.