Among the outgrowths of LehighSiliconValley is the Lehigh@NasdaqCenter (L@NC) in San Francisco, an academic in-residence collaboration initiated by the Baker Institute and created in partnership with the nonprofit Nasdaq Entrepreneurial Center. The L@NC opened in January 2017, as Lehigh looked to expand educational and career opportunities for students and potential industry partnerships on the West Coast.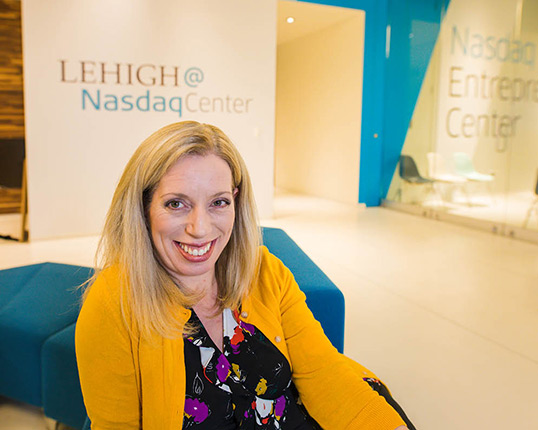 Nicola Corzine, executive director of the Nasdaq Entrepreneurial Center, says she had first connected with Lehigh through Dale Falcinelli, who asked to bring LSV students into the center.
"That culminates in me having an incredibly inspiring three-hour conversation with 56 students who came from Lehigh to Silicon Valley," Corzine says, "and sort of being 'blown away,' with not just the thoughtfulness of their questions, but their real dedication to understanding the pursuit of those activities, like, how does entrepreneurship help me become a better human being? How can I apply this today as a student, and tomorrow, potentially my own career pathways?"
Corzine says the LSV participants "come in, really, with a mindset that is ready to cultivate every single minute of every single engagement to the maximum. They're there to get as much as they possibly can from every single moment."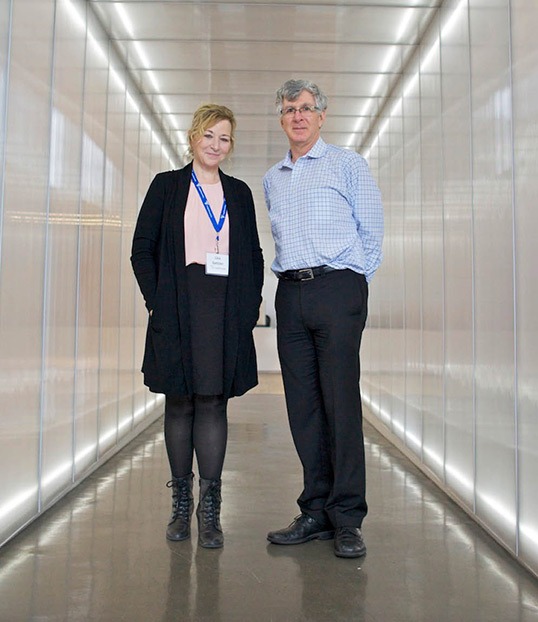 Recognizing the talent that Lehigh faculty, administrators and the Baker Institute were able to curate and cultivate around the field of entrepreneurship, Corzine says, "just led me into saying, there's got to be more that we can do here."
She reached out to Getzler to let her know that the center was looking for an academic partner, which led to Lehigh President John D. Simon '19P signing the partnership document with the center. After helping to hammer out the details, Getzler spent six months in the Bay Area to prepare for the L@NC's rollout.
"This is what I like about Lehigh," Tom Gillis says. "Lehigh has a community of people who are entrepreneurial. They love new ideas. They love creative thinking."
Gillis says LehighSiliconValley has changed the trajectory of some students' lives. Some students have gone on to create their own companies, others have joined startups or brought an entrepreneurial mindset to their jobs in other companies. He credited Lehigh's faculty and staff for the program's success and for the expansion of programs on the West Coast.
As LehighSiliconValley celebrates its 10th anniversary, Getzler reflects on its impact and its trajectory, with more alumni becoming engaged with the program, tracks and externships being added and Lehigh continuing to grow its presence on the West Coast. The program has had 200 presenters, including 45 alumni, who represented more than 140 companies.
"This is what I like about Lehigh. Lehigh has a community of people who are entrepreneurial. They love new ideas. They love creative thinking."
"Through that entire arc," Getzler says, "students have consistently come away saying, 'This experience changed my life.'"
LehighSiliconValley by the Numbers
56
Number of students per year (number that fits on a bus)
26
Number of students in 2021 (number that fit on a zoom screen)
40
number of repeat speakers
45
number of alumni speakers
143
number of companies represented by speakers