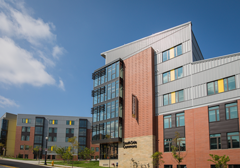 Off-Campus Affiliated Housing
Lehigh-affiliated housing serves undergraduate and graduate students through a direct agreement between Lehigh University and Greystar, a collegiate housing third-party owner and manager. Students who choose to live in Lehigh-affiliated housing contract directly with Greystar and are responsible for direct payment of applicable expenses, including but not limited to: deposits, damage fees and cancellation fees.
Off-Campus Housing
Graduate students most often choose to live off-campus in Lehigh's surrounding neighborhoods. There are many options for single graduate students as well as those with families.
Living at Lehigh