Mourning the Loss of Professor John Pettegrew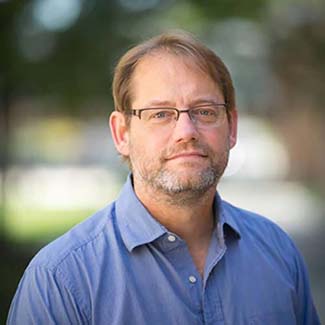 Professor John Pettegrew, chair of Lehigh's history department and a distinguished scholar of U.S. intellectual and cultural history, died on Tuesday, May 29 from cancer.
He was considered one of the leading historians of modern American masculinity, and produced a body of scholarship characterized by archival range, methodological flexibility, conceptual sophistication and a dual commitment to historical rigor and contemporary political relevance.
The recipient of awards for his teaching, Pettegrew offered a wide range of popular courses in 19th- and 20th-century history—including recent courses on documentary film as a practice of contemporary historical interpretation—and on the history of sports, evolution and culture. He was a much sought-after mentor to graduate students and trained an entire generation of U.S. intellectual and cultural historians at Lehigh, supervising nine Ph.D. dissertations and 23 M.A. theses in history and American Studies. He also served on dozens of Ph.D. exam and dissertation committees.
He was, in the words of College of Arts and Sciences Dean Donald Hall, "a model for all academics."
Several of his close colleagues recall a warm, caring friend, a prolific and accomplished scholar, and a "natural community builder" with a deep and unwavering commitment to social justice.
Professor of English Seth Moglen, a friend of Pettegrew's for two decades, remembered a man "who did everything with gusto, enjoying intellectual conversation, a good meal, a stimulating seminar, a political protest, a day on the ski slopes, or a party with Tamara and their friends with the same enthusiasm and joie de vivre."
Moglen also spoke of what will most certainly be a lasting impact on Lehigh: "He was an innovator, a builder, creating new programs and enhancing existing institutions to meet current challenges. In collaboration with others, he helped to build the South Side Initiative, the Lehigh Community Garden (which will be renamed in his memory), the Town Hall Lecture Series at Bethlehem City Hall, and the LVAIC Documentary Film minor—even as he ably led the history Department and, for many years, the American Studies program. Because of his energy, good humor, curiosity about others, and pleasure in life, he attracted people to him—friends, colleagues, students, community partners and collaborators of all kinds. Because he was much loved, he will be sorely missed."
Pettegrew shared his zeal for life and his many passions with his partner, Lehigh Associate Professor of History Tamara Myers. For eight years, they maintained a bi-coastal relationship, moving between Vancouver, BC, and Bethlehem, before Tamara joined the Lehigh faculty in 2016. At Lehigh, Myers and Pettegrew collaborated on SSI's Community Gardens project, a range of history department initiatives, and they were deeply involved in supporting one another's writing projects and intellectual pursuits.
As Myers put it, "Even during this painful past two years, John and I always considered ourselves lucky. We shared a great love, a passion for hard work, two extraordinary children, a smart and caring community of friends, and many fantastic adventures."
Digital Scholarship Manager Julia Maserjian, who collaborated with Pettegrew on a number of documentary projects, said she considers herself fortunate to have had him as a friend and colleague.
"We began working together teaching documentary film and thinking of ways in which we could develop programs devoted to the genre," she said. "Through his gracious determination, students now have graduate and undergraduate opportunities to pursue a certification or a minor in documentary. With this and many other contributions, John leaves a lasting legacy. His scholarship, mentorship and the gift of his friendship will be sorely missed."
Associate Professor of History John Savage lauded Pettegrew's ability to lead, saying that he demonstrated this on many levels: "He was a model of intellectual curiosity and scholarly rigor; as a popular and engaging teacher of undergraduate students; as a close mentor of numerous graduate students and younger faculty; and as a guide to how the discipline of history can and should be relevant to the world around us today. John taught us that there need not be any great separation between deeply reflecting on the past and rising to the challenges we face in the present; in fact these are very much mutually beneficial pursuits."
Longstanding friend Ziad Munson, associate professor of sociology, commented on Pettegrew's "generosity of spirit, which extended to all aspects of his life, from his friendships to his scholarship to his community."
"He had a knack," Munson said, "for asking the right questions across a wide range of intellectual, political, and personal pursuits. He was engaging and generous anywhere from a seminar room to conversation over a home-cooked meal. His intellectual interests extended far beyond his academic discipline. I have long been in awe of John's energy and ability to both think big and make those big ideas happen."
Along with other close colleagues, Munson said he will miss Pettegrew's "friendship, his inquisitive spirit, his playfulness, and the remarkable respect with which he engaged all those whose lives he touched."
Ted Morgan, Emeritus Distinguished University Professor of Political Science, described Pettegrew's passing as "tragic," noting that, "He left us too soon. He was a good friend whom I will greatly miss, a keen intellect, and a wonderful citizen of the university and wider community."
Friends said that he took special joy in cooking, skiing and traveling with Tamara Myers and his children Nick Pettegrew, a current student at Lehigh, and daughter Helen Keetley. He also loved good music, film, fly fishing and sports of many kinds—although he had a special affinity for the Green Bay Packers.
With grace and candor, Pettegrew spoke and wrote openly about his struggle with cancer, penning a particularly poignant piece on dying, describing it as an intensely social experience. "Close family and friends' love and support have been my core post-diagnosis experience," he wrote in the essay that was published by Salon.com in early May. "It's been a pinnacle of my whole life. There's something close to perfection in such caring's accumulative emotional effect, an oceanic feeling of collective concern from near and far—the love that comes from what Quakers call being held in the light."
An Influential Body of Work
In Pettegrew's influential first book, Brutes in Suits: Male Sensibility in America (2007), he documented the cultural process by which millions of Americans came to believe in the late 19th century that men were inherently disposed to violence, aggression and the domination of women. In his second monograph, Light It Up: The Marine Eye for Battle in the War for Iraq (2015), he extended this inquiry into the evolution of violent masculinity in a highly original study of the technologies and ideologies of martial manhood in the U.S. Marine corps during the era of the post-9/11 war in Iraq.
The feminist commitments that animated both of these books also found expression in the three-volume anthology, Public Women, Public Words: A Documentary History of American Feminism (1997-2002) that Pettegrew co-edited with Dawn Keetley, professor of English at Lehigh and current chair of the department. In A Pragmatist's Progress? Richard Rorty and American Intellectual History (2000), Pettegrew brought together some of the leading intellectual historians of this generation to reflect on the implications of American pragmatism for the practice of intellectual history. His preoccupation with feminism, pragmatism and intellectual history was further extended most recently in an article in The Journal of Women's History (Spring 2018). At the time of his death, he was at work on a new book, "Love in the Twentieth Century: an Intellectual and Political History."
A committed citizen of the university from the time he joined the Lehigh faculty in 1996, Pettegrew contributed to many university initiatives. He chaired the history department since 2016 and was the director of the interdisciplinary program in American Studies for 14 years.
From 2007-14, he was co-founder and director of the South Side Initiative, a nationally recognized project of democratic university-community collaboration between Lehigh and the working-class neighborhoods of South Bethlehem. In recent years, he also helped to create the Graduate Certificate in Documentary Film and the LVAIC documentary film minor. Over the years, he produced a number of documentaries, including "Work in Progress: Bethlehem Steel During World War II," which grew from a class assignment to his students and ultimately aired on the History Channel's History Showcase. He was also a driving force behind Lehigh's Community Gardens project. The gardens have expanded beyond the first shared space on the Goodman Campus, and now include several gardens throughout the South Side.
Born in Appleton, Wis., on July 18, 1959, John Pettegrew received his Bachelor of Arts degree from Valparaiso University in 1981, a Juris Doctor from Marquette University Law School in 1984, his Master of Arts in history from the University of Chicago in 1986, and a Ph.D. in history from the University of Wisconsin-Madison in 1994. While there, he was mentored by Paul Boyer, Hendrik Hartog and Merle Curti.
He is survived by his partner and children, as well as parents Mary and Fred Pettegrew of Prospect, Ky.; his sister Jane Pettegrew Stewart (and husband Dr. Robert Stewart), also of Prospect; and brother Jim Pettegrew (and partner Gina Ferrigno) of Placitas, N.M.
A memorial gathering for family and friends took place at the Lehigh Valley Friends (Quaker) Meetinghouse on 4116 Bath Pike (Route 512) in Bethlehem at 7 p.m. Sunday, June 24, 2018.
A public celebration of Pettegrew's life and career will be held at Lehigh at 5 p.m. on Friday, Sept. 7, in the Asa Dining Room.
In lieu of flowers, the family requests that donations be designated "In Honor of John Pettegrew" and sent to Lehigh Valley Hospice, 2024 Lehigh Street, Suite 100, Allentown, PA 18103.
Posted on:
Monday, June 04, 2018