Lehigh Students Receive Scholarships from the YMA Fashion Scholarship Fund
Patrece Savino '20 and Megan Lomuto '19 were each awarded $5,000.
Posted on
February 08, 2019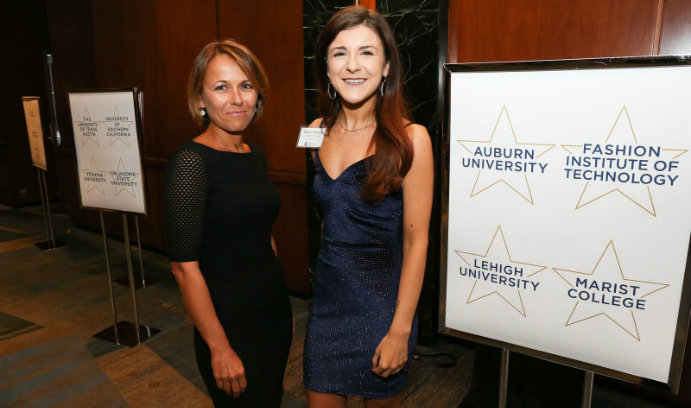 Patrece Savino '20, a double major in marketing and supply chain management, and Megan Lomuto '19, a finance major and psychology minor, are recipients of scholarships from the YMA Fashion Scholarship Fund (FSF). They were awarded $5,000 each.
Lehigh students have been participating in this opportunity since 2007, and each year, two or three Lehigh students are chosen as recipients.
This year, the FSF awarded more than $1.1 million to 208 out of 740 applicants from 64 schools. Applicants are usually design students or business students. Six Lehigh students applied.
The FSF is a foundation established by U.S. and international fashion brands. Its objective is to encourage college students to look for careers in the fashion industry so that the field continues to include talented graduates. Through the competition and networking opportunities, FSF hopes to support students' advancement before they begin their careers.
Nevena Koukova, associate professor of marketing and a James T. Kane Faculty Fellow, said most of the Lehigh participants have been marketing majors. Koukova visits entry-level classes and the marketing club to encourage students to apply for the scholarship because they can apply concepts they learn in the classroom or club to the competition. Students can ask Koukova for guidance and any questions they may have during the application process.
Applicants can choose a prompt from one of four disciplines: supply chain management; design and product development; merchandising and marketing; and analytics and technology. Judging requirements include the amount of research conducted on the topic, creativity, clarity and the format of the plan. Koukova explained that the task is similar to a marketing case study where participants have to write a proposal based on a prompt.
Lomuto learned about the scholarship from a Lehigh alumnus at PVH Corp., where she interned this past summer.
"I thought that the case study competition would be a great way to apply what I learned from my internship in addition to a great opportunity to network with other students and companies in the fashion industry, " Lomuto said.
Koukova said although winning scholarship money is a nice benefit, the most important part of being awarded a scholarship is the mentoring and networking opportunities that come with it. Recipients get to join FSF Connect, a website where students can find a mentor and also where past winners can get in touch. Students can have a mentor for up to six months who will help students who are juniors with finding an internship, or assist students who are seniors with finding a job in the fashion industry.
Lomuto said the competition allowed her to learn more about fashion industry brands and their global effects as she researched a company to answer the prompt.
Lomuto and Savino both chose the prompt from the marketing and merchandising discipline, for which applicants had to create a plan for expanding a fashion or accessory brand in the global market. Savino said applicants created a launch plan, product line and financial plan.
Lomuto wrote about expanding the San Francisco-based footwear company Allbirds to Sydney and Melbourne, Australia, because she believed it has potential to grow globally. Savino developed a globalization plan for the American fashion and accessory company Kendra Scott to move to the Chinese market. Savino proposed two new jewelry and accessory collections: The Year of the Pig and The Year of You.
"The biggest challenge came from a marketing standpoint, as many digital mediums in the U.S. are not accessible by Chinese consumers," Savino said. "Through extensive research, I was able to come up with a creative and participatory marketing campaign using digital billboard advertising, print and a popular app called WeChat."
Student winners also attended the Fashion Scholarship Gala in New York held on Jan. 9-11, where recipients had the opportunity to connect with members of the fashion community.
For more information about the YMA Fashion Scholar Fund, email Nevena Koukova at nkoukova@lehigh.edu
Story by Madison Hoff
Posted on
February 08, 2019