'Truth must be honestly pursued'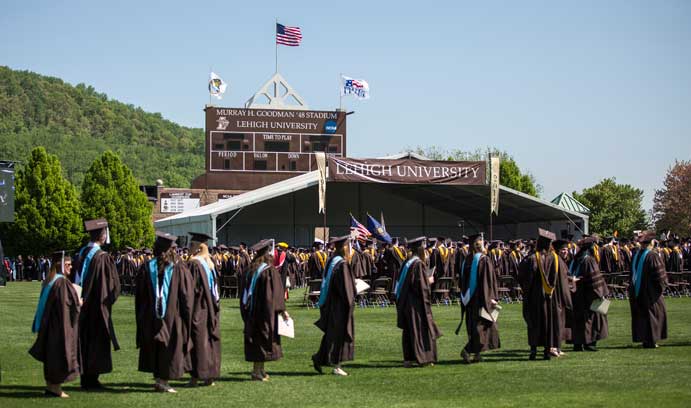 On a beautiful day at Lehigh, the Class of 2014 gathered in Goodman Stadium for the University's 146th commencement.
Watch the video of Lehigh's 146th commencement
In a commencement address that offered insight into some of the most controversial journalistic decisions of the past several decades, Washington Post Executive Editor Martin "Marty" Baron told the graduates of Lehigh's Class of 2014 that their personal values will guide them when facing life's difficult choices.
Wisdom would not come with the degree each of the graduates picked up on Monday, said Baron, who earned both his undergraduate degree in journalism and a Masters of Business Administration from Lehigh in 1976. Rather, he said, that wisdom would only come with time and experience.
"Acquiring it will depend on what you learn from this day forward, as you are called upon to make decisions you could never have foreseen," he said. "I can only hope I have made decisions with a measure of wisdom. That is something you will need, too. Wisdom does not mean doing what is easiest, or convenient, or popular. It can mean the opposite. It does mean doing what is right, for the long run."
Baron began his talk by expressing his gratitude to the university for accepting him, wryly noting that another institution rejected him with the reassuring line: "We do know you're qualified for further education."
He said he spent much of his time at Lehigh in the basement of the University Center, where the Brown and White editorial offices were located. Little did he know, he said, where his journalistic career would take him, and what consequential choices he would be asked to make.
"Today I can tell you this: Your lives will go in unexpected directions," Baron said. "You will be asked to make unimagined decisions. And no matter how well Lehigh has done its job, nothing in your coursework will fully prepare you. You will be tested–on what you stand for, or whether you stand for anything at all."
Baron recounted a number of controversies he and fellow editors were forced to navigate during the course of what has become a remarkable journalistic career that took him to the leadership of the country's most celebrated newspapers. He warned the audience the topics might be uncomfortable, but, he said, "That is the world I inhabit."
The first involved the contested 2000 presidential election, when Baron was serving as the top editor of the Miami Herald. The eyes of the world were on Florida, where the recount wound its way through the courts, eventually reaching the U.S. Supreme Court. George W. Bush was certified the winner after the Supreme Court justices decided through a 5-4 vote that the recount should be stopped.
"My newspaper decided that that would not be the final word on the vote," said Baron, who went on to assert the newspaper's right under the state's public records law to examine every ballot cast. Baron said the paper's recount determined Bush won by a small but documented margin, although he acknowledged that many never accepted that conclusion.
"Truth," he said, "knows no party of ideology. Truth must be honestly pursued. And honesty demands we acknowledge the truth, no matter our loyalties or preconceptions or preferences. This requires you to be open to ideas and evidence and facts. Progress depends on it, as does our democracy."
Shortly thereafter, Baron was named editor of Boston Globe, and found his paper embroiled in the controversy involving sexual abuse of children by Catholic priests. At the time, Baron explained, the Archdiocese of Boston was engaged in a court case where the plantiffs' lawyer alleged that the cardinal knew of the priest's shocking history of abuse, but responded to it by reassigning the alleged offender to different parishes.
Taking on what he said was the most powerful institution in Boston, the paper's reporters accessed previously unseen documents, and ultimately documented a pattern of cover-up that spanned half a century. The journalistic team received a Pulitzer Prize for the effort.
"More important," Baron said, "the public won the truth, victims were given a voice … and one of the world's most powerful institutions was held accountable."
Baron was confronted with the expansive, potentially crushing power of the U.S. government shortly after he become editor of the Washington Post, when information about secret surveillance programs at the National Security Agency was made public by whistleblower Edward Snowden. Publishing the stories involved considerable risk–reputational as well as legal–and held potential consequences for national security. Nonetheless, the Post published the stories that revealed a sweeping national policy that eroded individual privacy. The Post went on to be awarded a Pulitzer Prize (with the Guardian) for the coverage.
"We published it," he said, "because we felt it served the public interest. Silence is, at times, an unacceptable option.
"No one," he said, "should be immune from responsibility, least of all the powerful. No one should be denied a hearing, least of all the powerless. We owe them a duty to listen and to help."
Baron was introduced by Lehigh President Alice P. Gast, who was officiating over her last commencement ceremony before stepping down to accept the presidency of Imperial College London. In her farewell commencement address, she said that Lehigh took a risk on every one of the students who came to Lehigh in 2010. Despite compelling essays and stellar grades, there is no way to predict a student's capacity to succeed in an unfamiliar and demanding academic environment.
"We both made the right decision," she said, reminding the students that she and her family left behind the comfortable and familiar to come to Lehigh in 2006. "We all take risks, small and large, and these often become turning points in our lives."
One notable example was Costel Denson '56, the only African-American student to attend Lehigh at that time. Despite feeling, at times, alienated and alone at Lehigh, Denson persevered and went onto a distinguished corporate and academic career, and is now considered one of the world's most respected minds in the field of fluid mechanics.
Noting that Lehigh breeds risk takers, Gast asked the graduates to consider how bold they will be as they leave the structure and certainty of their educational experience and head out into the real world.
Gast recalled memorable moments throughout her tenure and lasting impressions. She also shared five lessons gleaned from those she encountered during her Lehigh experience: be purposeful about personal values and principles, never accept the status quo, make meaning out of ambiguity, learn to improvise and keep an open mind.
"It's your time to take new risks and face the future," she said. "Put your talents and passions to work. Aim high. Take risks. Believe in yourself."
Brad Scheler, chair of Lehigh's Board of Trustees, thanked Gast for eight years of spirit, wisdom, judgment and leadership, and for serving as an extraordinary role model for students.
Commencement Notes
Commencement day weather was a slightly cool (temps reached 61 degrees F. by the 10 a.m. start of the ceremony) but spectacularly clear, sunny late May day…a total of 1,843 degrees were conferred at Goodman Stadium: 1,192 bachelor's degrees, 625 master's degrees, 92 doctoral degrees and 5 education specialists….the Class of 2014 included 129 international students from 36 countries outside the United States…for the second year, the commencement ceremony incorporated live video through two large-scale video boards on either side of the stage. Lehigh's website also featured a social media grid that included celebratory tweets, real-time reviews of the commencement address and Instagram shots…the ceremony began with a blessing from University Chaplain Lloyd Steffen, and was followed by the national anthem, which was sung by Kaitlyn Hess '15…Brad Eric Scheler '74, '05P, '08P, chair of the Board of Trustees, welcomed the assembled audience … John Rodgers '08, '10G, '14G, delivered the Graduate Student Remarks, and Sarah Tischbein '14, president of the Class of 2014, delivered the Senior Class Remarks….Commencement speaker Marty Baron '76, '76G, executive editor of The Washington Post, received an honorary Doctor of Humane Letters….other honorary degree recipients were Martha McCarthy, Presidential Professor of Educational Leadership at Loyola Marymount University, who received an honorary Doctor of Pedagogy; McGill University Birks Professor of Comparative Religion Arvind Sharma, who received a Doctor of Humane Letters; and Former President and CEO of Sycamore Networks, Inc., and member and former chair of the Lehigh Board of Trustees Daniel E. Smith Jr. '71, who received a Doctor of Humane Letters…Michael Connor '80, '14P, former president of the LUAA, welcomed the new alumni…the ceremony officially concluded with the ringing of the bell by John DeNoia, the 50th Reunion Class President, and Tischbein, who represented the Class of 2014…the benediction was offered by University Chaplain Steffen… the Allentown Band, under the direction of conductor Ronald H. Demkee, delivered their 33rd consecutive performance at Lehigh's commencement ceremony. It is America's oldest civilian concert band, with its first documented performance on July 4, 1828.
Photos by Christa Neu, Ryan Hulvat and Tim Hyland
Posted on:
Tuesday, May 20, 2014