The Right Leader, at the Right Moment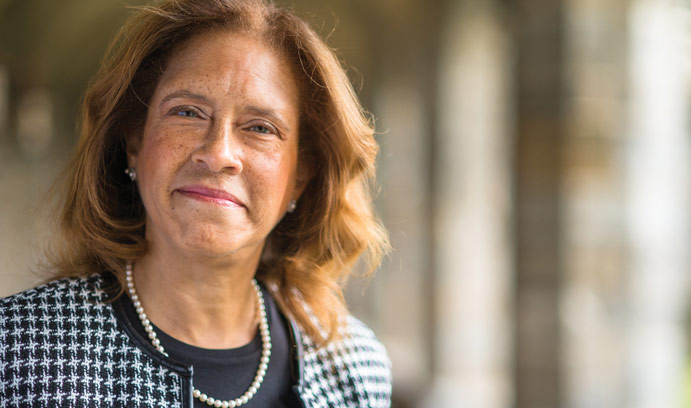 Georgette Chapman Phillips is the new dean of of Lehigh's College of Business and Economics.
Late last year, Lehigh announced that Georgette Chapman Phillips, vice dean of The Wharton School of the University of Pennsylvania, had been named the new dean of Lehigh's College of Business and Economics (CBE).
A few months later, Phillips sat down in her University City office to chat with the Bulletin about her new professional challenge. It's a challenge she is clearly prepared to take on.
In a widely lauded career at Wharton, Phillips was credited with increasing the number of female and minority students at Wharton to historic levels, creating and implementing a senior capstone project, vastly expanding research opportunities for students, creating a new academic concentration in social impact and responsibility, and cultivating major gifts as part of University of Pennsylvania's $4.3 billion campaign.
During a wide-ranging interview, Phillips talked not only about the highlights of her Wharton career, but also her views on the strengths of Lehigh, the challenges of business education in the 21st century and more.
WHAT ATTRACTED YOU TO LEHIGH?
It has an incredible combination of talented students, outstanding faculty and dedicated staff. Those are the three legs of the stool that you really need to have if you want an outstanding management education program. You have to have all three. And once I discovered Lehigh had that, everything else just kept getting better. The alumni are very involved and they have great ideas. I like the location, because I think there's a lot to be said for being in Bethlehem, and that's not only because of its proximity to New York and Washington but also for the work that the school can do in the city itself. All the ingredients are there, I think.
TELL ME ABOUT YOUR TENURE AS UNDERGRADUATE DEAN AT WHARTON. WHAT WAS THAT EXPERIENCE LIKE?
Being the undergrad dean at Wharton was where I really grew as an administrator. I came to really understand how a university functions, both from a financial and an administrative perspective. I came to love administration, too. One thing about being a faculty member is that you have control of that classroom, and you have control of your research. I do love my research but being an administrator gave me the opportunity to effect change on a completely different level.
WHAT ARE YOU MOST PROUD OF DURING YOUR TIME AT WHARTON?
There are so many things I'm proud of, things that really changed the face of the Wharton undergraduate experience. I think we made Wharton and Penn a much better place to be a student.
One of the things I'm most proud of is the institution of a capstone project for Wharton seniors, and there are several reasons why I'm proud of it. First, at its inception, it was a student-generated idea. I worked very closely with the students on that because they told us they wanted something that would bring together all of their experiences. We went through many iterations—can we do this? can we do that?—and we eventually settled on a synchronous multi-round simulation that incorporated all facets of their business education. It was great from an administrative perspective, too, because it was something that we were able to build from the ground up. We weren't building on an existing program. It was about, starting from Day 1, thinking about how we should build it. Then, from a strictly marketing perspective, we had to tell these students, "Well, you're giving up your last winter break." Now, I had expected that these students would have said, "Are you kidding?" But instead, they really went for it. It was amazing how it all came together.
YOU HELPED WHARTON ACHIEVE ALL-TIME HIGHS IN ENROLLMENT AMONG WOMEN AND MINORITIES. HOW DID YOU MAKE THAT HAPPEN?
At Wharton undergrad, we were competing against the likes of Harvard, Stanford and Princeton, and very often, we'd be cross admitting against all three of those schools. So what I did was personally reach out to those students. I had a list of the top 25 to 30, and I would match them to a faculty member. We would create very personal relationships and work very hard to get those students.
But really, it starts even before that. I would get a big list of the top minority students interested in business, and I would have my faculty reach out to them, write them letters saying, "Please consider coming to Penn. We want you to consider us, and here's why we're a good fit for you." It's about generating a pool. You can't yield if you don't have a pool. Once we started doing this, our applications went up overall, but also among African-Americans, women and Hispanics.
WHAT IS YOUR VIEW OF HOW CBE SHOULD DELIVER BUSINESS EDUCATION TO ITS UNDERGRADUATE STUDENTS?
My belief is that undergraduate management education is not business school. Undergraduate experience should include the arts and sciences, the humanities. Those are four very precious years. And that's one of the things that attracted me to Lehigh, because I know that's how the other colleges view it, too. We have to be partners with CAS and partners with engineering. At Lehigh we have very strong academics across the board, and we can offer a really great undergraduate business education that will be complemented by the sciences, engineering and the liberal arts. The menu we can offer is really very strong.
WHAT IS THE FUTURE OF THE MBA—BOTH NATIONALLY AND AT CBE?
The two-year residential MBA has been sliding for a while now. That's just not the way of the future. We have a strong part-time MBA program, but the question is where we really see that program going. What can we do to strengthen the MBA brand? I don't believe you can be a great business school without a great MBA program. Our task is to figure out what it will mean in the future to be a great MBA program.
ANYTHING ELSE YOU'LL BE FOCUSING ON UPON YOUR ARRIVAL?
One of the things I'll be focusing on is elevating the public face of CBE. I think that's a big hole that needs to be filled. I believe my job is to get out there and raise the public face of CBE-—to make sure that we have the school's name on the tip of people's tongues, in the press, in public meetings, at conferences and symposia. I really intend to just keep pushing that name—the Lehigh CBE name.
Posted on:
Thursday, May 22, 2014