The Gift of Life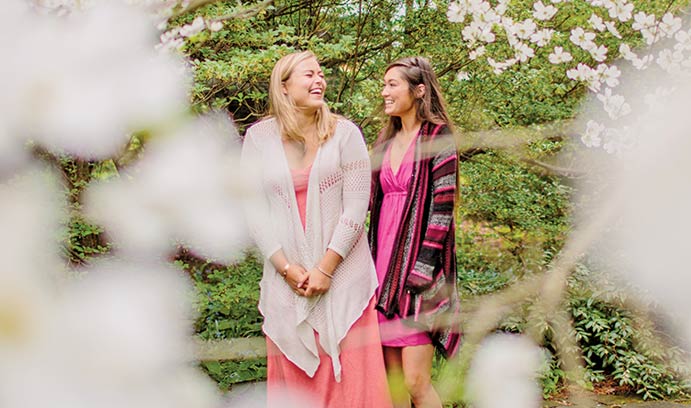 Megan Kienzle '17, at left, and Leanne Purcell enjoy an afternoon at Chanticleer garden in Wayne, Pa.
If you would have told Megan Kienzle's mother that her daughter would one day be willing to sacrifice a semester of her junior year to undergo a risky, excruciatingly painful surgery to donate part of a vital organ to a friend, she would not have been surprised.
"It's actually typical of her to be that caring and that generous," said her mother, Cynthia, speaking by phone from the family's winter home in Utah. "She's just a kindhearted, warm, sweet girl. She always was."
For Megan, who came to Lehigh from Malvern, Pennsylvania, the experience was a surprisingly emotional and rewarding one that cemented her career plans. She is on the clinical and behavioral health track with a minor in health, medicine and society, and plans on becoming a psychologist.
"I'm just so thankful it all worked out," said Megan, who was in Florence, Italy, for a 2016 Study Abroad semester. "I feel completely myself and back to normal, and I'm able to live life to the fullest."
Her unexpected experience began at the start of the Fall 2015 semester, when she learned that the younger sister of her then-boyfriend—fellow Lehigh student Brendan Purcell, who is pursuing his graduate degree in accounting—suffered from the rare genetic disorder Wilson's disease. The disease affects the body's ability to process copper, which can build up in the liver and cause it to ultimately fail.
Leanne Purcell was placed high on the national list for a new liver from a deceased donor as her family investigated the possibility of a living donor. The living donor had to meet highly specific criteria: be either a matching blood type or possess universal donor O negative blood, be in the 18-34 age bracket and in excellent health, and be either as tall or taller than Leanne's 5-foot-8 frame. A biopsy must be performed and an MRI completed to determine if the locations of the bile ducts and blood vessels in the donor's liver allowed for safe dissection and implantation in the recipient's body.
With no deceased donors on the horizon and the window for Leanne's survival rapidly closing, Megan volunteered to be tested.
"That's when everyone started to panic," recalled Megan. "I knew I met the criteria, so I'd been feeling that I could have been an option the whole time."
When all family members were determined to be ineligible donors, Megan began the process of preparation. Counselors at the hospital met with her to emotionally prepare her for the ordeal, which would involve extreme pain for the first week, limited mobility for several more weeks, and a recovery period that would extend into several months. There was the risk of complications, and she would have to sacrifice her entire semester at Lehigh, where she had an active life that included leadership positions with Gamma Phi Beta and service in the Greek Peer Mentor program.
"I also met with the surgeon on Leanne's case, and he explained the surgery in intricate detail," Megan said. "He made me feel extremely comfortable with it. Even though I was terrified, the idea of Leanne not making it was even more terrifying."
Leanne's struggle, Cynthia said, took a toll on Megan emotionally. "It was very hard for her to see Leanne go through so much. And let me tell you, as a mother, it's very difficult to have a daughter come to you and say that she wants to do this. But she just couldn't stand by and not do what she could to help Leanne."
Testing was done on a Monday in early September, and Megan learned she was a complete match on Tuesday. At 6 a.m. the next morning, Megan was wheeled into an operating room at Alfred I. DuPont Hospital in Wilmington, Delaware, for a surgery that would last 10 hours while the left lobe of her liver was extracted and transplanted to Leanne on a surgical table aside her.
A patient liaison came out every hour to keep the families updated. "That absolutely saved me," Cynthia said. "We were so worried, of course, and hoping everything is going well. I can't even remember parts of it. But between our family and Leanne's family, we all supported each other and got through it."
Typically, both the donor's liver and the recipient's liver quickly regenerate, achieving full size within a matter of weeks. A remarkable amount of the growth occurs during the first two weeks following the surgery, making the recovery process extremely important. A slower phase of growth takes place over a year.
Leanne was one of roughly 6,000 patients who undergo a liver transplant each year, according to the United Network for Organ Sharing (UNOS). Not all are as fortunate as she was. About 20 percent of the patients waiting for a donor die before a suitable one is found. And many suffer from complications that can range from bleeding and infection to outright rejection.
In Leanne's case, three more surgeries were needed to address a leaking artery and a blocked bile duct. Her body's initial rejection of the donated liver meant two months in the hospital, hooked up to an IV containing immunosuppressant drugs for eight hours each day. She was able to leave the hospital by Thanksgiving, Megan said, "and we're ecstatic that she's home and beginning to lead a normal life again."
Megan's recovery wasn't as life-threatening, but difficult nonetheless.
"I woke up the next morning with no recollection of what happened, but feeling like I'd been hit by a bus," she said. "It really felt like somebody cut my body in half."
A t-shaped scar traversed her entire abdominal area—"Bikini season is over for me," she said—and a device that held her ribs open for the length of the surgery resulted in tremendous discomfort.
She spent several days in the hospital's ICU and wasn't able to sit up until 72 hours after the surgery. Within a week, she was allowed to walk. At the six-week mark, she was allowed more mobility but still experienced considerable pain. "Since my ab muscles were completely cut through, I had no core strength at all," she said. "I needed to be helped off the bed or couch every time I wanted to get up."
Fortunately, she said, she had the constant support of her mother, her father, Rick, and her younger sister, Abby, who is a certified nurse.
"She gave me blood-thinning shots once a day and helped me ration out the pain medication," she said. "She stuck by my side every single second of every single day in the hospital and at home. I'm really not sure what I would have done without her."
With Leanne's recovery complete and only lingering issues such as weak stomach muscles and minor back pain to contend with, Megan said she has moved on from the ordeal.
"My experience really renewed my enthusiasm to return to Lehigh," she said. "Sometimes it is easy to take everything for granted, but being away for the semester made me realize how lucky I am to be going to my dream school that I truly love so much. And seeing how suddenly Leanne's life was almost taken from her really made me realize how short life is and how important it is to live life to the fullest. I'm trying to take that philosophy with me here in Florence, and really, for the rest of my life. I feel like the luckiest girl on the planet to be healthy and able to have this incredible experience."
It's also deepened her sense of spirituality, her mother said. "It changed all of us. I'm not a religious, church-going person, but this really, really changed me ... to watch her strength was just amazing," Cynthia said. "This is a child who didn't even like to get a shot and to go through this to help someone else ... It's just really touching, and we couldn't be prouder of her."
Photos by Christa Neu
Posted on:
Tuesday, July 05, 2016