The Game Changer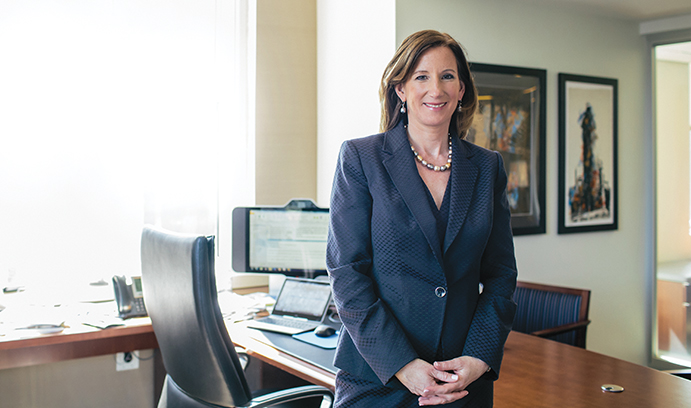 As CEO of Deloitte LLP, Cathy Engelbert '86 is making history as the first woman to head a U.S. professional services firm.
Forty-one floors up, Cathy Engelbert '86 has a prime view of the Empire State Building and the Freedom Tower from her glass-front corner office at 30 Rockefeller Plaza. Behind her desk are photos of her posing with former Secretary of State Condoleezza Rice and former Federal Reserve Chairman Ben Bernanke, along with photos of her son and daughter. Here in Midtown Manhattan, Engelbert, 50, leads professional services firm Deloitte LLP, where she oversees some 70,000 employees in nearly 90 U.S. cities and India and nearly $15 billion in annual revenue.
That Engelbert rose through Deloitte's ranks to become its chief executive officer in March was news. That she was elected CEO by the firm's partnership was also historic—she's the first woman to lead a major U.S. professional services firm.
When her selection was announced earlier this year, the Twitter world was filled with congratulatory messages: "Here's to glass ceilings being broken!" and "Wow, this is incredibly inspiring." She did rounds of interviews, including with Fortune, Forbes, Bloomberg, Accounting Today, The Washington Post, Meet the Press and Delta's Sky magazine. She received hand-written notes and emails from both men and women, with some being especially moving. One father wrote that his 6-year-old daughter, while being tucked into bed one night, "lit up as if I showed her a secret forest" when told a woman was now in charge of his organization. "I just want to send this to you as a father so you know the impact you are having already on the lives of a generation [that] you may not even realize," he wrote.
Engelbert joined Deloitte 29 years ago, after graduating from Lehigh with a bachelor's degree in accounting. Academically accomplished, she had interviewed with Deloitte and other firms at Lehigh's Christmas-Saucon Hall. By then, she said, she had come out of her shell socially. Standing 5-feet-9, she was also athletic, serving as captain of both the women's basketball and lacrosse teams in her senior year and learning leadership skills.

"The one thing that struck me when I was being interviewed by all the accounting firms was that everyone said, 'Lehigh produces the most well-rounded people in the work force,' " she said.
When Engelbert arrived at Deloitte's Philadelphia office after graduation, just 7 percent of the organization's partners and principals were women. That number has since grown to 25 percent, following an initiative to boost retention and advancement of women. Eventually, Engelbert moved to the organization's offices in the New Jersey-New York area, developing a track record of serving several of Deloitte's largest and most complex global clients. She was previously chairman and chief executive officer of Deloitte LLP's audit subsidiary.
As a wife and mother of two teenagers, Engelbert recognizes she's a role model for those who wonder whether they can balance work and family. With a nod to the mentors and sponsors who helped her shape her career, she said she intends to "pay it forward," with hopes of leaving a legacy around the evolution of Deloitte's diverse leadership. To that end, she returned to the Lehigh campus in late March to take part in an inaugural "Women in Business" conference, run by students in the College of Business and Economics, where she had thrived. She also sat down for an hour-long interview with the Bulletin prior to the conference and shared her story.
YOU DIDN'T JUST BREAK THE GLASS CEILING, YOU SHATTERED IT. WHEN YOU GRADUATED FROM LEHIGH IN 1986, DID YOU IMAGINE YOU'D BREAK BARRIERS?

I definitely did not imagine that at all. At Lehigh, I actually started out in one curriculum and then switched over to the business school and accounting. I thought I wanted either computer engineering or computer science at first. And then when I got here, I had to take this Fortran [Formula Translation] course, a programming language used by engineers. And I said, This isn't for me. So I transferred to business. I don't remember who gave me the advice to transfer to accounting, but it was the best advice I could have gotten because the person said, You'll get a job. It really was an important decision along my path to go into, first, business and then accounting within the business school.

TALENT ASIDE, HARD WORK ASIDE, HOW DID YOU DO IT? IN ENTERING A MALE-DOMINATED FIELD, WHAT'S BEEN MORE CRITICAL—MENTORS OR YOUR WILLINGNESS TO TAKE RISKS?
It's a little of both. I'm one of eight kids with five brothers, so it's kind of a male-dominated family. I came to Lehigh when it was four-to-one, male to female, kind of male-dominated. I then went into the public accounting profession. It was extremely male-dominated. So I think it was my training from family, school and then into a profession that I actually just felt comfortable with. I was a sports buff because of having five brothers and a father who played big-time college basketball. The one thing that struck me when I was being interviewed by all the accounting firms, was that everyone said, Lehigh produces the most well-rounded people in the work force. And I'll never forget that because I always had that on my mind to prove that I could do it all.
I talk about mentors and sponsors separately. Mentors are the ones you can really trust and who kind of become personal friends and can help you navigate whether to take an opportunity or not. The sponsors are those who sit in the room when decisions are being made about you and say, I think Cathy needs to build that capability or Cathy really needs this client assignment to make her more well- rounded.

It was the sponsors who really gave me the opportunities. The mentors helped me say yes or no. The sponsors said, Let's put Cathy in this role because I think she'll benefit from that.
YOU MENTIONED "DOING IT ALL." YOU RAISED TWO CHILDREN WHILE PURSUING A DEMANDING CAREER.
Yes, two children, teenagers now.
IN THE ONGOING DEBATE OVER WHETHER WOMEN SHOULD "LEAN IN" TO THEIR CAREERS, HOW WERE YOU ABLE TO BALANCE FAMILY AND CAREER?

For me, it was about knowing that it wasn't linear, that there were different needs over the course of the different ages of my children. I have a supportive husband as well. So I had different needs when my children were newborns versus toddlers versus middle schoolers versus now high schoolers, or teenagers. I laugh because obviously when they were newborns and toddlers I used to run home from work and feed [them] and go back to work. Luckily, I was working close to home back then and wasn't doing a lot of travel. And now sometimes I walk in the door and they might acknowledge me, they might not because they're teenagers now. I've become a chauffeur, a chef and an ATM, and that's about it. (laughs). I'm joking a little bit here. They're so important to me.
One of the reasons I was able to do it is I had a supportive spouse, reliable child care and really a passion for making sure I spent quality time with them. It wasn't always easy. It isn't always easy today. I'm a little obsessed right now. It's my daughter's last year in high school. She's a very good lacrosse player. I've said I want to get to at least 70 percent of her games this spring, which given that I just took over as the CEO at Deloitte, is not an easy thing. But I will do it. I guarantee you.
DID YOU FIND THAT YOU HAD FLEXIBILITY IN THE WORKPLACE?
You have to ask for it. You have to manage around it. And professional services is actually a profession where you can ask for that flexibility at different points of time in your life. I coached my daughter's basketball team from fourth grade to eighth grade. I actually couldn't do that today but at the time I was on one large client, which was not that far from home, and I could do it. You have to find the points with your work and your life that you can ask for that flexibility and that you know you can leave at a certain time. But that doesn't mean you don't work hard, that doesn't mean you don't want promotions.

The travel is less flexible sometimes, and that's the challenge, especially for young women who want to raise families and think, Oh, do I need to be on the road all the time and how am I going to do this? At one point I actually raised my hand and said, I just flew 130 times in a year. I'm having my second child. I don't want that job anymore. Can I get a job that gives me a little more stability closer to home? And I got that for three or four years, and then I was ready to go back on the road and do some things to build my capabilities.
YOU COME FROM A FAMILY OF EIGHT CHILDREN, INCLUDING FIVE BROTHERS. TELL ME HOW THAT MIGHT HAVE FIGURED INTO YOUR SUCCESSES.

I've been reflecting on that a lot more since getting this role, around how that did shape me. My father worked three jobs, and my mother worked too, sending eight kids through college, five at Villanova, one at Lehigh, very excellent colleges. I reflect back at the competitiveness and the leadership that you get in a family of eight, competing literally for things like cereal and snacks. I joke with my sister, whom I'm very close with—she's 13 months younger—that we used to hide Pop-Tarts in our room because our brothers would steal them from us and eat them. So it was the competitiveness, and really my father working the three jobs. That was the dedication and hard work part, because he had a goal, he had a goal to send his eight kids to college. He accomplished that goal. Unfortunately he died young, at 51 years old, but it was after I graduated and had started with Deloitte.
WHERE IS YOUR HOMETOWN?
Collingswood, New Jersey. There are a few of us Lehigh-ers from Collingswood. In fact, I picked Lehigh—I was being recruited lightly for lacrosse at some other schools—because someone from Collingswood the year before me had come here. She had the lacrosse coach take a look at me. It's funny how you look back at different decisions you make and why you make them. And I was a walk-on for basketball. Muffet McGraw [now Notre Dame University's women's basketball coach] was my basketball coach for four years. She dropped me a note recently to congratulate me and said, I remember the first day you walked in the gym in Grace Hall when we had tryouts. I was a walk-on. She didn't know who I was.
Today in NCAA Division I, you could never play back-to-back sports like that, basketball and lacrosse, because lacrosse starts before basketball is over. Back then I might have missed two practices. Now you would miss half the games.

WHAT WOULD YOU CHOOSE?

I probably would have chosen lacrosse because that's what brought me here. Basketball, I ended up being the MVP [Most Valuable Player] of the East Coast Conference tournament while I was here. We were 24-4 my senior year, a huge success. It would have been interesting if I had to choose one over the other, but sports were different back in the '80s. You could play multiple sports. Many athletes did.
WHAT WERE YOU LIKE AS A COLLEGE STUDENT HERE?
Well, I started out very quiet. So the other thing that Lehigh did was to bring me out of my shell socially. I don't know the turning point, maybe sophomore year. But I came out of my shell and really enjoyed the experience here.

Academically, I was always a pretty good student in high school. I was in the top 10 of my graduating high school class. And then you come to Lehigh where everybody was valedictorian and top 10 in their class. It kind of shocked me from an academic perspective to be with my peers who were just as smart or smarter than I was.

And then the athletic part of really getting the camaraderie and then the leadership. I captained both basketball and lacrosse my senior year here and that was kind of my first flavor of leadership, as I went on to really learn a lot around what that was about, to motivate the players and help the coach with the team from a leadership perspective.
WHAT STANDS OUT IN YOUR MEMORY?

From an athletic perspective, we won the East Coast Conference basketball championship my senior year. That clearly stands out. It was at Rider University. We were an underdog and we won. In lacrosse we made the NCAA tournament my junior year. We were ranked at one time in the top 12 in the nation. We went down to the University of Maryland, this huge school in this huge stadium, and lost pretty bad to Maryland. David versus Goliath. We were definitely David in that case.
And then academically, there were some unbelievable professors in the accounting and business schools. Obviously, [Accounting Professor] Ken Sinclair. I loved economics here, especially macroeconomics. I had great professors, great advisers in the business school. I personally liked finance better than accounting when I was here at Lehigh, but I think that helped me, actually, when I got to the real world, to combine that. I became what we call a financial instrument specialist at Deloitte, helping clients understand financial products to manage risk like interest rate risk and foreign currency risk. That gave me a huge niche, where a lot of people got to know me. I got to work with treasurers and CFOs across corporate America as they figured out how to use derivatives to manage their financial risk. Lehigh set forth the platform for which I would eventually get into a specialty like that.
HOW ELSE DID LEHIGH SHAPE YOU?
It shaped me into a much more well-rounded person. From the day I started at Deloitte, people would say, Oh she has presence beyond her years. Well that's what I got at Lehigh, the executive presence. And that's an important part of leadership because you need to gain followership from people who report to you. If they see you're able to handle stress—people call it grace under fire or be your best in your darkest moment—in a way that is measured, you're the calming influence. Those are all things I learned from my schooling at Lehigh. And quite frankly, the camaraderie at Lehigh, the atmosphere when I was here was so in tune to developing that because of the Greek system and the social system. I couldn't have done it if I didn't have that part of my personality kind of come out of that shell and have confidence that I could be someone contributing value to the business community. That is really, I think, what Lehigh gave me.

HOW SIGNIFICANT WAS A LEHIGH DEGREE TO YOUR CAREER?

Huge. Christmas-Saucon was where I interviewed [with the accounting firms.] I spent six years in our Philadelphia office. After the sixth year, I was looking for something different to make myself well-rounded, that same theme from what I learned here. I went to our national office and did accounting research for two years. It was technically in Connecticut, and then I came to the New York/northern New Jersey area and have been back and forth between those offices since 1994.
YOU SEEM COMFORTABLE BEING A ROLE MODEL. DOES IT EVER BECOME OVERWHELMING?

People who know me well know that I am uncomfortable with the attention around being the first woman CEO of a major U.S. professional services firm. What I've been inspired by the most are the handwritten letters I have received since my announcement went out in February from people at colleges and universities across the country. People in the work force, mostly women but some men, who said, I read your story. I'm inspired. And they actually inspire me to be that role model. These are amazing letters. I have emails from people at Deloitte, a woman who said, I had twins a year and half ago. I'm now pregnant with my third child. I didn't think I could do this. I read your story and now I'm going to stay. Amazing, amazing.
EVEN BEFORE YOU BECAME CEO YOU WERE PROBABLY A ROLE MODEL.

So people were watching me around what time of night I sent emails. What I would do because I coached for five years, I would go home at a reasonable hour, coach my daughter's basketball team, then come home and boot my computer up and send emails at 10 at night. People were like, Gosh, Cathy's always working. Well, that's not a good role model. But I said, Wait, I just spent three hours coaching, then having dinner with my family. People didn't see that part. So I became very cognizant, probably about six, seven years ago that I was a role model and that people were looking at the way I was balancing family and work. It is not always easy. It can be challenging. Are there things I've missed that I regret? Sure. Nothing major though.
LEHIGH ACCOUNTING STUDENTS HAVE COME TO DELOITTE AND YOU'VE BEEN GRACIOUS WITH YOUR TIME WITH THEM. WHAT ADVICE DO YOU GIVE THEM?
My advice is to take advantage of building your skill set. The future of our work force is going to be around big data and analytics and data scientists and being able to take data and visualize it and help companies manage their business to a profitable and sustainable point. So take advantage [of the courses offered.] I'm on the Accounting Advisory Board at Lehigh, so I know Lehigh offers a lot of these things. And not every student takes these courses because they may not be looking at the future. There's cloud, there's cyber, there's digital, there's 3D. There's so much evolving around this, around technology, that if accounting and business students don't build capabilities and can't evolve with the pace of change that companies are faced with, they're not going to be as successful. Companies are not going to want to hire them. We do a ton of training, but you can differentiate yourself quickly if, as a student, you're maximizing your experience.
YOU'VE SPOKEN ABOUT YOUR DESIRE TO "PAY IT FORWARD." HOW WILL YOU DO THAT?

So pay it forward to me is a little like "lean in" around talent. So pay it forward is coming to an event tonight at Lehigh. Now I started in New Jersey today, went to New York and now I'm here in Bethlehem. But this is important to me, to work with young men and women and make sure they see the value they can provide in a profession like ours. And they feel they can stay and have a rewarding profession while balancing home life.

If I can leave a legacy, I'd like it to be around the evolution of our diverse leadership at Deloitte, and that's what I really want to pay it forward on. I was given opportunities that I can't even figure out today how I was picked. But I think it was that sponsor sitting in the room saying, Let's give Cathy this opportunity, and that helped me. So that's what I want to do for our young people is say, Don't be afraid of taking risks. Don't be afraid of an opportunity. Don't be afraid of an overseas assignment. Become technologically savvy. Now kids today are much more apt to do things than my generation was. The world is globalizing. And I want to help these young people today realize who they're going to need to be in 2030 and 2035, so I'm taking a much longer-term view on paying it forward. Who's going to evolve into the leaders of tomorrow?
Photos by Christa Neu
Posted on:
Monday, June 29, 2015