Students Rise To The CREATIVATE Challenge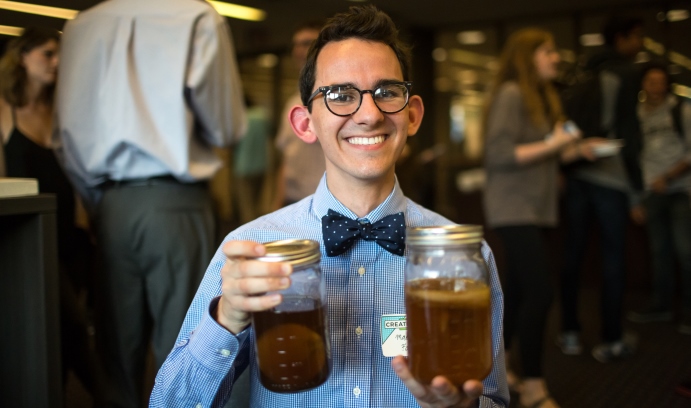 At CREATIVATE, Matthew Fainor '20 exhibited the jewelry he makes by drying and processing the cellulitic structures that form during the fermentation of kombucha tea. CREATIVATE, which is sponsored by Lehigh's Baker Institute, gives student entrepreneurs a showcase for their inventions.
The saying goes that if you want to make a change for the better in your life—or in any endeavor—you should first appreciate what you already have.
Santana Huck '18, who grew up on the Hawaiian island of Maui, is taking this lesson to heart.
Huck and three other Lehigh undergraduate students are looking to reinvigorate Hawaii's egg industry by making cheap chicken feed from local resources. Their product is called Happy Feed.
"The egg industry in Hawaii has really declined," says Huck, a materials science and engineering major, "but there is a large demand for local farm products, including fresh eggs."
Huck's team makes Happy Feed from three resources that are abundant in Hawaii: kelp, the larvae of black soldier flies, and the pulp and husks of sunflower seeds.
Last week, Happy Feed was one of 21 student projects displayed at CREATIVATE, an annual event that celebrates students' creativity, innovation and entrepreneurial spirit. Sponsored by Lehigh's Baker Institute for Entrepreneurship, Creativity and Innovation, CREATIVATE invites students to show off "an amazing creative project, an innovative research in progress, or an entrepreneurial side hustle in your dorm room."
On Oct. 25, more than 60 students took the challenge. For three hours, they turned the sixth floor of the Fairchild-Martindale Library into a bazaar of innovation, explaining to an audience of fellow students, staff and faculty members how their projects could solve real-world problems.
The Happy Feed team explained to the CREATIVATE audience that most of the eggs consumed in Hawaii are imported. This is because of the high cost of egg farming, which in turn results from the high cost of corn-based chicken feed, all of which is imported. These factors are reflected in the price of eggs—$3 to $4 a dozen in stores, and as much as $7 or $8 a dozen for organic, locally grown eggs.
The Happy Feed students grind kelp, soldier fly larvae and sunflower seeds to make pellets of chicken feed. They obtain the sunflower seed husks and pulp from a biodiesel company that extracts fuel from sunflower seed oil. They raise black soldier flies by feeding them food waste, which is produced by Hawaii's many hotels and restaurants. The kelp, which grows in the ocean, is valued for its vitamins and minerals, especially calcium.
The idea for Happy Feed, says Huck, originated in a sustainable development class, where he learned that sustainability's three pillars were environmental, economic and social issues.
"We incorporate local resources, which has a positive impact on the economy," says Huck.
The other members of Huck's team are Ian Bender, Leah Charash and Nadine Clopton. All are juniors. Bender is an IDEAS (Integrated Degree in Engineering, Arts and Sciences) major with concentrations in mechanical engineering and in environmental science and sustainable development. Charash is an IDEAS major with concentrations in environmental engineering and in sustainable development, and Clopton is a double major in health, medicine and society (HMS) and political science.
"We're hoping to bring back local farming in Hawaii," said Clopton. "Our product will hopefully enable agriculture to engage with the community in a way that is sustainable and profitable."
"We gave a presentation recently," said Charash, "and someone asked us, 'Do you guys really want to do this?' I said of course. When would I have the opportunity to have a business that lines up with my moral values and gives me the chance to work with three people that I care about?"
The Happy Feed team is advised by Chris Kauzmann '13 '14G, innovation programs manager at the Baker Institute.
Leveraging the Leftovers from Kombucha
Matthew Fainor '20, an IDEAS major with concentrations in bioengineering and product design, started a solo project last May and worked on it over the summer in the attic of his home in Allentown.
Fainor harvests and dries the cellulitic structures that form during the fermentation that produces kombucha tea. Fainor has created jewelry from the material, which can also be used to make wearable products such as ties and vests.
"As bacteria and yeast culture break down the sugars in the tea," said Fainor, "the sugars form into strings and then into mat-like structures on the surface of the glass or cup. I wash the mats to get rid of the yeast and bacteria, and then dry them out.
"My goal is to leverage the power of natural processes to create consumer products."
Fusing fashion and function
In just five months, Lexy King '18 and Courtney Henig '19 have designed an earring for people with active lifestyles and formed a business called basic96. They hope to sell their first products before the end of the year.
"We both play on the women's lacrosse team," says King, who majors in journalism and has a minor in entrepreneurship. "We take our jewelry on and off constantly, and it seems we're always losing it."
The typical earring, says King, has a pin that fits into a backing. The fit is not always tight enough to prevent earrings from falling out when a woman arranges her hair or pulls on a sweatshirt.
King and Henig have achieved a tighter fit with an earring that screws into its backing. The backing is made of 316-grade surgical steel, chosen because it is not irritating to the skin.
Screw-on earrings are not new, King says. The basic96 product differs from similar earrings in its design and in the way it sits on the ear.
King and Henig, a marketing and management major with a minor in entrepreneurship, began working on their project last summer as part of Lehigh's Mountaintop Initiative, in which students pursue answers to open-ended questions while working across disciplines.
King and Henig received a stipend through the Mountaintop Initiative and won additional funding through the Baker Institute's Eureka competition. They put up their own money to register basic96 as an LLC and to sign a contract with a manufacturer. They have produced a prototype and placed their first order, which is scheduled to arrive by Christmas.
Their first customers will be fellow student-athletes.
Mesh networking for women's safety
Another group at CREATIVATE has designed and is developing a device called Soterra, which is shaped like a disc and fits easily into the palm of the hand. Soterra uses mesh networking to provide access to emergency response services to women, especially those in developing countries, who do not have a cell phone or internet access.
As many as one-third of the world's women, says Lena McDonnell '17, a computer science major, will be the victims of sexual assault at some point during their lives. The regions of the world where sexual violence is most prevalent, she adds, are often the regions where emergency response services are least available.
The Soterra gives women two options if they feel threatened, says McDonnell, who is captain of her group of 13 students. If a user presses the device three times, it activates a red alert, which goes to the police. If for whatever reason a user prefers not to get the police involved, she can press the device twice to activate a yellow alert that goes to a preselected set of contacts, such as friends and family members.
In an estimated 80 to 95 percent of sexual assault cases, says McDonnell, the abuser is someone the victim knows.
"In almost all of these cases," she says, "the victim is unwilling to call police for fear of escalating the situation or because she doesn't trust the police. Also, in some parts of the world, victims are blamed for a sexual assault that has occurred."
The Soterra students have completed the design and much of the development of their device. Their goal is to develop two prototypes. The first, a blue-tooth mesh networking solution now in development, will have a range of 1,000 feet. The group hopes later to design a radio frequency (RF) mesh networking solution with a much longer range.
Each Soterra, says McDonnell, contains a GPS system that has 50 times more geographical accuracy than a U.S. mobile 911 phone call. A barometer inside the device senses pressure and can tell responders which floor of a building a user is signaling from.
The Soterra group is competing for the $1 million Anu and Naveen Jain Women's Safety Prize offered by the XPRIZE Foundation, a nonprofit that sponsors competitions to encourage innovators to come up with technology to solve pressing world problems.
The students began working on the project last April, continued over the summer and went into high gear over the four weeks leading up to September 15, the deadline for submitting technical design documents to XPRIZE.
"We met for more than five hours a night, every night for four weeks, to work out the details," says McDonnell.
Eighty-five teams from 17 countries joined the competition for the Jain Women's Safety Prize. On Nov. 15, the Soterra group was one of 21 teams chosen by XPRIZE to take part in the semifinal round next April in Mumbai, India.

"We are beyond excited and honored to be going," says McDonnell. "We believe we've created something amazing.

"Whether we win or lose, we're not going to stop; we're going to finish this project no matter what."

Story by Kurt Pfitzer
Photos by Christa Neu

Posted on:
Friday, November 10, 2017