Students, Faculty Take Top Prizes at MS&T17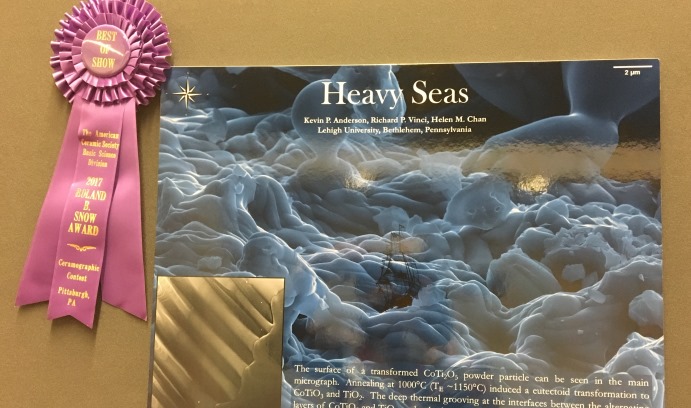 Anderson titled his prize-winning poster "Heavy Seas" because the thermal grooving at the interfaces of two compounds "evoked the image of turbulent seawaters." (Photo courtesy of MS&E department)
Students and faculty in the department of materials science and engineering won a number of awards recently at MS&T17 (Materials Science and Technology 2017), an annual conference organized by four of the world's leading materials science societies.
Kevin Anderson, a Ph.D. candidate, received the 2017 Roland B. Snow Award for "Best of Show" in the American Ceramic Society's (ACerS) Ceramographic Exhibit and Competition, which promotes the use of microscopy and microanalysis in the scientific investigation of ceramic materials.
Anderson's poster, titled "Heavy Seas," was coauthored with Richard P. Vinci, professor of materials science and engineering and director of the Center for Advanced Materials and Nanotechnology, and Helen M. Chan, professor of materials science and engineering.
Using scanning electron microscopy (SEM), Anderson examined the transformation of a cobalt-titania compound brought about by high-temperature annealing. The deep thermal grooving at the interfaces of two resulting compounds, he wrote on the poster, "evoked the image of turbulent seawaters."
In the category for transmission electron microscopy (TEM), also sponsored by ACerS, Lehigh took first and second prizes.
First prize went to Michael Kracum '11 '17 Ph.D., Christopher Marvel '12 '16 Ph.D., Martin P. Harmer and Chan for a poster titled "Phase Boundaries Between Copper and Transition Aluminas During Discontinuous Coarsening." Harmer is the Alcoa Foundation Professor of Materials Science and Engineering.
Second prize went to Marvel, Kristopher Behler, Jennifer Dunn, Jerry LaSalvia and Harmer for a poster titled "Yttria-Doping Grain Boundaries in Boron Suboxide." Behler, Dunn and LaSalvia are researchers with the United States Army Research Laboratory.
In the Metallurgical Poster Competition sponsored by the International Metallurgical Society (IMS), Lehigh undergraduate students took four awards.
Second place went to seniors Michael Brill and Gannon Reichert for "Alloying an Apple Core," while third place went to seniors Weining Li and Zhongrui Liu for "Broken Reed." Two groups won honorable mention—Nick Johnson '16 and Cam Juric '17 for "Supermagnets" and seniors Thomas Farinha and Joseph Cline for "Shafting the Competition."
The annual MS&T conference is one of the most comprehensive forums for materials science and engineering technologies. In addition to ACerS, the event is organized by the Association for Iron and Steel Technology (AIST); ASM International; and The Minerals, Metals and Materials Society (TMS).
Posted on:
Monday, November 20, 2017