Student Leaders Honored at 33rd Student Life Leadership Awards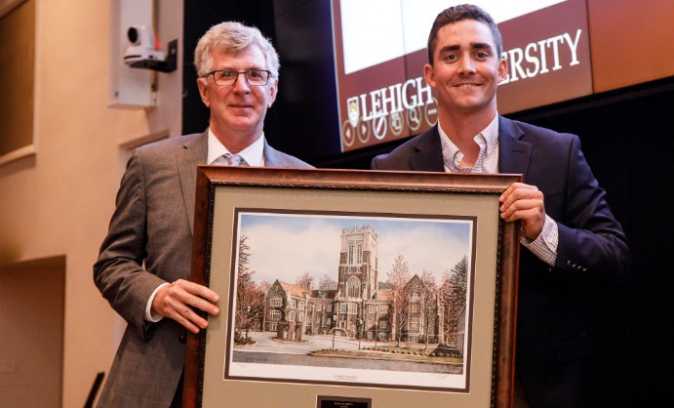 President John Simon presents the University Service Award to Michael Schwab. Other recipients included Yuan Gao and Matthew Rothberg.
Members of the Lehigh community gathered in early May to honor more than 50 students for their contributions to student life at the annual Student Life Leadership Awards. The students, friends and family members attended the late afternoon event in Packard Auditorium, as well as a reception afterward in the Asa Packer Dining Room.
The event was presided over by Dean of Students Katherine Lavinder, who said that she continues to be impressed by the students with remarkable "dedication, passion, poise and maturity." First-year students come in with typical concerns about their new Lehigh experience, she said, but leave as exceptional, confident and accomplished graduates.
Lavinder said she speaks "for all of us in Student Affairs in saying that we are incredibly honored to be part of that transformational process. We are very proud of these young students and what they've become."
On hand for the ceremony were President John Simon and Provost Pat Farrell, who presented the University Service Award and the Bosey Reiter Leadership Cup, respectively.
"As you can clearly see," Simon said, "Lehigh has been blessed with extraordinary students who care deeply about the institution and our campus culture. In addition to thriving academically, these students found the time and energy to devote their skills to nurturing dialogue, creating a more welcoming environment for all students, developing engaging programming, encouraging activism on important social issues, and stepping up in leadership roles."
Attending his first ceremony in his role as vice provost for Student Affairs, Ric Hall presented the Contribution to Student Life Award, which recognizes Lehigh underclassmen who have significantly contributed to the improvement of the quality of student life during their time at Lehigh. (See recipients listed below).
Award recipients included:
University Service Award
Yuan Gao
Matthew Rothberg
Michael Schwab
Bosey Reiter Leadership Cup
Ian Davis
Divya Sirdeshpande
Lindsay Wilson
Deborah Pearsall Prize
Anne Henry
Lauren Fosbenner
Lauren Schlegel
John W. Smeaton Pillar of Integrity
Liyala Dickens
Contribution to Student Life Award
Lidia Breen
Victoria Campbell
Jamal Connelly
Cole Geryak
Maura Henderson
Karlynn Miller
Stacie Nadel
Mary Newport
Angelene Rizzo
Katie Teitelbaum
Weijing Wei
James J. Duane III Student Life Leadership Award
Alison Bergin
Ryan Bonshak
Daniel Colville
Ian Davis
Liyala Dickens
Benjamin Hamblett
Quinci Mann
Taj Blount-Oden
Anastassiya Perevezentseva
Alyssa Riporti
Matthew Rothberg
Samantha Scaccia
Michael Schwab
Divya Sirdeshpande
Emma Strong
John Tolbert
Lindsay Wilson
Outstanding Educational Programming Award
The Be Your Own program
Excellence in Entertainment Programming Award
The Latin Carnival
Exemplary Cultural Programming Award
The FUSION program
Student Club/Organization of the Year Award
International Voices
Student Club/Organization Advisor of the Year Award
Dr. Emory Zimmers, advisor for the Lehigh National Society of Leadership and Success
Student Senate Leadership Award
Gary Schick
Residence Hall Association Character Award
Katie Teitelbaum
Ujima Award
Jamal Connelly
Jamir Connelly
Anastassiya Perevezentseva
Service Above Self Award
Dalyan Kosar
Linette Caudillo Zavala
Allegiance Award
Daniel Beadle
Harrison Birabaharan
Ryan Bonshak
Taj Blount-Oden
Matthew Rothberg
Mae Williams
Lindsay Wilson
Alumni Association Undergraduate Merit Awards
Klaudia Jazwinska
Rachel Okun
Matthew Rothberg
Samantha Scaccia
Photos by John Kish IV
Posted on:
Friday, May 11, 2018