Profile: Mike Garzillo '16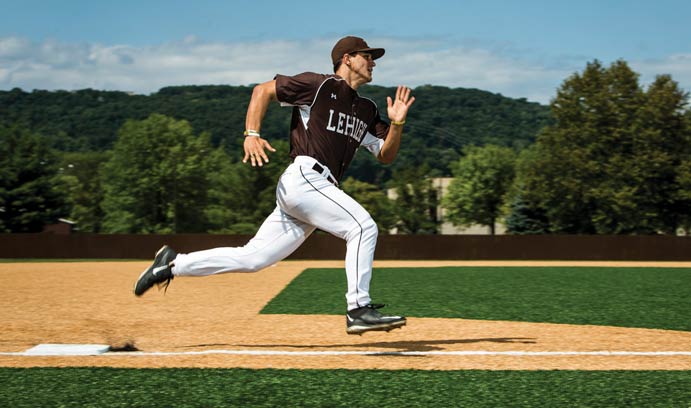 A business management major, Mike Garzillo '16 last season earned Academic All-League honors for the second straight year.
Bo Jackson, Deion Sanders and Brian Jordan are among the athletes who famously played more than one professional sport. Mike Garzillo will never join their ranks. When it comes to sports, he's strictly monogamous.
"From a really young age I knew that baseball was all that I wanted to play," says Lehigh's star second baseman. "I loved watching it on TV, and when I was old enough to play, I took the first opportunity I got. I never even wanted to play T-ball because it wasn't real baseball, so I waited until the kids were pitching to start playing."
Pitchers everywhere wish he would have waited a lot longer. From little league into high school and throughout his Patriot League career, he's never stopped hitting. As a junior last year he batted .359 while setting a new school single-season home run record with 13. He finished with a league-best 54 RBI, and his 75 hits were the second most in a single season at Lehigh.
Lots of people, including scouts from the New York Yankees, took note. After a season in which he was a unanimous first team All-Patriot League selection and was named a second team All-American by Baseball America, the Bronx Bombers selected him in the 38th round of the Major League Baseball draft.
"Derek Jeter is Mike's favorite player, but there's something about Mike that's very similar to Jeter in the consistency that he brings in his performance every day," Lehigh Coach Sean Leary says. "We know that we can count on him every day."
Garzillo's performance in the Patriot League Championship Series was Jeter-esque. He went 4-for-5 with a grand slam and solo home run in the Mountain Hawks' game-one win and scored the game-winning run in game three to help Lehigh to its second-ever league crown.
His monster season brought chatter that he might be drafted, but after two days his name was still on the board. By the third day he couldn't take the tension, so he broke from the shackles of his TV and headed to—where else?—a ballpark.
"I couldn't sit there any longer, so I went to the Lehigh Valley Catz game to see some of my [Lehigh] teammates play. I was sitting in the stands watching the game and the draft tracker on my phone. It was in the 38th round and the Yankees pick was coming up and I saw my name pop up. I thought that was pretty cool because I was sitting next to my dad, so I gave my dad a hug."
It was a dream come true for a hopeless baseball romantic, but Garzillo quickly learned the reality of professional baseball is no fairy tale. A contract agreement with the Yankees never materialized. "I really wanted to sign, I was ready to start my professional career, but I also had to make a decision that was best for me and my family," he says.
A business management major, Garzillo last season earned Academic All-League honors for the second straight year. He's on track to graduate next year, but first, there's the matter of his senior season. "The goal is to win another championship," he says. "We made it to [NCAA] regionals last year and we lost two games. I think it would be awesome if we could leave a legacy that we were the first [Lehigh] team to win a regional game."
To get there, Garzillo's not resting on his 2015 laurels. As always, he's working on his fielding and taking his cuts in the batting cage. (On his Lehighsports.com profile, he lists his hobbies as "baseball.")
Next year, Garzillo will go back into the draft pool, and he can be chosen by the Yankees or any of the 29 other Major League teams. While he'd still love to play for New York, he'd happily suit up for anyone. As long as he's playing baseball, Mike Garzillo will be happy.
Story by Mike Unger
Posted on:
Thursday, December 03, 2015