Parents of Tim Piazza, Marquise Braham to Discuss Hazing Dangers Thursday
Jim and Evelyn Piazza and Rich Braham will meet with Lehigh students on 'Turning Tragedy into Progress.'
Posted on
January 29, 2019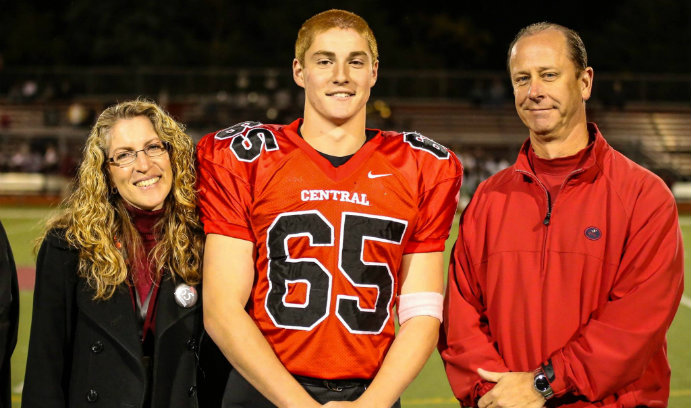 Tim Piazza was pledging for the Beta Theta Pi fraternity at Penn State University in 2017 when, as part of a hazing ritual, he was made to binge-drink an excessive amount of alcohol. Intoxicated, the 19-year-old fell several times, including a down a flight of stairs. His fraternity brothers waited 12 hours before calling for help. By then, it was too late to save him.
Three years earlier, Marquise Braham, 18, committed suicide by jumping to his death from a parking garage in New York after enduring hazing at a fraternity at Penn State, Altoona.
The parents of both teens will meet with Lehigh students on Thursday, Jan. 31, to share their heartbreaking experiences, raise awareness about the dangers of hazing and stress the importance of seeking medical assistance for those in distress. The event, a kickoff to Lehigh's Hazing Prevention Week, will begin at 7 p.m. in Packard 101. It will be open to the campus community on a first-come, first-served basis.
The event also will be streamed live, as well as posted, on Facebook.
Jim and Evelyn Piazza, whose son Tim was studying mechanical engineering, and Rich Braham, whose son Marquise planned to major in biomedical engineering, will speak about "Turning Tragedy into Progress." Both the Piazzas and Braham, who have launched a nationwide anti-hazing campaign and are pushing for stronger anti-hazing laws, have been meeting with students on college campuses around the country in an effort to prevent more tragedies.
The Piazzas were the impetus behind Pennsylvania's new anti-hazing law, named for their son, which stiffens penalties for hazing and requires colleges and universities to publicly report hazing violations. The Timothy J. Piazza Anti-Hazing Law includes a medical amnesty policy, similar to Lehigh's, that provides immunity to those who seek medical assistance for those in distress or who contact law enforcement or emergency personnel for help.
On Lehigh's Hazing Prevention website, Lehigh University administrators stated their intent to fully support the new law and to provide information about hazing in a complete and transparent manner. The university also expressed the commitment to nurturing a culture of respect and the rejection of any activities that subject members of campus groups and organizations to harmful, degrading or dangerous activities as a condition of their inclusion.
In a phone interview, Rich Braham explained why he meets with students to talk about hazing.
"I want these kids to live," said Braham. "My sole interest is them going home safely to their parents every semester, at the end of four years. I want these kids to grow and to flower and to fulfill the dreams and the hopes of their parents and themselves that they wanted when they embarked on going to school in the first place. That's what I want for them. But I want to explain in reality to them what can happen....The realization has got to come from them."
In a separate interview, Evelyn Piazza said that hazing has to become as much of a concern to society as drunken driving. "We need hazing to be so negatively perceived that it's the rarity, it's the anomaly, that everybody thinks, 'Oh no, we can't haze,'" she said.
She said parents don't realize the level of hazing that occurs nowadays. "It's not streaking and togas and swallowing a goldfish," she said. "It's drinking a handle. It's doing planks on bottle caps. It's road trips in the middle of the night, after you've been drinking, to drive three hours someplace and three hours back. It's servitude."
Often, she said, incidents escalate.
The Piazzas, who have established a foundation in their son's name, and Braham stressed the importance of raising awareness among students.
"I bet among the families [who lost children to hazing], we've touched over 50,000 students who have touched other students," Jim Piazza said. "It's that extrapolation—and we're only getting started—that we hope creates an awareness, not only among students, but parents, so that parents are having discussions with their children that we didn't have a chance to have.
"I think if the students have this awareness and the parents have the awareness now and they buy in, and they don't think that this is the college experience that somebody's supposed to have, then they can teach their children to walk away and say no and report bad situations."
Braham said he tells students he meets, "I don't know what you're going to do with this information, but I'm telling you from the heart, that this could happen to anyone. It could happen to you. I'm trying to warn you. You need to look out for each other like true brothers."
Posted on
January 29, 2019