Mary Robinson, Former President of Ireland, to Speak at Lehigh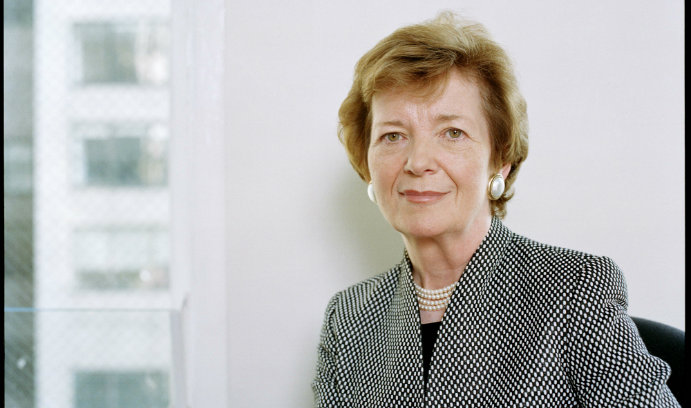 Mary Robinson, a longtime advocate of human rights, will speak about climate justice in the 2018 Kenner Lecture on Cultural Understanding on Tuesday, Feb. 6.
Mary Robinson, the first woman president of Ireland and former United Nations High Commissioner for Human Rights, will present "Climate Justice: Why Climate Change is a Threat to Human Rights," the 2018 Kenner Lecture on Cultural Understanding, on Tuesday, Feb. 6, at 8 p.m. in Baker Hall.
Robinson has spent much of her life advocating for human rights. She holds degrees from the University of Dublin (Trinity College), King's Inns Dublin and Harvard Law School and has received honorary doctorates from more 40 universities. She served as a member of the Trinity College Law Faculty, as a barrister and as a member of the Irish Senate, where she pushed for social change in Ireland and in Europe. She and her husband, Nicholas Robinson, in 1988 founded the Irish Centre for European Law at Trinity College.
Robinson was elected the seventh President of Ireland in 1990 and served until 1997, when she became UN High Commissioner for Human Rights, a role she maintained until 2002. Robinson was elected Chancellor of Trinity College in 1998 and later founded and served as president of Realizing Rights: The Ethical Globalization Initiative from 2002-2010.
In December 2010, Robinson founded and began her tenure as president of the Mary Robinson Foundation—Climate Justice. According to its mission, the foundation is a center for "thought leadership, education and advocacy on the struggle to secure global justice for those people vulnerable to the impacts of climate change who are usually forgotten—the poor, the disempowered and the marginalised across the world."
Throughout her career, Robinson has worked on climate-related issues around the world. She was the UN Secretary-General's Special Envoy to the Great Lakes Region of Africa from March 2013 to August 2014, and from August 2014 through December 2015 served as the UN Secretary-General's Special Envoy on Climate Change. Most recently, United Nations Secretary-General Ban Ki-moon in 2016 appointed Robinson as one of two Special Envoys on El Niño and Climate.
Robinson has received global recognition for her work, and her many honors include the Presidential Medal of Freedom from U.S. President Barack Obama. She serves on numerous boards, including the the European Climate Foundation and the Mo Ibrahim Foundation, and she is a member of the Royal Irish Academy and the American Philosophical Society.
The Kenner Lecture Series in the College of Arts and Sciences was endowed by Jeffrey L. Kenner '65. Kenner, who studied industrial engineering and business administration at Lehigh, established the lecture series in 1997. After a career as a management consultant with PricewaterhouseCoopers (then Price Waterhouse & Co.), he became involved in leveraged buyouts and venture capital. In 1986, Kenner formed his own firm, Kenner & Co. Inc. He served as a university trustee from 1995-2002, has long been a member of the university's Asa Packer and Tower Societies, and is a member of Leadership Plaza.

This free and non-ticketed event is open to the public. Doors open at 7:30 p.m. For more information or to reserve seating for groups of 10 or more, contact the Office of Interdisciplinary Programs at 610-758-3996 or incasip@lehigh.edu.
Posted on:
Thursday, February 01, 2018