Lehigh University Art Galleries Teach and Inspire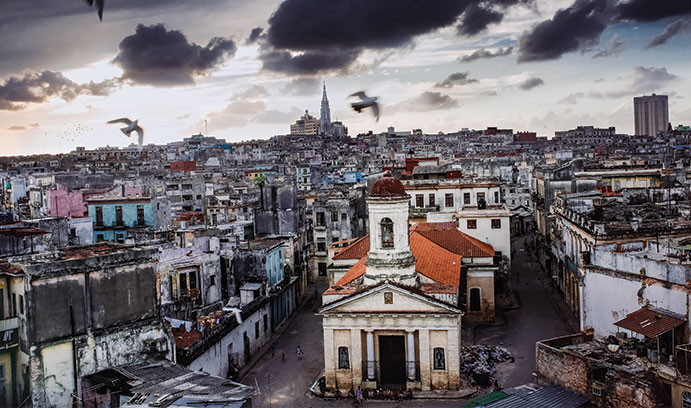 Ricardo Viera and his team at the Lehigh University Art Galleries teach and inspire with a visual laboratory of world-class works. Pictured here: Los Sítios by Cuban photographer Leysis Quesada Vera
The Art of Collecting
When Ricardo Viera arrived at Lehigh in 1974, the university's art collection included around 2,500 pieces. Today, Lehigh University Art Galleries (LUAG), the university's teaching museum, boasts a collection of more than 14,000 pieces. Viera, a professor of art and director-chief curator of LUAG, has also established a nationally recognized collection of Latino and Latin American photography and video at the museum, thanks to his expansive network of artist relationships.
His passion for art is obvious in both his demeanor and the exhibitions he oversees. But Viera becomes particularly enthusiastic when he speaks about the educational aspect of LUAG's work.
"We don't collect objects. We collect ideas," he says. "We are not here to preach one thing, to interpret things one way. We are here to expose [people] to things that in our judgment have a certain kind of quality."
That quality is on display in a current exhibition titled "The Art of Collecting," located in four of LUAG's campus galleries. It features works by Henri Matisse (below right), Georges Braque, Pablo Picasso, Georges Rouault, Henri Cartier-Bresson, Camille Pissarro, Irina Ionesco, Luis Gonzáles Palma, Joel Meyerowitz, Andy Warhol (below left), and many others, all acquired by the museum between 2011 and 2016.
The LUAG team hopes that exposure to such a wide variety of high-quality art will serve as a launchpad for meaningful thought and conversation among students, faculty, staff and members of the surrounding community. Faculty members utilize the museum to teach a wide range of topics from art history and poetry to psychology and anthropology.
"The collection is relevant to just about any department on campus," says Mark Wonsidler, curatorial associate for exhibitions and collections. "We're always trying to get outside the reputation of being decorators, which is not what we're doing. It's education, not decoration."
The amazing thing about art, says Viera, is that there are many different ways of looking at it.
"You just need a point of entry," says Patricia MacAndrew, coordinator of visitor services and museum education. "It's a way of connecting you with the whole history of humanity."
Wonsidler agrees: "The museum is a space where several people can stand in front of the same artwork and talk about it. The stakes are different than they would be arguing in a political science course or something like that. There's a possibility of coming together in a certain way to learn how to talk about something you're seeing and feeling. That can build bridges between people who are trying to understand. Every object is a jumping-off point into a world, into a conversation, into a philosophy."
The museum has extended that conversation into the larger community through an accessible art program for low-vision visitors that includes audio descriptions and tactile diagrams. The main gallery hosts study nights at the museum, providing a unique space for students during final exams.
Art is an opportunity to provide students with a rich learning experience, says Lehigh trustee Anne Kline, chair of the cultural affairs subcommittee.
"The university's remarkable collection, and our distinctive efforts to use it in a teaching capacity, allow us to raise awareness of the Arts one painting, one photo, or one sculpture at a time," Kline says.
Viera likens their work to that of a nutritionist, fully aware that not all art is for everyone, but that the experience has great value.
"It's up to you. If you like rice, you like rice. If you don't, you don't. There are people who like abstract art, there are people who don't. There are people who grow and learn to love it. Basically we do something that we have a passion for. Not everyone shares our enthusiasm. Therefore, we welcome those who have passion, but [for] those who don't, we try to expose them to the finest, to the best, to the most nutritious kind of art that we can find. And that is what we do here."
This story appears as "The Art of Collecting" in the 2017 Lehigh Research Review. A longer version of this story can be found here.
Images courtesy of the Lehigh University Art Galleries
Posted on:
Wednesday, April 05, 2017