His Vision, Our Vision, Our Future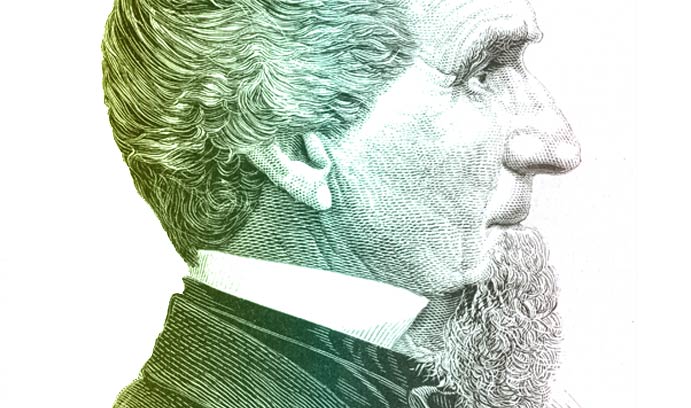 One hundred and fifty years after its founding, the Lehigh community contemplates what tomorrow may hold.
Standing on South Mountain in 1865, could Asa Packer have pictured the Lehigh University of today? Could he have predicted that his Lehigh, with its inaugural enrollment of just 39 young men, would grow over time into a vibrant community of more than 7,000 scholars, seekers and innovators?
Could he have pictured the campus's original 57 acres expanding to encompass nearly 2,358 acres on and around that same mountain—and reaching into the world beyond?
Could he have known what Lehigh—the institution and its people—would eventually accomplish, what impact it would have on the world, and how many lives it would touch?
It's certainly possible. After all, Packer was a man much more interested in what could be than in what already had been. In his memorial sermon to Packer on June 15, 1879, then-Lehigh president John M. Leavitt described the university's founder as precisely that kind of individual—one always focused on the potential of tomorrow. Already a successful businessman by the early 1860s, the young Packer could have easily settled down into a comfortable life.
Fortunately, Leavitt said, he was not yet satisfied.
"He had a work in this world," Leavitt said. "His past was but an education for his future. To him belonged the gift of foresight, the power to look beyond the ordinary vision—the ability to see speedily and sharply, to mature slowly and wisely, to grasp large plans, to organize great enterprises and to execute energetically what he had elaborated deliberately."
These gifts, so central to the character of our founder, continue to serve Lehigh today, and as we begin a yearlong celebration of our Sesquicentennial, we also use this moment to try and envision what our Lehigh of tomorrow might be in much the same way Packer must have envisioned his Lehigh: through a consideration of where we stand today, a candid acknowledgement of the obstacles we face, an awareness of our enormous potential and an aspiration to accomplish even more.
The gift of foresight
Higher education is inevitably influenced and shaped by the outside world—by the resources it provides and the results it expects. As a result, nimbleness and adaptability have always been, and will continue to be, essential to success.
But according to Lehigh President John D. Simon, success in higher education going forward cannot be achieved if universities only respond to the pressures and dynamics of the moment. Rather, he says, it's crucial that universities formulate a vision for the future—and then confidently lay out a plan to methodically work toward that vision, even if it seems unconventional or at odds with the best practices of the past.
It sounds simple, but taking those steps requires leaders to resist the urge to assume that the way things have been are the way they always will be—or that the data that has been used to define success in the past will remain relevant in the future.
"'Metrics' is a word I hear tossed around a lot—'What are the metrics?'" says Simon. "But my problem with that is, while you have to be data-driven today, metrics are actually trends of the past."
As he explains, there was a time not too long ago when the record industry was booming—and booming specifically because of the thriving market in sales of compact discs. Following those profits, the industry spent much of the 1990s pursuing a strategy that assumed consumers would always need to buy CDs to hear their favorite music.
Then Apple rolled out iTunes to the world, and the entire model collapsed. The industry was focused on the wrong things, and has yet to recover. There is a lesson there for leaders in higher education, he says.
"I think you have to look at the situation you're in and decide how it is exactly you want the university to move forward—and how you want to define or measure success," he says. "That may be quite different than what you've pursued or measured to date. I think analytics and tools are important, but being wedded to a certain set of tools or indicators can blind you to what you should be paying attention to."
That includes, he says, rankings—which can push universities to move forward on initiatives that aren't necessarily in the best interest of their students.
"The thing that bothers me about rankings is that these are largely input-determined, and not outcome-determined," he says. "I actually think of universities as being in the business of human capital development, so our success should be based on the quality of graduates we provide to the world. When I think about the number of people who come to me and tell me about how their Lehigh experience changed their lives for the better—that's the business that I think we're in."
Lehigh Provost Pat Farrell agrees with Simon's view that higher education is rapidly changing, and will look radically different by the time the next generation of students arrives on campus. To be ready for these changes, universities must constantly ask themselves what students of the future will expect from their college experience. Because again, those expectations aren't likely to match up with those of the students of yesterday.
"What the world expects, who comes to us, how well-prepared they are... in 15, 20 years, it will be quite a bit different," says Farrell. "Some of these things we can predict, some we can't. So when we ask what higher education is going to be like, we're talking about serving the student who comes next week as well as the one who comes in 20 years."
It's not only the expectations of these future students that will change. Across the nation, their demographic makeup is changing, too. The Western Interstate Commission for Higher Education reported in 2013 that the population of public high school graduates is increasingly less dominated by white non-Hispanics. The report predicted that the number of high school graduates of Hispanic descent will be 41 percent higher in 2019-2020. In 2014, the National Center for Education Statistics reported that the percentage of white students attending public grade schools is now less than 50 percent and will continue to decline as enrollments of Hispanic and Asian/Pacific Islander students increase.
"Colleges need to do even more to welcome and nurture first-generation college students, especially those from the country's urban centers," says Susan Snyder, a longtime higher education reporter for the Philadelphia Inquirer. "Our country's progress will depend on the success of our colleges and universities at meeting these students' needs and helping them to flourish."
Of course, educating these students comes at a cost—and today, those costs are higher than ever before. For many students, and many families, the rising cost of higher education is putting a college education out of reach. As consumers and government officials scrutinize the issues, colleges and universities, both public and private, are going to have to find creative ways to balance competitiveness and affordability, Snyder says.
"There's no question that tuition rates have gone up faster than most other traditional measures of inflation or anything else," Farrell says. "It's probably fair to say that increases at that rate are really not sustainable. I don't think that higher education in general, certainly not us, has figured out a secret that allows us to maintain all the things we'd like to maintain and yet also at least hold costs steady, if not decrease them."
A growing concern, Farrell says, is that ever-higher costs will "fragment" the world of higher education into a sector of haves and have-nots—with only 20 or maybe 30 well-funded universities sitting among the haves. Those institutions, supported by massive endowments, would operate in their own sphere, and charge whatever they wish, leaving the bulk of the nation's colleges and universities to figure out how to compete with fewer resources.
This situation, says Farrell, would be less than ideal, but not out of the realm of possibility.
"I don't really think that Darwinian approach for universities actually makes them better," he says. "I think it just makes them richer, and that's not the same thing as better."
Lehigh, says Farrell, is well-positioned to try to be a major player—one of the "haves"—but would be wise to begin thinking about how it might operate differently. "We've got to figure out," he says, "if we're not [in that group], how else do we do this?"
Universities that are able to deliver a unique product that stands out in the wider world of higher education will enjoy greater success than those that don't, says Farrell. Snyder agrees. "Universities will have to work harder at defining and marketing what makes them unique," she says. "What distinguishes them from the rest of the higher education world?"
Adds Farrell: "Where higher education is going is a much more dynamic place—dynamic in terms of what an individual does, dynamic in that what you see now will look different in five years and different yet again in 10, dynamic in that some of the things that for a long time we've expected will always be in place—well, maybe not."
Beyond the ordinary
But how does Lehigh as an institution plan for students of the future— individuals who will face problems we don't yet know and take on roles we can't even begin to imagine?
One possible answer, says Alan Snyder, is to look to the past.
"I would go back 150 years and ask, 'What was Lehigh crafted to do well?'" says Snyder, vice president and associate provost for research and graduate studies. "Lehigh was crafted to prepare people for action in the world, thoughtfully conceived and effectively carried out. We've always done that through a combination of rigorous preparation and an embrace of the practical and a cultivating of a breadth of awareness. So in those ways, the future looks the same as the past. I think what's changed is the nature of the preparation that it takes to do that."
Lehigh's approach to that preparation has, like the university itself, evolved over the years. Packer's initial intent was to launch a university that would foster "the intellectual and moral improvement of young men" in the Lehigh Valley. Today, Lehigh is working to shape men and women to be ready for today's challenges and equipped to handle whatever tomorrow puts in front of them. The scope of what Lehigh does has expanded, because the demands placed on its graduates have grown as well.
Rigorous preparation used to be enough, says Snyder. "[But today] you ask employers what they need and they say, 'We need people to help us rethink how we do things. And when things move that fast, we need explorers and discoverers and inventors and re-thinkers and challengers of settled understanding.' And so to me, that makes our status as a research university now part of the foundation for how we work as an educational institution."
High-quality research has long been part of Lehigh's mission. Today, however, "it's part of the mindset and way of being in the world that you cultivate in students," Snyder says.
"What we need," says Farrell, "are people who have creativity and the discipline to marshal that creativity into genuine innovation."
Adds Mayuresh Kothare, Lehigh's R.L. McCann Professor of Chemical Engineering: "We need to create a broad-based competitive research community of faculty scholars who are solving grand challenge societal problems and integrating their findings into unique educational experiences for our students."
That focus—integrating the student experience into the faculty research experience—is essential to what the university prepares students to do and what the students themselves will be able to do in 10 to 15 years.
Lehigh's Mountaintop experience, for example, provides an opportunity for students to put creativity into action. The approach, says Farrell, is not new, but having a physical space dedicated exclusively to that end is unique. The initiative, launched in the summer of 2013, has grown each year since—and has the potential to serve as a true differentiator for Lehigh going forward. It is also a crucial step forward in allowing Lehigh to showcase itself as a place where innovative ideas in teaching are welcomed.
That, says Simon, will be increasingly important in the years to come as the university strives to recruit talented young faculty who may be looking to work at institutions that are truly open to new methodologies.
"If you look at the demographics of faculty in the United States, we are on the cusp of a huge wave of retirement taking place across all universities," says Simon. "This is both an immense challenge and a huge opportunity. You will have a whole new generation [of faculty] who will want to do things differently, but may not be sure that they are empowered to do so. We have the opportunity to do that, but the question is whether or not we can seize and if we can figure out how to properly approach it. I think Mountaintop is a one of the ways we can do that—it's a safe place to explore new ideas."
Alan Snyder sees that mindset moving from the top of South Mountain throughout the rest of campus.
"I think the mode of operating that's evolved out of Mountaintop is something that is important and something that will carry on and will be infused into what we do," says Snyder. "The elaboration of something like that is complete when you can't pinpoint it to a location anymore—it's a practice, it's a way of working with people, and the more people find it fulfilling and effective, the more it will just happen."
Going forward, Snyder says, he would expect that the lines between the classroom and the wider campus environment will "continue to get fuzzier." And again, that's tied directly back to the idea that Lehigh is increasingly aware that the learning and growing experience is not limited to the classroom or laboratory.
Lehigh's bLUeprint program, now in its third year, helps students plan and personalize their larger Lehigh experience. John Smeaton, vice provost for student affairs, believes bLUeprint will be a signature program for the university well into the future.
"It's helping students take charge of their experience, decide thoughtfully how they want to spend their four years as undergraduates, and give them some opportunities to learn very important life skills about respect for others, about knowing yourself, about inclusive leadership, about opening your eyes to other possibilities," says Smeaton.
Seeing speedily and sharply, maturing slowly and wisely
Quite a bit has changed since Smeaton arrived on campus in 1984. Lehigh has settled into coeducation. Graduate student support has expanded. The university has developed more learning opportunities for students outside the classroom, particularly in the realm of community service, and conversations about alcohol abuse and sexual assault and other societal ills have moved more to the forefront.
"We've seen change," says Smeaton, "but the essence of Lehigh hasn't really changed."
That essence remains the same as when he first arrived—namely, a commitment to helping young people grow up intellectually and personally. These days, he says, part of that commitment requires the university to facilitate uncomfortable—and sometimes unwelcome—conversations.
"When I came to Lehigh, 12 years after going coed, we were still wrestling with what it meant to be a co-ed institution. There was a real discrepancy that way. So it was male-dominated, it was [focused] on athletics and fraternities," says Smeaton. "And what we tried to do in the first decade was to say, 'Wait. We're a community.'"
Intentional efforts followed, as did change. That same intention has defined the university's work ever since. It continues today, as the enduring challenge of building a community is intensified by the changing composition of the individuals who make it. "The diversity of our undergraduate students, from where we were just seven years ago to where we are now, in terms of that number—that's significant," says Henry Odi, vice provost for academic diversity.
"It's not about quotas," says Smeaton. "It's about making sure we are engaging, inviting, enrolling students from across the broad spectrum of our society, and that students who come here from nontraditional backgrounds are not simply surviving, that they're thriving. They're able and invited and encouraged and are supported in having the full Lehigh experience, inside and outside the classroom."
This, like everything else, requires effort. In 2011, Lehigh welcomed the participation of a wide range of stakeholders, engaged in meaningful conversations, and adopted the Principles of Our Equitable Community, a foundational document that outlines what Odi calls "a new culture, the new normal for Lehigh."
"It's the intentional, proactive strategies that are helping to bring about change," says Odi. "Every year, we have over 1,200 new undergraduate students, over 300 graduate students, over 75 new faculty members, over 130 new staff members, so that means that this is ongoing."
But he's quick to add: "There's no such thing as 'We've arrived.' Because with each new generation of students comes new dynamics, new challenges and new opportunities. Lehigh must be prepared for all of it."
"The students of today are very different from the students who were here when I arrived 14 years ago, and students a decade from now will be very different from today," says Heather Johnson, associate professor of sociology. "How can we move forward within a rapidly changing world, stay true to the core of what has made Lehigh so lovable for so many people, and progressively evolve to ensure that Lehigh stays authentically lovable for students and alum far into the future? That, I think, is our greatest challenge, but it also presents amazing opportunities and prospects if we can get it right."
As the university evolves, its physical space must also reflect its evolution. Picturesque and steeped in history, Lehigh's campus facilities will play a significant role in the university's future, and therefore will require some attention.
In recognition of precisely that, President Simon used the occasion of his installation ceremony in early October to announce that the university under his leadership would spend $250 million in institutional resources to advance the university in teaching, learning, research and student life. A large part of that investment will focus on physical improvements, including long-sought renovations of the University Center.
"We need to put some energy and, frankly, some money into thinking hard about how to make best use of facilities—labs, classroom spaces and so on," says Farrell. "We're going from hiring faculty who were largely teachers and in many cases not particularly active researchers to hiring people who are very much both. That can call for different space configurations—different lab or research configurations—and that, in some cases, is not what we have."
Historically, says Farrell, the university has completed fairly modest internal renovations to keep up with the changing times. It's time, he says, for more. Much more.
"We've got some significant work to do. So I think it's a dollar commitment, it's a time and energy commitment, and it doesn't make the outsides look any prettier but it makes the insides work for the 21st century," says Farrell.
Planned renovations of the University Center, meanwhile, target more than an attractive, more open internal space—they promise to reinforce a strong sense of community on campus.
"The UC is that place where our students will feel they belong—everybody belongs there," says Smeaton. "It doesn't make a difference what major you are, what gender you are, what team you belong to, what fraternity or sorority you're in or not in. You're Lehigh."
Executing energetically what we have elaborated deliberately
Smeaton recalls fondly the university's symbolic, large-scale gesture during the transition of Lehigh football from Taylor Stadium to Goodman Stadium in 1989.
"We decided that tradition is such a big, important part of Lehigh," says Smeaton, that members of the Lehigh community lined up every 10 yards from Taylor Stadium to the team's new home on the Goodman Campus, up and over South Mountain, passing a football and passing a tradition, a physical representation of the link between past and future.
The first president of the Lehigh board of trustees, William Bacon Stevens, once described the early graduates of Packer's Lehigh as the kind of young people "needed in this bustling, wrestling, grasping age." They were, Stevens said, individuals of "drilled minds, and taught eyes, and skilled hands, and steady wills, and earnest purpose, and plodding progress ... who will not tire or falter until they have reaped new fields or opened long-buried treasures, or unlocked the still guarded secrets of nature's laboratory."
Like a football passed over a mountain, this legacy of industriousness, discovery and unwavering resolve has been passed from generation to generation of Lehigh students. Though the world, its problems and the ways in which we tackle them may change, the vibrant spirit of Lehigh remains the same.
Like its founder, Lehigh University has a work in the world.
Our past is but an education for our future.
More Voices, More Perspectives:
See what other members of the campus community—students, faculty, staff and alumni—had to say about the future of Lehigh at lehigh.edu/bulletin/150
Posted on:
Thursday, December 03, 2015