From Lehigh to Ghana: A Shea Butter Connection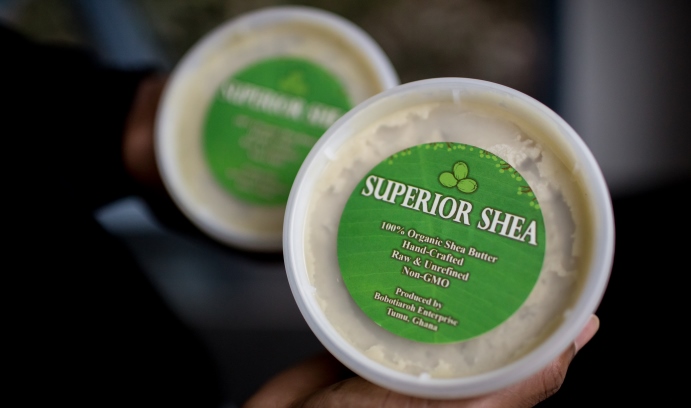 The shea butter that Superior Shea imports is produced by a company located on a family farm in a remote region of Ghana. (Photo by Christa Neu)
In the spring of 2015, as he prepared to visit Ghana for the first time, Miles J. Davis '16 was surprised when friends asked him to bring them back some shea butter from the West African nation.
Davis, then a Lehigh junior majoring in supply chain management, was already using shea butter to keep his skin moist, but he didn't know that shea butter came from Ghana until a family friend told him.
Two and a half years later, Davis, now a graduate student in environmental policy design, has become something of an expert on shea butter. He has visited Ghana three times and learned first-hand how shea butter is produced from the nut of the shea tree fruit. He has started a company, Superior Shea, which sells shea butter products imported from Bobotiaroh Enterprise, a company located on a family farm in a remote village in the Upper West Region of Ghana.
Davis has ambitious plans for the future. He hopes to develop a sustainable system for producing and marketing shea butter, a system that takes into account issues ranging from land-use and transportation policies to agricultural practices and ecology.
He is detailing his plans in his master's thesis, which is titled "The Way of Shea: Developing Permaculture Systems for Shea Butter Processing in Ghana."
"Permaculture," says Davis, "is a whole functioning system where everything coexists in balance. It requires a lot of observing and listening to learn how natural systems work and how to make human systems function just as organically and just as naturally.
"For shea butter processing, this means asking how we can make a sustainable production system that has access to market in a region that the government of Ghana isn't necessarily paying attention to or investing in. How do we develop better roads and transportation methods for people living in this region so they can get to the main market and sell their stuff?
"My research looks into land-use policies. Who owns the land? Who can get access to shea trees to make shea butter from the shea nuts? What policies are in place to protect these forests so people don't cut down the trees to get firewood for their cook stoves?"
Davis, who earned minors in Africana Studies and in Japanese, spent six weeks in Ghana in the summer of 2015 studying the history of the transatlantic slave trade through Lehigh's Iacocca International Internship Program. The following summer, with support from the Iacocca and Africana Studies programs, he returned to Ghana for 10 days to produce a video capturing the experiences of Iacocca Interns. Last summer he spent one month in the country and filmed a second a video, this time on health and globalization in Ghana.
"I always feel a lot of love when I go to Ghana," Davis says. "The Ghanaian people treat me with a lot of respect and greet me as their brother.
"Ghana has one of the strongest economies in Africa. It is definitely on the rise. There's a lot of potential for growth, in terms of sustainability through business, improved infrastructure and sanitation."
Davis spent most of his first two visits to Ghana in or near Accra, the country's capital and largest city, which is located along the coast of the Gulf of Guinea in southern Ghana. Last summer, he traveled to other regions of the country, including a village in Tumu near Ghana's northern border with Burkina Faso.
By now, Davis had made a connection with Bobotiaroh Enterprise through a Lehigh graduate student whose brother runs the company. He had attended two conferences for people interested in learning to do business in Africa—one at Harvard University and one at the University of Pennsylvania's Wharton School of Business. He had also attended a conference in Tamaqua, Pa., on permaculture and wrote final papers in his graduate classes on agro-forestry and shea butter.
"A man named Tom Moroz at the Lehigh Valley Social Impact Center introduced the idea of permaculture to me," says Davis. "It made sense to me. I decided to try a business venture related to an everyday activity. How do you build a permaculture system in a relatively 'neglected' region that hasn't yet attracted a lot of interest or investment?"
The shea tree grows in the African Sahel region, a dry swath of land that takes up the northern regions of Ghana as it extends west to east across Africa, from Senegal to Ethiopia, and south to the Democratic Republic of the Congo. In addition to cosmetics, shea butter is used in cooking oils, waterproofing waxes, candle-making, wood preserving and even toilet tissue. The butter is made from fat that is extracted from the nut of the shea tree fruit.
The process of making shea butter is taxing when done by hand, says Davis. Before the fat can be extracted from shea oil, the shea nuts must be boiled, dried, crushed, roasted, ground, kneaded and cooked over a cook stove.
"In Ghana, it's mostly women who make shea butter," says Davis. "When I was in Tumu, they taught me how to do it and then let me participate. It's an arduous process. You have to pound the nuts one at a time with a pestle and mortar until they are crushed. Then you have to roast them and grind them with a stone until oil starts to come out. Then you have to beat the oil over and over until you separate out the fat that you want."
The processing of shea butter is mechanized in some regions of Ghana but not in Tumu, says Davis. Bringing mechanization to Tumu and other remote areas will require better infrastructure. Davis, who also owns a clothing business named Boys on the Superior Side, wants to be part of the solution.
"My dream for this project is to help develop a permaculture system that will have a collective positive impact. I want to help bring investment to the region."
Davis hopes to return soon to Ghana to assess the needs of the women who process shea butter. Meanwhile, he is looking to expand the American market for shea butter made in northern Ghana. He is selling shea products to family and friends and has set up a Facebook page for Superior Shea. He reinvests 50 percent of his company's profits into the shea butter processors of Tumu.
"Some of the world's best shea butter is produced in the Upper West Region of Ghana," he says. "I want to work with the people there so they can continue making it."

Story by Kurt Pfitzer

Posted on:
Tuesday, October 31, 2017