Extraordinary Outcomes for Lehigh's 1-MBA and M2 Programs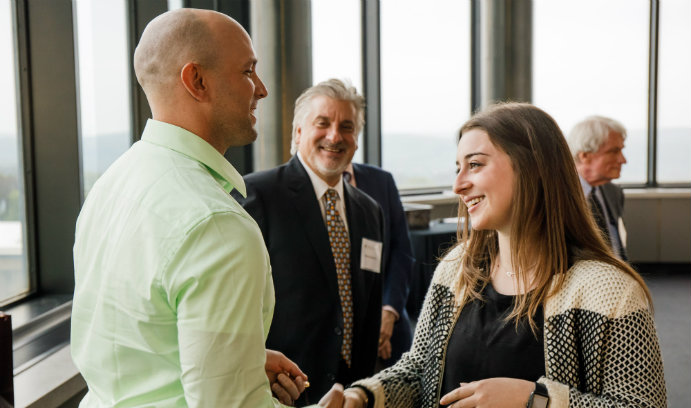 On Thursday, May 10, members of the Master of Science in Management Class of 2018 attended their graduation ceremony at Iacocca Hall.
The College of Business and Economics graduated its first 1-MBA cohort in January 2018. The innovative structure and curriculum of Lehigh's one-year, full-time MBA program attracted organizations with a focus on disrupting old business models.
The class of 2018 set the standard for future cohorts, landing jobs with highly regarded companies such as Tesla, QVC, Hubspot, AstraZeneca, BP China, and Penn State University Justice and Safety Institute. Other 1-MBA graduates went on to pursue entrepreneurial activities in the fields of tourism and consulting.
Meanwhile, the third cohort of Lehigh's MS in Management (M2) program graduated this past May. Excitement is high as most of the cohort (over 80 percent) received job offers prior to graduation, many of whom have already accepted offers from top companies such as Amazon, Axtria, Bloomberg, Brinker Capital, Burns and McDonnell, Home Advisors, IBM, KPMG, and Whiting-Turner.
Similar to the M2 cohort before them, companies recognize the unique value proposition offered by these exceptional students. 79 percent of the class of 2017 received job offers by graduation and 96 percent were employed within 3 months of graduation. Hiring companies for 2017 included ADP, Amazon, Deloitte, IBM, Mack Trucks, News America, Vanguard, Vitech, and Zulily.
The 1-MBA cohort of 2019 starts classes in July, while the 2019 M2 cohort begins their program with an intensive 2 week Orientation in mid-August that focuses on professional and career development skills.
Posted on:
Friday, May 11, 2018