ESPN Commentator Kate Fagan Discusses Depression, Anxiety and Suicidality Among Student-Athletes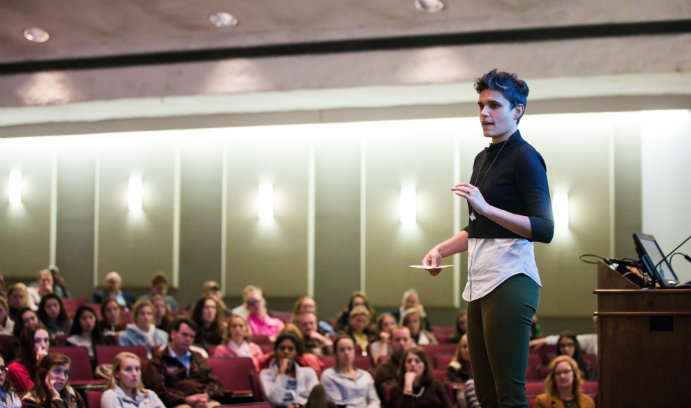 Kate Fagan, ESPN commentator and sports writer, told student athletes that being a college athlete was the hardest thing she's ever done. She encouraged students to have honest conversations with friends and family about mental health.
On the outside—and especially on social media—19-year-old Madison Holleran seemed to have it all: a track-and-field athlete at the University of Pennsylvania, a beautiful and gifted student, well-loved by friends and family. But on Jan. 17, 2014, after purchasing gifts for her family at the Penn bookstore, Holleran ended her life with a running jump from the top of a nine-story parking garage in Philadelphia.
In her book, What Made Maddy Run, sports writer and ESPN commentator Kate Fagan recounts Holleran's story and explores the struggles with mental illness many young people, and student-athletes in particular, experience today. On the evening of Oct. 22, Fagan shared with a packed crowd in Lehigh's Packard Auditorium what she'd learned in writing the book and in talking with athletic departments and students on college campuses.
Eric Lambinus, Lehigh women's soccer coach, introduced Fagan and shared the story of his own interactions with Holleran when he tried to recruit her to Lehigh as well as a later chance encounter moments before her suicide. Lambinus, who had heard rumors that Holleran was unhappy at Penn, ran into her outside a Philadelphia restaurant as she carried her bag of gifts toward the parking garage. They had a good conversation, he said, and he thought she might consider coming to Lehigh after all. Then, the next morning, he received a phone call with the news of her suicide.
"You'd think I should have known," Lambinus said. "You'd think I should have been able to do something. I wasn't. There were little pieces there that maybe should have told me something, but it didn't. And it's really hard to think about you could have made a difference there.
"What I love about what Kate did is, that she brought this story to the forefront of everybody. One of the things that Maddy was so scared of was actually having a conversation and saying she's not okay. What I love about the book, and what I love about what Kate has done … is that she made it okay. She used her platform to say, 'It's okay to not be okay, to have a conversation.'"
Fagan's talk was presented by Lehigh's Health Advancement & Prevention Strategies Office and Flight 45 (formerly the Lehigh Athletics Leadership Academy). Fagan acknowledged the presence of staff members from Lehigh's Counseling and Psychological Services, who noted their availability as a free and confidential on-campus service for all students. She then shared a video that accompanied "Split Image," the espnW article she wrote about Holleran prior to writing the book.
"In the weeks after "Split Image" came out—Maddy's story—I got hundreds of emails from high school and college students and student athletes. And the range of topics that they wanted to discuss was broad. Some wanted to know more about perfectionism. Some wanted to know more about social media. Some wanted to talk about college counseling, and some wanted to know even more about specific perfectionism. But the key thread was that all of these emails—every one—reiterated the idea that they saw some piece of themselves in Maddy's story."
Learning from Holleran's Story
With What Made Maddy Run, Fagan sought to discuss a broad spectrum of mental health. Holleran's story, she said, was important "to dissect to try to share with people. We'll never answer the why. But what variables can we put together to share with people so that they better understand the story, [and] therefore better understand themselves and better understand how to talk to their friends and family about mental health? And then also under that spectrum was that notion of the day-to-day anxiety that so many of us are living with and dealing with that maybe we're not talking about."
Fagan shared her own experience with anxiety as a college basketball player at the University of Colorado Boulder. Within a couple of months of arriving on campus, she said, she began panicking.
"Basically one minute after every practice ended, there was no relief. I was always just 22 hours from the next practice," she explained. "And I don't know how many of you can relate to a feeling like that, this constant cycle of always knowing that … it's like a belt coming toward you, a conveyor belt, and it feels like there's always something on that conveyor belt."
Fagan said she wondered if maybe she needed to leave the team, or head home to New York and get a job. "It felt like I couldn't do this thing called college sports," she said.
Her breaking point came when she ingested a bottle of iron supplements that belonged to her roommate, who had anemia.
"I'm not sure exactly what I thought the outcome would be," Fagan said. "I know that my underlying goal was to not have to practice that day. I'm not really sure that I ever really assessed what could have been going on mental-health-wise that I was willing to put myself in that position, but I did. I consumed it, and I got down to practice, and I actually was fine. So the only thing that wasn't fine was my mental health. I was clearly not in a place to be able to practice that day because I had taken this action and had told myself I wouldn't be practicing, and that was my breaking point. I had to go into my athletic trainer's office, and I just broke down."
Fagan saw a counselor for the next three months, which, she said, helped her develop coping mechanisms that enabled her to continue playing basketball.
"I will tell you that the hardest thing I've ever done in my life is play college sports," she said. "And although I'm very proud and happy that I got through and I graduated and I played all the years of my eligibility, I don't think it's ever something that I would want to do again."
College athletics, Fagan said, are "rewarding and awesome, but so challenging. And I think that's not a conversation that we're having frequently enough about college sports and about college in general. I know when I was in high school, and maybe some of you can relate to this, the only messaging that I got was that college was going to be the best four years ever. It was going to be awesome, and on top of that I was going to be a college athlete, which was the coolest thing ever and left me very little room to navigate when it didn't feel like the coolest ever experience. And when I started to struggle, it was almost impossible to actually articulate those struggles to my peers, or even to some people back home, because their perception of my life was one that I was at the pinnacle."
The Impact of Social Media and Perfectionism
Fagan discussed how social media and technology, perfectionism and a success-driven culture are all relevant pieces to Holleran's story, but, she said, "in no way am I suggesting that that is the reason that Maddy's story has the outcome that it does. I'm simply trying to offer that whatever small percentage influence it might have had. To some degree, we can say the pressure of being a college athlete didn't cause this outcome, but maybe there was some small piece that affected her mental health. In the same, when I talk about social media and technology, these are things that I think are really relevant in this day and age and that we need to be more cognizant of how they may be affecting your mental health."

Access to Holleran's computer provided Fagan with insight into what Holleran might have been thinking and feeling. Holleran had downloaded information about clubs she was interested in joining if she wasn't running track, including a fashion collective, a theatre group and a UPenn chapter of a national organization called Active Minds, which focuses on mental health awareness and education. But when she spoke to friends and family or texted them about clubs she was considering, Holleran never mentioned Active Minds.
"Now it's possible that this is just an omission, a coincidence, but it's more likely because Maddy repeated that omission in numerous text messages that she still felt that there would be some sort of stigma if she told people that she was considering joining Active Minds," said Fagan. "And so that to me was revelatory, that maybe ... there still is some sense of 'This isn't something we want to talk about,' that if we are joining certain clubs or joining certain groups on campus, that that's indicative that we are somehow weaker, [which is] certainly a prevalent theme in the athletic world as well."
Fagan also discussed the concept of division of self: who a person is behind the scenes, who they are with friends and family, and who they are for public consumption. The third division, which used to be reserved for celebrities, has been adopted by anyone with a social media account.
"And for Maddy you could see this play out," Fagan explained. "It was two days before she died. She was texting her friend and her sister pictures that weren't yet being put up and asking whether or not they rose to the standards of being posted on Instagram."
Holleran thought her friends were having the best time at college because she was consuming the versions of themselves that they presented to the world on social media, said Fagan. She was clearly curating the part of herself meant for mass consumption, and that affected how she perceived the world, she said.

"It's not like this is a 15-year-old problem, a kid problem. This is the evolution of how that technology is affecting all of us, affecting our brains, affecting so much."

The Drive to Be Perfect
Perfectionism, Fagan said, presents in many different ways. For Holleran, "as her friends and family would tell you, [it] seemed to present itself [as] this idea that success was always one step in front of the other and that she always had to be getting better and that there would be this linear vector of improvement in her life."

Holleran had never viewed progress as involving backward movement, said Fagan, and she attached her identity to her success. When Holleran arrived at Penn, progress no longer looked the way it used to.
"For Maddy, instead of winning the race, [she] was finishing 72nd out of 500 at a cross country race her first year in college. All of a sudden, that place, 72nd, became her identity. That was who she was now, instead of the state champion 800 runner, state champion soccer player, winner, smartest, everything. … As someone who has spoken all the way from high school kids to Olympic gold medalists, matching your identity to your performance is one of the unhealthiest things you can do."
Fagan encouraged students to speak honestly with family members and with each other about how they're feeling and about mental health more generally.
"This idea of talking [and] being a little more open about mental health and depression and anxiety, not just in our families… but also when you're in this community here and with teammates [is important]. I think, especially in the sports culture, it can feel a lot of times that that's just a form of weakness. And if our goal as a team is to just achieve greatness, anything that seems to stand in that way seems like an impediment to this pursuit of whatever it is the team is set out for. … Sometimes it can be, especially with your teammates, even taking a timeout and a pause and ending up in an even better place if we're willing to do that for each other."
Photos by Christa Neu
Posted on:
Monday, October 29, 2018