Engineering Resiliency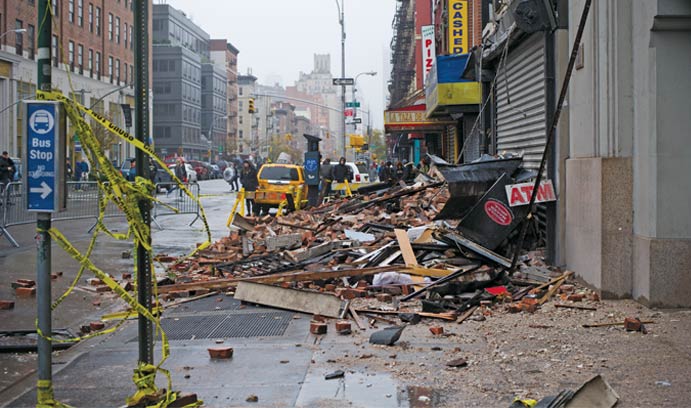 Daniel Zarrilli '97 is helping to defend New York City against the next big storm.
When Hurricane Sandy hit New York City on Oct. 29, 2012, it left in its wake a nearly worst-case scenario. Though the storm was downgraded to a post-tropical cyclone just before it made landfall, Sandy's impact was disastrous. Its storm surge occurred at high tide, resulting in a storm tide of over 14 feet at the Battery at its highest point and flooding 51 square miles of the city. Homes, businesses, hospitals, power facilities, and key components of city infrastructure, including the subway system, were inundated. Millions were left without power. The storm closed the New York Stock Exchange for two days and New York City public schools for an entire week.
"It was devastating," says Daniel Zarrilli '97. "We lost 44 lives in New York City. There was $19 billion in damages and lost economic activity, and in our communities all over the city, the impacts were devastating."
Three years later, Zarrilli helms the effort to ready the nation's most populous city for the next big storm.
As senior director of climate policy and programs, Zarrilli oversees the Mayor's Office of Recovery and Resiliency of the City of New York as well as the Office of Sustainability. He supervises the city's climate mitigation efforts and leads the development and implementation of the $20 billion OneNYC resiliency program, which prepares New York City's neighborhoods, economy and public services to withstand the impacts of climate change and other threats.
Zarrilli's job, he says, isn't one he might have imagined for himself while studying civil engineering at Lehigh.
"There was no similar position ever before [Hurricane Sandy]," he says. "[But] I was always interested in the intersection of infrastructure and the social impact of that infrastructure in our communities. So in some ways, it was a natural progression to where I've gotten to."
After graduating from Lehigh, Zarrilli received a master's degree in civil and environmental engineering from MIT and spent five years in the private sector. He then took a position with the New York City Economic Development Corporation (NYCEDC). There, he was responsible for infrastructure asset management of much of the city's maritime infrastructure. Zarrilli later became responsible for the profit and loss and operations of New York's two cruise terminals, as well as a number of ferry landings, heliports, cargo facilities, and the city's food distribution center in Hunts Point, one of the largest in the world.
"I got to know the city's waterfront really well," he says. "I got to see a lot of really unique infrastructure, how it worked and what it cost."
So when Hurricane Sandy, widely named "Superstorm Sandy" in mainstream media, came roaring up the eastern seaboard of the United States and into New York Harbor, Zarrilli was well equipped to assist with recovery and resiliency.
Zarrilli dove into recovery efforts, particularly those involving transportation systems. He was later pulled into more long-term planning. In 2013, Zarrilli wrote the city's first ever coastal protection plan and was appointed by then-Mayor Michael Bloomberg to run the implementation of the city's resiliency program and climate adaptation work. He was reappointed by Mayor Bill de Blasio to run a new office of recovery and resiliency when de Blasio took office in 2014.
"There had been a lot of thinking about climate change and coastal flooding in the city for a while, but Sandy really changed the conversation in a big way about climate vulnerabilities," says Zarrilli. "It also was clear that we were going to have a lot of federal funding flowing into the region to help us recover. We wanted to put out a road map for how to best do that so we weren't just responding to the last thing that happened, which was Sandy, but looking ahead to the risks that we face from increased heat, rain, precipitation, sea level rise, and yes, coastal storms as well. [We were] making sure we were taking as wide a view as possible of the types of risks that we do face."
This wide view ensures that Zarrilli's work offers no "typical" days: "There's never a dull moment around here," he says.
His office conducts what he calls a "comprehensive but multi-layered approach." This involves advancing a $3.7 billion coastal protection plan that includes working with the U.S. Army Corps of Engineers and individual communities to implement projects throughout the city. Zarrilli and his team work to upgrade the city's building and zoning codes and conduct flood insurance advocacy in Washington, DC. Through the Climate Change Adaptation Task Force, they operate across government lines and into the private sector to coordinate a regional infrastructure climate adaptation response. They also focus on strengthening community-based organizations and seek out ways in which they can better involve houses of worship in the recovery and long-term resiliency efforts of the city.
"The issues of climate are very new for all of us, and we are adapting to climate change," says Zarrilli. "There's no playbook. There's no road map on this, and so, based on the best available science, we're making the best decisions that we can now with what we know."
Lessons from a superstorm
Sandy left in its wake important lessons about how New York might move forward. The city learned, for example, how well building codes worked and about the interconnectivity of infrastructure systems. The biggest lesson, though, says Zarrilli, was the realization of the immediacy of climate change and its impact.
"When we think about the risks of climate change, it's not something that's going to happen to us in 100 years," says Zarrilli. "It's something that, at least here in New York City, we're vulnerable to now, and the risks are only growing. There's an urgency to doing the things we need to do now, while setting up some longer-term measures and having conversations about how to adapt to continuing changes in the climate. That's a big lesson—this isn't something that's going to happen in 100 years. We're vulnerable now."
That vulnerability came to the forefront with the threat of Hurricane Joaquin in October 2015. The potential landfall of the storm, which caused severe damage in the Bahamas and South Carolina, put New York City on high alert. Joaquin eventually tracked east, away from the East Coast, but it served as an opportunity for Zarrilli's team to assess its progress.
"Joaquin, thankfully, was just a drill, but we were able to turn on some of things we've learned after Sandy: updated emergency preparation, our coastal defenses. It helped us assess where we are and realize we're in better shape now than we were when Sandy hit, but we still have a whole lot more to do," says Zarrilli.
In October 2015, Zarrilli participated in a full day of activities on Lehigh's campus as part of the Martindale Visiting Speaker Series. Zarrilli attended three undergraduate classes, a faculty meeting, a faculty lunch, and a dinner discussion with students from a variety of disciplines. He addressed a capacity audience in a public talk about climate adaptation and urban resiliency, during which he encouraged students to consider career opportunities that might not be the most intuitive, particularly in engineering.
"The opportunity that I've been given, having been appointed by both Mayor Bloomberg and now Mayor de Blasio to run this office and really put in place the science-based investments—both technical and social—that we need to protect our city, is humbling," says Zarrilli. "There's a wider world of issues that need the problem solving skills of engineers to help solve, and I think that's something that's fundamental in the Lehigh experience."
Although he says the aspects of his job that involve managing people and politics and the press weren't included in his engineering coursework, the skills he developed at Lehigh have been essential.
"There's no substitute for hard work. That's something that you certainly learn at Lehigh," he says. "Do your homework, know what you're talking about and make sure that you're credible. [You get there] by doing the hard things that other people don't want to do. That's certainly a Lehigh engineering mantra."
Today, Zarrilli applies that mantra to his work bolstering a city that, since the terrorist attacks of Sept. 11, 2001, has experienced two hurricanes, a blackout, an earthquake, and an Ebola scare. Zarrilli's work allows him to witness firsthand how New Yorkers step up and pull through, stronger than before.
"So many different things just keep coming our way," he says. "And after each one we found a way to make sure that we are hopefully coming out of it in better shape, better knowing our neighbors, with better connections in our communities. And all of that, I think, continues to be highlighted when I'm out in different parts of the city. On the one hand, people need the government and the city to lead on issues and make sure there are resources available, but underlying all of this is how residents are able to really serve each other in so many different ways in their communities. And that's really an inspiring testament to New York."
Zarrilli's visit was co-sponsored by the Martindale Center for the Study of Private Enterprise; the Department of Civil and Environmental Engineering; and the Science, Technology, and Society Program. Lehigh's Office of Sustainability provided support.
Posted on:
Monday, January 11, 2016