Diving into Undergraduate Research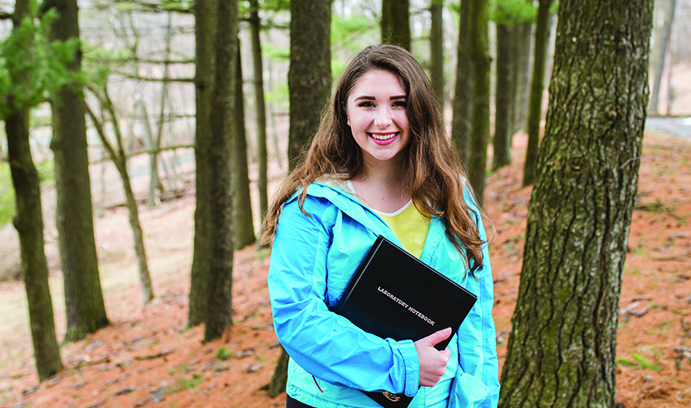 Julie Goldberg '21 met Professor Derick Brown on Candidate's Day 2017. She started working in his lab the following fall as a first-year student at Lehigh.
On Candidate's Day 2017, Julie Goldberg '21 decided Lehigh was the school for her.
While on a tour of the environmental engineering department, Goldberg was approached by Professor Derick Brown, who struck up a conversation about some classes he was teaching. On a whim, Goldberg asked about undergraduate research opportunities as they parted ways. Brown, associate professor and associate chair of civil and environmental engineering, suggested she reach out over the summer to learn more if she committed to Lehigh.
"I was kind of taken aback," Goldberg says. "I wasn't expecting to do any research as a first-year, so that was really cool to make that connection with a professor, who I had not previously met, offering me a position working in this awesome lab."
Goldberg joined Brown's team that fall. One year later, Goldberg has immersed herself in her research, acting as the social class manager for Engineers Without Borders, a member of the Society of Women Engineers, and a Gryphon when she's not in the laboratory.
Goldberg says her research deals with how changes in the interfacial pH of attached bacteria affects their growth and survival. The group conducts experiments to reach a point where they can actively promote or inhibit bacterial growth by changing the properties of the solid surface. They are studying the effects of this process on bioremediation and how bacteria can access and degrade environmental contaminants adsorbed onto soils, and also how this process can be applied to pharmaceutical and biomedical applications.
Goldberg studied bioremediation in high school, where she researched environmentally friendly oil spill collection, presenting her work at the 2016 AAAS Conference in Washington, D.C. Her work helped build her high school experience, but Lehigh provides her with the technical background necessary to keep working with more complex procedures and technical papers, she says.
As an additional benefit, lab work gives Goldberg a unique perspective about the college learning experience. Joining Brown's research team as a first-year initially made it difficult to catch up with more advanced material, she says, but struggling early has helped her resilience in her higher-level courses.
"I'm learning things in lab before classes, and then the things I have learned I'm reinforcing through research," Goldberg says. "Reading a book is one thing, but truly experiencing the material and understanding how it works is different."
Brown agrees. A firm believer of getting undergraduates into the lab, Brown says giving students the opportunity to experiment and reach unexpected outcomes makes classes more interesting and fun.
"She's learning while we're working in the lab, and it gives her a much stronger understanding of what's going on in class," he says, "by actually seeing it happen, actually doing it. It's one thing to show an equation and do examples in the class, but it's another thing when you're in the lab seeing how the process responds to a whole range of variables."
Goldberg says if she wasn't involved in research, learning material for class would take up too much time and prevent her from pursuing other activities on campus. Her time spent in the lab keeps her passionate about her studies and continues to provide insight that makes her Lehigh experience slightly less stressful and, ultimately, more rewarding.
While she doesn't plan on pursuing research as a career, Goldberg says the technical experience and communications skills she gained at Lehigh will help her flourish in whatever she decides to pursue.

"Finding those things really sold me," she says. "Research as an undergrad and having that connection with a professor who's passionate about what he does? That's irreplaceable."
Story by Sam Topp '19
Posted on:
Thursday, October 04, 2018