Africa Comes to Lehigh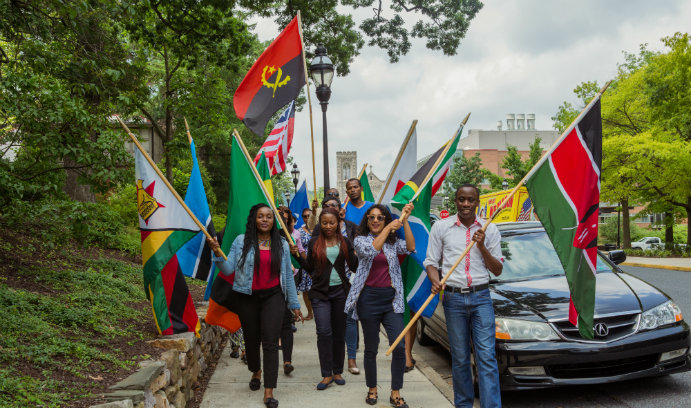 Lehigh's Iacocca Institute developed and ran a six-week Academic and Leadership Institute in Business and Entrepreneurship for 25 Mandela Washington Fellows. Here, the Fellows participate in a flag parade in celebration of Mandela Day on July 18.
During his first year of college in South Africa, Luthando Akhona Dyasi entered Innovate South Africa, a competition that challenges students to find a creative solution to a local problem. Dyasi and his team focused on preparing South African high school students for success in college. Together they developed GoVarsity, an online platform that allows university students to mentor and share their experiences with high school students, providing essential information and real-world insights about college: the application process, course content, decision making and student life.
Dyasi studied computer science and, inspired by his experience with GoVarsity, decided to focus on social entrepreneurship. He developed another successful social venture called Dine with Khayelitsha, which aims to break post-apartheid barriers by welcoming individuals from all cultures and walks of life to dine together at residences in his hometown of Khayelitsha, a township just outside of Cape Town. Dyasi is building a franchise model in response to demand from other communities.
"They say once the [entrepreneurship] bug bites it never stops," he says with an easy grin.
Dyasi is one of 25 emerging young professionals from 16 African nations who have been bitten by that same bug and, as a result, spent six weeks at Lehigh this summer building their leadership skills and professional networks as participants in the Mandela Washington Fellowship for Young African Leaders. The Mandela Washington Fellowship is the flagship program of the Young African Leaders Initiative (YALI), a program of the U.S. Department of State administered by IREX (The International Research & Exchanges Board).
A total of 1,000 young African professionals were selected from a pool of 64,000 applicants this year for the Fellowship, which empowers young leaders from Sub-Saharan Africa through academic coursework, leadership training and networking opportunities. Lehigh was one of 38 U.S. colleges and universities selected to host Mandela Washington Fellows this summer, and the University's Iacocca Institute received a competitive grant to develop and provide an immersive six-week Academic and Leadership Institute in Business and Entrepreneurship, one of three focus areas for the Fellowship.
"This was a real opportunity to deepen relationships and create new relationships in Africa—both with the alumni and potential partners in the regions that they are from. Emerging young leaders from the Continent are highly entrepreneurial and exciting, and we really want to be a part of that energy," says Kira Mendez, Iacocca Institute Director.
Lehigh's participation was a natural fit given the University's existing strengths in developing entrepreneurs and its long-successful Iacocca Institute programs like the Global Village for Future Leaders of Business and Industry, which has educated and empowered young professionals from around the world for more than 20 years.
"The goals and the purpose of the [Mandela Washington Fellowship] program are very much aligned with and complementary to our other programs, in particular the Global Village for Future Leaders. We use an immersive, experiential, transformative kind of experience to empower emerging leaders, support growth in leadership capabilities and create opportunities to build diverse networks going forward," says Mendez.
An immersive experience
The Mandela Washington Fellowship Institute at Lehigh followed weekly themes: Innovation and New Business Development; Project Management, Collaboration and Team Leadership; Intersection of Business and Social Sectors/Cross Sector of Leadership and Organization; Regulatory and Trade Considerations/Financing Strategies; Leadership Skills: Negotiation and Influence; and Delivering Value and Impact: Servant Leadership. A packed agenda featured interactive entrepreneurship and design sessions; leadership development and teambuilding; a wide range of site visits; hands-on workshops; community service at organizations in around South Bethlehem; cultural exchange; executive roundtable experiences; trips to Philadelphia, New York and Washington, D.C.; and a collaborative consulting project. Each Fellow developed a customized learning and action plan, and experts from on- and off campus as well as Lehigh alumni facilitated sessions on business, entrepreneurship, leadership, ethical decision making and cultural awareness. The Institute also included extensive networking opportunities with leaders in industry, government and the nonprofit sector.
Trish Alexy, curriculum director for the Mandela Washington Fellowship Institute and the Global Village, says Lehigh's approach to the Institute curriculum was likely a new experience for participants.
"Many of the Fellows are highly developed entrepreneurs," she says. "And, although they may have been exposed to the business model canvas, business planning or a marketing topic before, they are finding that the experiential style of the way we do things here is different. Many of the Fellows have not experienced that style before. Rather than being told what to think, they're learning how to brain write, they're learning how to think creatively, how to design and collaboratively do it in teams. It has been eye opening for a lot of them to go into a room and not have power points and just create. Sometimes the way you're taught how to do something will change the meaning of everything. I think that's what they're finding while they've been here."
"The content is very insightful," says Dyasi. "I'm learning in each and every session I'm attending. … I find it fascinating, putting people in real situations, whereby you teach yourself without realizing that you're learning something, without somebody standing there and just giving you the content all the time. ... I really like that."
"The experience we created for the Mandela Washington Fellows builds on a similar framework and set of principles that we use for the Global Village and other programs. You have a diversity of participants who learn from each other and who are there to explore and enhance their potential as leaders with a global perspective. You have a diversity of peers and mentors. Everywhere you turn are role models, potential partners you can learn from. … And we take advantage of the fact that the world comes to Lehigh in the summer," says Mendez.
If the world comes to Lehigh in the summer, the world also goes from Lehigh to other major cities in the summer as well. The Institute's trip to New York offered participants options based on their areas of interest, including the United Nations and the International Labour Organization, Bloomberg, Cornerstone Capital Management, the New York Stock Exchange and Wall Street, and several fashion designers' showrooms and offices. A trip to Washington, D.C. brought the Fellows to the World Bank and the U.S. Capitol Building.
Throughout the summer, the Mandela Washington Fellows also worked and networked with Global Villagers hailing from 37 countries. This massively global interaction enriched the experience of participants in both programs.
"[The connection with] the Global Village makes double the experience," says Dyasi. "It was going to be [just] us, African Fellows, now [it is] global. It's mind blowing. … I'm not only learning in Africa but getting the whole world's perspective. And knowing when I'm in South Africa I've become comfortable in my own space and think everything is done in this way. [But] when you're here, other people do it differently, and [I'm learning] how to adapt and be agile and be able to be accommodated and accommodate others and be challenged. ... I've been uncomfortable in many occasions, which I like because that means I'm growing."
Like Dyasi, each Fellow arrived at Lehigh with an impressive list of accomplishments and ambitious goals for the future, all in search of new experiences and personal and professional growth.
'Get out of that box'
The trip to visit and learn from New York fashion designers like Nora Gardner, MM.LaFleur and Shareen Bridal was a high point for Connie Bekezela Elvina Karoro, an apparel manufacturer from Zimbabwe who runs the label Coco Seed Culture.
"[A visit to New York is] the epitome for any person in fashion," she says. "It's been a great opportunity."
Karoro's passion and fierce determination comes across immediately, much like many of her Mandela
Washington Fellowship peers. She studied economics and management in college and was content working in corporate finance in South Africa until one day she heard her boss give a motivational speech on entrepreneurship.
"I was listening to him the whole time," she says. "He was like, 'Dig deep. Everyone has something that they absolutely love that you know even with no experience whatsoever, you will do good at it. Everyone has it, so go home, think about it, and fire your boss in the morning.'"
So Karoro went home, thought about her love of fashion and fired her boss the next morning.
She changed her apartment into a sewing room, taught herself the language of fashion and found success in making women's corporate wear in South Africa. When she got married and moved to Zimbabwe, the local economy and lack of demand for her product forced her to rethink her business. Karoro eventually began making her own clothes in a family-owned factory and brought samples to a buyer at a major department store. The buyer loved her work and her business exploded practically overnight.
Karoro says she learned many lessons in this early phase of her business. She was unprepared and making reactionary decisions, she says. Today, Karoro is manufacturing for emerging designers, working with people who, she says, are like her when she started. She's using the lessons she's learned through experience to make their clothes and link them to market.
The Mandela Washington Fellowship has exposed Karoro to new perspectives, leadership techniques and new ways of thinking. She feels empowered, she says.
"We all came here like, 'I do this, I do that. These guys [at Lehigh] are like, 'Get out of that box, get out of it and think way outside of yourself.' It's been really amazing."
Moving to the 'risk-take'
Julius James Shirima grew up in Tanzania. His company, Darecha, is a micro-venture capital firm that helps small, profitable, youth-owned businesses in sectors such as real estate, retail, agriculture, technology and trading to raise venture capital. His entrepreneurship journey began, however, when he was a child, selling oranges to raise money to buy shoes or a uniform for school.
Shirima says growing up as the child of single mother has shaped who he is: "I've grown up with that idea of struggling but also of helping others," he says.
As a teenager, he received a scholarship to attend the African Leadership Academy in Johannesburg, South Africa, and the idea for Darecha came to him during his time there. Initially focused on education, Shirima eventually shifted to the challenges facing young people.
"Youth and unemployment was a big issue," he says. "And so what are the possible solutions for dealing with this matter?"
He designed a project, received funding and realized that obtaining the necessary skills and capital was a problem for young entrepreneurs. He decided to find a way to provide both. To help prepare himself, he attended the College of Wooster in Ohio and interned with a South African investment bank and then a microfinance bank. Eventually Darecha was born.
In 2014, one of the largest oil and gas companies in Tanzania approached Shirima, looking to do a similar youth-focused project but not wanting to do it independently. They signed on as Darecha's first client, and the company took off from there.
"Their job was to provide funding and our job was to identify and source the young people," Shirima says. "And that's when we started seeing a lot of investments. [It's] not just charity. [We] make sure that those youth repay their investments and we work with them closely to grow their ventures."
Shirima applied to be a Mandela Washington Fellow to develop connections and learn what works in America so he can advance his business to the next level.
"I'm going to have to move to the risk-take," he says. "Coming to this program, coming to see what the best practice is here in the U.S., making connections and learning, I think that's valuable. … I don't know what I would have to do to get this type of package. … I want to get the maximum out of every session. It's a great opportunity. Not everyone gets this. I feel like I have an obligation to get more from this program."
Embodying servant leadership
The theme of the final week of the Institute was Servant Leadership. Julie Munyi Ogwapit of Kenya was one of nine members of the combined Mandela Washington Fellowship/Global Village group to be nominated by her peers as a servant leader.
Ogwapit certainly knows a thing or two about leadership. Prior to becoming a Mandela Washington Fellow, she participated in the YALI program in Kenya and then joined the leadership team for the program, eventually becoming a lead facilitator. Today, Ogwapit works with young entrepreneurs from 14 countries in East, Central and the Horn of Africa as they complete the YALI program and build their business and entrepreneurial skills. This, she says, pays the bills as she pursues her own entrepreneurial goals.
She's started a consultancy business to assist program alumni with moving their ideas forward, helping them connect to investors, venture capitalists and other entrepreneurs in Africa and internationally.
Ogwapit is also working to build upon an online parenting forum she developed when she moved to a new community 10 years ago. She would like to shift the forum's focus to address the needs of older children, particularly in the realm of education.
"We're assessing schools and pointing out a few gaps here and there because the education options are very limited," she explains. "And [we're] saying, 'Look, if we want our kids to be these kinds of people, these kinds of things are not available. What do we do?'"
She started conducting life skills workshops at schools, asking children what success looks like to them and discussing the positive traits of successful people. Her goal is to build her online community into a physical space that addresses "holistic child development: mind, body, spirit and heart," she says. "Because if you're building or trying to groom children into the kind of adults we want them to be, you have to deal with all these aspects."
She appreciates the opportunities the Mandela Washington Fellowship—and life—have presented to her.

"When you open yourself up to the universe and say, 'Here I am, this is what I'm really trying to do,' and people see and buy into your vision, things start to conspire to make it happen," she says. "Here there's so much validation. It doesn't matter who I am or where I came from or what I can or cannot do. [In the Mandela Washington Fellowship] they just look at me and say, 'Go for it,' and find ways to encourage me or open doors for me on that journey to acceptance."
Building bridges
At the end of their respective institutes across the United States, all 1,000 Mandela Washington Fellows will meet in Washington, D.C., for the Mandela Washington Fellowship Summit. There they will participate in networking and panel discussions with each other and with U.S. leaders from the public, private and nonprofit sectors. One hundred of these Fellows, selected from the larger group, will then spend six weeks following the Summit in professional development experiences with U.S. non-governmental organizations, private companies and government agencies. And when they head back home, they'll all leave with the significant connections they've made at their host universities.
Connections, says Alexy, are at the root of the University's participation in programs like the Mandela Washington Fellowship.
"It's building bridges instead of walls, which is exactly what we're trying to do here, not just with the Mandela Washington Fellows but with the Global Village as well," she says. "And so that's important to Lehigh, but it's also important to America. We're trying to make those networks happen in Africa, and we're trying to build leaders in Africa. We're trying to help the State Department achieve their goals, but at the same time I think Lehigh is building those bridges and those networks as well, which is going to be very important to us, whether it be for our faculty or our students or the professionals in our programs."
The goal of the U.S.-Africa exchange, says Mendez, is "'for the benefit of both, for the benefit of all.' And for all of our programs, it's the same goal: global diversity and exchange for the benefit of all … figuring out how to work together as the world changes and the challenge of leadership changes. We all have to be ready for a future which may be different from today … And how do you prepare for that? We think this is how you prepare for that."
Photos by Christa Neu
Posted on:
Friday, July 28, 2017