A Half-Century of Service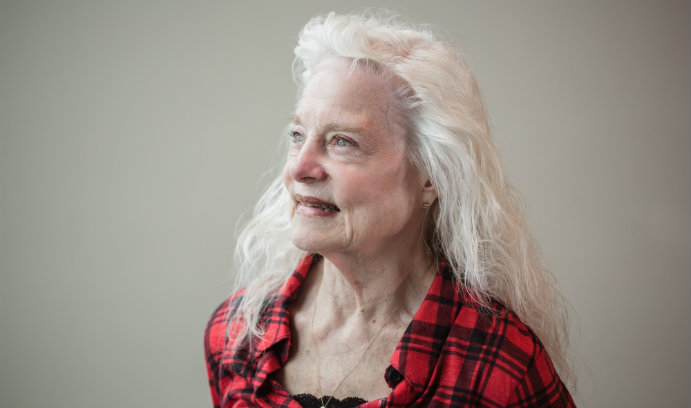 Sharon Warden and her late twin sister, Charmaine Yaszewski, together provided more than 100 years of service to Lehigh. Warden retires at the end of this month.
Sharon (Yaszewski) Warden—or "Share," as she's known in the College of Education—has worked at Lehigh for more than a third of the University's existence.
She started her first job on campus at the age of 17 and will retire at the end of this month, having dedicated more than five decades of service to the University. Over the years, she has witnessed the University's transformation and expansion onto multiple campuses, the transition to co-education and the College of Education's significant growth.
Warden and her twin sister, Charmaine, graduated from high school in 1962 and immediately began seeking employment. Warden obtained her first position as a secretary in Lehigh's accounting office, then located in the Alumni Memorial Building. She enjoyed her colleagues, she says, but the work became "too much for me to handle."
Lehigh needed someone to work in its printery office, so Warden decided to make the move. She liked the work and stayed there for a few years but started to feel restless.
After a brief employment at the Bethlehem Steel Company, Warden seized an opportunity to complete three months of summer missionary work in Liberia. However, at the end of the summer, she was still searching for her place.
"I didn't feel that was where I should be," she says.
Fortunately, Lehigh called her back: A faculty member from what was then the department of education sent a telegram to Liberia, asking Warden to apply for a position as secretary for the counseling psychology and special education programs. She applied and got the job.
"That's where I started getting my feet wet," she says. "I loved the job. .... [There was] such a variety of things to do, working with people at a university. I just loved it. I loved helping people."
At that time, the then School of Education was located in rowhomes along Brodhead Avenue. The offices, Warden says, were homey and intimate. The ditto and mimeograph machines, and later a Xerox machine, were located in a neighboring building. The College's several secretaries shared one word processor and had to schedule time to use it.

"Mainly you would type as fast as you could because you only had the morning and the next person was coming to do her typing project at 1," Warden says with a smile.
Warden's sister, Charmaine, worked at Lehigh as well: first in the bursar's office and later as a secretary at Lehigh's Centennial School. The sisters twice switched places as an April Fool's Day prank.
"She came to my office, and I went to the Centennial School," Warden remembers. "And it was more than we bargained for because neither of us wanted to be where we were. … We did it for half a day and called each other and said, 'Let's switch back.' … We had the freedom to do something off the wall, [but] we got the medicine: 'Just take me back to my job!' That made this place a fun place to be."
Charmaine passed away in 2009, having served Lehigh for 46 years, many of them at the Centennial School. Together, the sisters provided more than 100 years of service to the University.
'The Next Step'
Warden happily served the counseling psychology and special education programs until she was asked in 1977 to move to the dean's office. The dean at the time was Perry Zirkel, professor emeritus of education and law.
"Sharon and Charmaine were so sweet and so sincere and would do anything for you," says Zirkel. "After a while I realized that they were rare people that were just that way 100 percent, through and through."
The duration of Warden's service to Lehigh is impressive, says Zirkel. "But when you talk to people, it's the level of service that comes across as most significant…. She can never do enough for the College and anybody."
The work in the dean's office was challenging, says Warden, but Zirkel would take the staff out for ice cream and they'd play Frisbee on a big open field on Brodhead Avenue.
When Zirkel's tenure as dean came to an end in 1983, his successor chose to bring his own secretary to the office.
"That was discouraging," says Warden, but "it's almost like every move was a better move. Even though I didn't know it at the moment, it was like it was moving me on to the next step."
Warden's next step was as coordinator of the school psychology and special education programs. She remains with school psychology to this day; she also serves the comparative and international education program.
Over time, she says, the College of Education has changed: It grew in size, transitioned from department to school to college, and "really has a place on the map now." But, she says, the caring atmosphere hasn't changed at all.
'I've known many of the faculty all my life," she says. "I met my husband, George, when I was 50. Many were at my wedding. I've gone through their lives. … It really is a family. You get a little involved in their lives, and it makes it fun."
"Share has been a wonderful colleague and friend throughout my time at Lehigh," says George DuPaul, professor of school psychology. "As a program coordinator, she is always on top of things in terms of university and college requirements, deadlines for important tasks, scheduling of dissertation defenses and similar important meetings, and making sure that faculty are following through on the various activities that we have to complete over the course of the year. More importantly, Share has been a wonderful friend to all of us; always quick with a smile and kind comment, unfailingly optimistic even during tough times. I have always felt that we were extremely fortunate to have Share as the 'face' of our program; she is a wonderful ambassador who treated everyone with whom she interacted with the greatest respect and kindness. To say that Share will be missed is an enormous understatement."
In her retirement, Warden plans to do the things she hasn't had as much time to do, such as visiting friends and helping at her church. She enjoys cooking dinner and taking care of her home. She hopes to travel, something she did quite a bit with her sister.
Warden will, however, miss her role at the College of Education.
"It's been a wonderful part of my life," she says. "It's been my life. It's all I know."
'Give Your Heart'
In her office on the third floor of Iacocca Hall, Warden reflects on the impact she's had during her time at Lehigh. In the silence, a student pops in with a small gift, a token of gratitude for all she's done—a gesture Warden's been seeing a lot of these days.
Her biggest impact, Warden decides, has been on the students she's helped over the years.
"I become involved in their life because they need something, and it's often something that I can give," she says. "They're only asking a question, and I know how to answer the question. And it's often something that they need desperately, whatever it is."
Brittany Zakszeski, a doctoral candidate in school psychology, confirms that impact: "From the time I first applied to Lehigh, Share has been a consistently warm, positive, and supportive presence in my life. It's difficult for me to think of the school psychology program without Share; her friendship is somehow even more valuable than the administrative guidance she so graciously offers the program's students and faculty. A trip to Share's office is always good for a personal check-in and an exchange of encouragement. She has devotedly served and celebrated our program while asking for little recognition of her own generous contributions, time and time again, always patiently, fielding our questions, requests and concerns. Share will be missed dearly by so many, but the College of Ed is very lucky to have held onto her for as long as we did. I think I speak for many when I say I am excited for Share to relish the retirement she most certainly deserves."
Katie Flatley, also a doctoral candidate in school psychology, describes Warden as "effervescent": "She radiates warmth and loveliness and caring, even in as little as an email interaction with her asking for help finding the right form to fill out. She's one of the few people who, when they ask you how you're doing, genuinely wants to know how you're doing. I wish I was able to more eloquently put into words just how much the program and the entire COE will miss her, but anything I say doesn't seem to do justice when you consider the time and effort Share has put into making all of our lives better."
When asked what advice she would offer to someone just beginning a career at Lehigh, Warden pauses, tears in her eyes.
"Be transparent," she says. "If you give your heart, and tell [your colleagues] exactly who you are and what you're about, it makes a wonderful rapport. I don't mean spilling beans and telling stories out of school—I mean, actually letting them know who you are. It's refreshing because then they do that to you."
Photo by Christa Neu
Posted on:
Wednesday, March 28, 2018