A grand DEBUT for bioengineering majors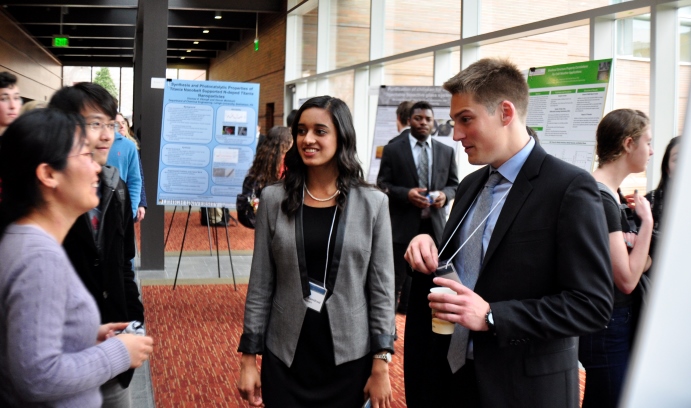 Kathryn Kundrod '15 (center) and Jay Fraser '15 (right) discuss their HIV medication-monitoring technology with visitors at the Freed Undergraduate Research Symposium. The two alumni have been selected as finalists in next month's 2015 Collegiate Inventors Competition.
Five recent graduates have won a national competition for designing a portable device that enables patients with Human Immunodeficiency Virus (HIV) to determine whether their medication is working.

Kathryn Kundrod, Jay Fraser, Kaylynn Genemaras, Paul Schroeder and Andrew D'Onofrio, all members of the Class of 2015, took first place in the Design by Biomedical Undergraduate Teams (DEBUT) Challenge for their device, which is called Cyclic Solutions: Viral Diagnostic Technology. The prize carries a $20,000 award.

The contest is sponsored by the National Institute of Biomedical Imaging and Bioengineering, which is part of the National Institutes of Health. It challenges college students to develop solutions to healthcare problems.

Two of the students—Kundrod and Fraser—have been selected as finalists in the 2015 Collegiate Inventors Competition, which will be held Nov. 15-18 at the U.S. Patent and Trademark Office in Alexandria, Va.

The Viral Diagnostic Technology device allows patients to monitor their HIV medication and determine if it is decreasing the amount of the HIV virus in the bloodstream. It is intended particularly for patients who live in remote areas without easy access to medical laboratories and clinics.

The device provides results in under an hour, meeting the World Health Organization's minimum detection requirement. In addition, its instrumentation and pre-test costs are expected to be lower, and it is less complex, than similar technologies that are currently available.

The students designed the device for Integrated Product Development (IPD), a two-semester class in which teams of engineering, business and design majors develop new products and marketing plans for the products. The students were mentored by Chao Zhou, assistant professor of electrical and computer engineering, and advised by Susan Perry, a professor of practice in the department of chemical and biomolecular engineering.

Kundrod and Fraser, who were both bioengineering majors at Lehigh, continued working on the device with Xuanhong Cheng, associate professor of materials science and engineering, in a project titled "Microfluidic Capture and Quantification of HIV." They entered the project last spring in the David and Lorraine Freed Undergraduate Research Symposium in the P.C. Rossin College of Engineering and Applied Science, where they won the People's Choice Award and second place overall.

Last summer, Kundrod worked on the technology at LaunchBayC, a 10-week program sponsored by Lehigh's Baker Institute for Entrepreneurship, Creativity and Innovation.

In a video they submitted to the DEBUT Challenge, the students explained that most of the estimated 35 million people worldwide who have HIV live in low- and middle-income countries. WHO recommends that HIV patients who are taking antiretroviral therapy (ART) undergo a viral load test at least once a year. The test measures the concentration of HIV virus circulating in the blood and determines if medication is decreasing it.

"Conventionally," the students wrote in their project description for the DEBUT Challenge, "viral loads are measured using central laboratory-based tests, which require infrastructure, cold-chain transport and trained personnel.

"To address the global pandemic of HIV, [there is an urgent need for] tests that are designed for use at the point of care, that can be run with a portable setup, that have a turn-around time of less than an hour, and that require minimal training."

The Viral Diagnostic Technology utilizes microfluidics (the manipulation and screening of extremely low amounts of fluid) to capture and quantify HIV virions (the complete and extracellular infective form of a virus particle).

To isolate virions from solution, the device uses a porous membrane of silica and polystyrene beads. The shapes and sizes of the pores on the membrane correspond to those of HIV virions. In addition, electrodes incorporated into the device enable it to detect captured virions electrochemically.

The students estimate the total cost of instrumentation in their device at $1,000, or about 10 percent of the cost of the components in a conventional nucleic acid amplification device, a state-of-the-art molecular blood-screening technique.

The students worked closely with Cheng, who has developed a porous membrane that isolates 80 percent of the HIV virions from solution in a microfluidic device, and with Krissada Surawathanawises, a Ph.D. candidate in Cheng's group. Cheng directs the Lab of Micro- and Nanotechnology for Diagnostics and Biology at Lehigh.

In their work with electrochemical detection of the virions, the students were guided by Cheng and two other faculty members—Steven McIntosh, associate professor of chemical and biomolecular engineering, and Yevgeny Berdichevsky, assistant professor of electrical and computer engineering.

The students are continuing to test their device using HIV pseudovirus. They are also working with Edward J. Kelly '87, an intellectual property attorney, and with the Baker Institute to obtain a provisional patent on the device. Their future plans are to sponsor Lehigh IPD teams to develop the device and its marketability.

"A big part of our development plan is to sponsor IPD teams," says Kundrod. "We believe that Lehigh and IPD provide valuable resources, and a student team will both contribute to and gain from working on this project."

Kundrod, who completed an internship with NIH as a Lehigh undergraduate, is now a Ph.D. student in bioengineering at Rice University. She hopes to pursue a career in public health. While at Lehigh, Kundrod also took part in the Martindale Student Associates Program, through which she traveled to Portugal and studied the effects of the country's drug policies on public health.

Fraser is now a GOLD (Global Operations Leadership Development) Associate with Catalent Pharma Solutions in Research Triangle Park, North Carolina. At Lehigh, he got his start in research as a freshman working in Cheng's lab.
Photos courtesy of Kathryn Kundrod
Posted on:
Monday, October 05, 2015