Managing His Future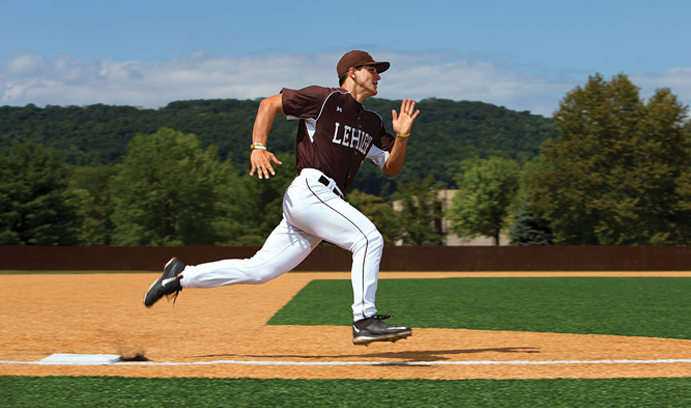 One of the best amateur baseball players in the country is also a Lehigh academic all-star.
Photo: Steve Boyle
Mike Garzillo was 3 years old when he first started telling people that he wanted to grow up to play shortstop for the New York Yankees. Now in his senior year in Lehigh's College of Business and Economics, Garzillo '16 still has that dream—or at least something very close to it—in his sights.
In June, the Mountain Hawks' starting second baseman was selected in the 38th round (1,143rd overall) of the Major League Baseball amateur draft by his favorite team.
"I think my family was just as excited or even more excited that it was [the Yankees]," Garzillo said. "It was really cool because it was something that I always wanted."
But the Yankees are going to have to wait. Garzillo decided to return to Lehigh in August 2015 to complete his studies in business management. He also intends to play one more spring for the Mountain Hawks.
"I'm extremely grateful for the opportunity to go to Lehigh and get a degree with that name on it," he said, "because I know that somewhere down the line, when I have to stop playing baseball and somebody tells me that I'm done, I'll have that degree and I'll be able to be successful in that regard as well."
Garzillo isn't just one of the best amateur baseball players in the country. He's also an academic all-star. His 3.45 grade point average earned him a spot on the spring Patriot League Academic Honor Roll. He has twice been named to the Academic All-Patriot League.
"I'm going back to school and then hopefully next year I can improve my draft stock and go a little bit higher in the draft," Garzillo said. The Yankees didn't make a contract offer that would have made it worthwhile for him to leave college a year early, he said.
"If things had worked out and there was an offer that would have been good for myself and my family, I would have loved to start my career this year," he said. "I think God has another plan in store for me. It's working out how it's supposed to. And this year, hopefully, it works out exactly how it's supposed to."
Garzillo thought he might have "a pretty good shot" in this year's amateur draft. Baseball America had named him a second team All-American player at the end of the 2015 college baseball season. The magazine then ranked him 201st out of all the amateur draft-eligible prospects in the country.
The accolades followed a breakout campaign during which he set a Lehigh record with 13 home runs, led the Patriot League with 54 runs batted in and was named Most Valuable Player in the Patriot League tournament, which the Mountain Hawks won. Garzillo's .651 slugging percentage was 19th best among all Division I college players nationwide and his 75 hits was the second highest total in Mountain Hawks history. Only Matt McBride, a AAA player in the Colorado Rockies farm system and the last Lehigh player to play in the Major Leagues, ever had more hits in a season.
In the classroom too, Garzillo's drive is evident.
"The same dedication Mike puts forth on the field he puts forth in the classroom, and you can see that," said Anne-Marie Anderson, the Joseph R. Perella and Amy M. Perella chair in Department of Finance. "He has a desire to be successful, not only for himself, but for his peers too, which is why I say he is an all-around good guy."
Garzillo participates in Lehigh's Student-Athlete Mentors program, which partners upper-class and first-year student athletes to help them adjust to campus life.
"It's an awesome program because you get to meet so many new people and help them with some of the things we may have struggled with our freshman year," he said.
Garzillo said he chose business management as his major because it can be applied in numerous work settings when his playing days are done, including, potentially, baseball front office work. But he acknowledged he hasn't given those possibilities a lot of thought just yet.
"Right now, I find it very difficult to think about anything other than becoming a professional baseball player, because I believe wholeheartedly that I will accomplish my ultimate dream," he said.
"However, I'm so grateful for the high-level education I am getting here at Lehigh that it would be silly to take it for granted and not do anything with it. If my degree doesn't open up doors for me after senior year because I start my baseball career, I have solace in knowing that it will somewhere down the road in my life."
Story by Daryl Nerl
Posted on:
Monday, November 02, 2015