Isaacson to graduates: Connect your passions to something larger than yourself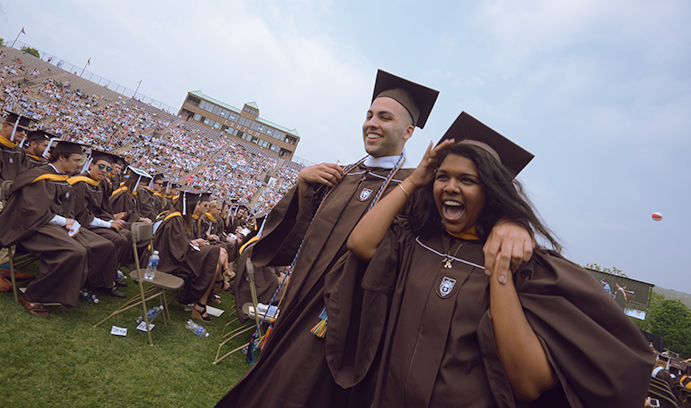 Nearly 2,000 graduates were welcomed into the Lehigh family during the university's 147th commencement.
Along with the graduates, thousands of family members filled Goodman Stadium for Lehigh's 147th Commencement.
The sun was out--and the temperatures were warm--as Lehigh celebrated the Class of 2015.
Members of the Class of 2015 were all smiles as they officially became Lehigh graduates.
As always, Commencement day at Lehigh was a time for celebration.
Speaking to Lehigh's Class of 2015, journalist and award-winning author Walter Isaacson encouraged graduates to think beyond their own passions and ambitions as they leave South Mountain, telling them that they will only achieve true success when they are able to connect their passions to something larger than themselves.

Isaacson, the former editor of TIME magazine and the current president of the Aspen Institute, spoke on the occasion of Lehigh's 147th commencement, which was held in Goodman Stadium in front of nearly 2,000 new graduates and thousands more family members, faculty, staff and friends of Lehigh.

In his message to the new graduates, Isaacson drew on important lessons he learned from individuals he's written about in his award-winning books: Ada Byron, Albert Einstein, Benjamin Franklin, and Steve Jobs. Each of those figures, Isaacson said, achieved greatness not only because of their knowledge and intellect, but also because they displayed passion for their work, a willingness to balance the arts and sciences, curiosity about the world and great humility in striving to use their talents to better the world around them.

The singular tie between them all, Isaacson said, was creativity—and the ability to see possibilities that others simply could not.
Byron, for example, was a mathematician and writer who conceptualized the first general-purpose computer program. Her work, Isaacson said, demonstrates the importance of connecting the arts to the sciences to business.

"This is a great lesson at Lehigh because you're one of the few places in which people balance the arts, the sciences and business in one great university," Isaacson said. "Ada realized that those who can connect creativity to technology will stand where value is created... Ever since [Byron], the truly creative people have been the ones who have stood at that intersection of the arts and the sciences and industry."

Isaacson described the role of Franklin's humility, or what he said Franklin called "the pretense of humility," in the shaping of our nation.

"The need to collaborate involves humility. You have smart people like Jefferson and Madison, strong people like Washington, passionate people like John Adams and his cousin, Sam—but you need the person who can have the humility to bring them all together, and that was Franklin... The notion of his humility or at least pretense of humility was that compromisers may not make great heroes, but they do make great democracies, something that we've forgotten in the world of politics today."

"There are many graduation speakers, probably on this day alone dozens of them, who are going to tell you to follow your passion—whatever it is, just follow your passion," Isaacson said. "But I'm here to tell you that it's not just about your passion. It's about connecting your passion to something larger than just yourself.

"Don't just think it's about you, and don't just think it's about your passion. Because in the end you'll realize you've been successful if that passion has been connected to making the world a better place for other people as well as yourself. That was the magic of everybody I wrote about."

Isaacson was introduced by Interim President Kevin Clayton '84, '13P, who thanked the Lehigh community for the opportunity to lead Lehigh since his arrival last summer.

"It has been my honor and privilege to serve this past year," he said. "It's an experience I will cherish forever. It is unlike anything I have ever done before … I have learned from this job. And I have learned from all of you: the wonderful students, faculty and staff that I have had the pleasure of knowing this past year. Thank you for making this year one of the best of my life."

Clayton also shared valuable advice given to him by his father, the late William L. Clayton '51, who rose through the ranks of Wall Street to become executive vice president of one of the country's largest investment and brokerage houses.

"Be prepared for every day—think ahead," Clayton said, recalling his father's advice. "Do your homework. Don't come to a meeting unprepared. Anticipate questions and be able to answer them ... Know what you're talking about. And don't forget to say thank you."

Clayton said his father also talked about the importance of being ethical, honest and kind.

"And I would add this to my father's advice," he said. "Be confident. You are undoubtedly prepared for whatever is next. Remember to listen to those around you. Be humble. You still have much to learn. And don't forget to laugh and enjoy the ride."

Before making his remarks, Clayton received a sincere and heartfelt tribute from Brad Eric Scheler '74, '05P, '08P, '09PG, Chairman of the Lehigh Board of Trustees. Scheler praised Clayton for his work as interim president, saying that everyone in the Lehigh family had benefited from Clayton's "warmth of spirit, grace and legacy of leadership."

That leadership, Scheler said, was essential in allowing Lehigh to bridge the gap between the presidencies of Alice P. Gast, who left Lehigh last summer, and John D. Simon, who will take office in July.

"This year we've had the privilege and joy of watching perfection in motion, as Kevin took the baton from Alice Gast, our 13th president, and carried it with vision, best leadership and elegance without peer throughout the year," Scheler said. "He now stands ready to pass seamlessly the baton to John Simon, our soon-to-be 14th president.

Added Scheler: "As interim president, in every way and every sense, Kevin has represented all that is Lehigh at our very best."

John Schultz, president of the senior class, looked back on an eventful four years for the Class of 2015, and praised his classmates for their ability to react to challenges in a positive and constructive way.

"Our class has experienced excitement, spirit and belief in the impossible," said Schultz. "Certain events are out of our control, but it is our response to those events that reveals true character... Every time Lehigh has needed someone to step up, chances are it was a member of our class. I'm not talking about myself or other student leaders, but the real leaders—those who do it because it must be done, not because it is their job. This class has no shortage of leaders."

Schultz also spoke of the painful loss of classmate Hanlon MacDonald, who would have graduated with this class and was remembered on the stage with a bouquet of sunflowers.

"Hanlon's passing reminded us all of the importance of friendship within our lives," Schultz said.

Graduate student speaker Jenny Hyest, who received a doctoral degree in English, reflected on the presentation of a posthumous honorary Doctor of Letters to poet Hilda Doolittle (H.D.), one of the subjects of Hyest's doctoral dissertation. H.D. grew up in Bethlehem, Hyest said, but could not attend the all-male institution that she called "the university across the river." Later, in 1957, Lehigh refused a request to grant her an honorary degree, despite the international acclaim for her writing.

"By at last awarding its highest honor to the woman who it had previously turned away, Lehigh models for us the quality that is at the heart of a genuine commitment to education—a willingness to transform," Hyest said. "By honoring H.D., Lehigh gives to all of us a worthy legacy."

Commencement Notes

Commencement day weather was sunny and humid, and though a storm threatened, it held off (temps reached 75 degrees F by the 10 a.m. start of the ceremony) … the Class of 2015 included 86 international students from 27 countries outside the United States … for the third year, the commencement ceremony incorporated live video through two large-scale video boards on either side of the stage. Lehigh's website also featured a social media grid that included celebratory tweets, real-time reviews of the commencement address and Instagram shots … the ceremony began with a blessing from University Chaplain Lloyd Steffen, and was followed by the national anthem, which was sung by Richard Michi '15 … Jennifer Hyest '06G, '15G, delivered the Graduate Student Remarks, and John Schultz '15, president of the Class of 2015, delivered the Senior Class Remarks … Commencement speaker Walter Isaacson, president and CEC of The Aspen Institute, received an honorary Doctor of Humane Letters … other honorary degree recipients were Costel Denson '56, a managing member of Costech Technologies, LLC, who received a Doctor of Science degree; Eric Foner, the DeWitt Clinton Professor of History at Columbia University, who received a Doctor of Humane Letters; Nicole King, Howard Hughes Investigator and professor of genetics, genomics and development at the University of California, Berkeley, who received a Doctor of Science; and H.D. (Hilda Doolittle), an American poet, novelist and memoirist, who was posthumously awarded a Doctor of Letters … John Franchini '97, outgoing president of the LUAA, welcomed the new alumni … the ceremony officially concluded with the ringing of the bell by representatives of the classes of 1965 and 2015 ... the benediction was offered by Rabbi Danielle A. Stillman, director of Jewish Student Life at Lehigh … the Allentown Band, under the direction of conductor Ronald H. Demkee, delivered their 34th consecutive performance at Lehigh's commencement ceremony. It is America's oldest civilian concert band, with its first documented performance on July 4, 1828.
Photos by Christa Neu and Ryan Hulvat
Posted on:
Monday, May 18, 2015