Helping youngsters with 3-D printing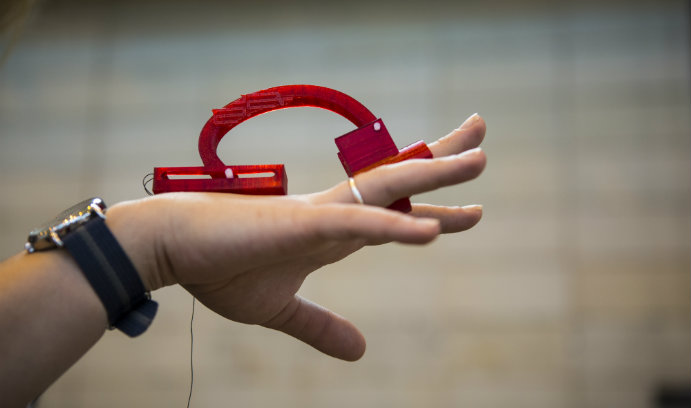 A group of students at Mountaintop hope to aid young stroke victims with 3-D-printed devices.
When Lehigh students Colleen Perry and Elena Ramirez saw an emotional video of a 2-year-old girl who could not move her arms until aided by a 3-D printed device, they knew their mission – to similarly use 3-D technology to help disabled children.
Putting out a call on Facebook for a mechanical engineer to help in their endeavor, they found fellow student Jeff Peisner '15, who is joining them at Mountaintop this summer to create 3-D printed devices for use in pediatric rehabilitation.
"That's where we think the technology is more needed," said Ramirez '15, in explaining why the group is focusing on children's needs.
Enter Good Shepherd Rehabilitation Network, an Allentown-based facility that offers rehabilitative care to children—and adults—who have physical and cognitive disabilities, injuries and complex medical needs. The network has programs for those who suffered strokes, as well as for those who have had amputations or suffered sports, brain and spinal cord injuries.
Coincidentally, in the months before the students had pitched their project, John Grencer '79, administrative manager, Technology Department, and strategic business planner at Good Shepherd, had turned to his alma mater, Lehigh University, for help in best utilizing 3-D technology in rehabilitative work.
Part of Grencer 's job is to look at new technologies that Good Shepherd should consider adopting. The network, for example, is the largest clinical users of theEkso Bionics exoskeleton, a robotic device that helps those with paralysis to stand and to walk.
Like the Lehigh students, Grencer got excited about the potential of 3-D printing after reading and learning about the technology. "That got me thinking," said Grencer. Could Lehigh students demonstrate the potential of the technology to Good Shepherd's doctors and therapists?
"3D printing has the potential to revolutionize the medical field," said Perry '15.
Lehigh professors and mentors linked the students and Good Shepherd. At first, Perry, Ramirez and Peisner wanted to 3-D print prosthetic hands for children, knowing they could easily design them on a computer, customize devices, and make them much more cheaply than high-tech designs.
But after talking with hand and occupational therapists at Good Shepherd, they quickly came to a realization: There's less of a need for prosthetic hands and more of a need for exoskeletons, or devices that work around body parts, to help children who lose full or partial movements of their hands, possibly after suffering strokes.
"We wanted to expand our project to help more people," said Perry, who, like Ramirez, is studying biomedical engineering.
Strokes in children are more common than people may think, Ramirez said. An estimated 6 in 100,000 children are affected nationwide, according to the National Stroke Association. Good Shepherd treats about 10 to 15 youngsters with strokes each year, both as inpatients and outpatients, Grencer said.
The students refocused their Mountaintop project and are now working on making prototypes for 3-D-printed exoskeletons that they hope can one day be customized for children and used in their rehabilitative therapy. They plan to share the results of their project with interested physicians and therapists at Good Shepherd in late July.
"An exoskeleton can go around the hand and facilitate some kind of movement in hopes of molding the brain to relearn the movements that the hand does," Ramirez said.
Like prosthetics, exoskeletons can be highly complex and expensive, and they usually do not come in sizes small enough for children, the students said. Plus, for children who are still growing, inexpensive 3-D-printed devices make more sense. "It's just not realistic for a child to be buying a new (high-tech) device that costs thousands of dollars every six months," Ramirez said.
The students are creating their designs on laptops, then fabricating the specialized parts on a 3-D printer in a backroom at Building C at Mountaintop.
Peisner explained that they will experiment with rubber bands and strings in their creations to help translate children's wrist movements into finger movements.
"We're assuming our patients have wrist movement," Peisner said. "While this might not affect all children with strokes because some might not have any wrist movement, it's really all we can do right now to assure that (the device) stays mechanical."
As they innovate and learn, they're optimistic they can make a difference.
Photos by Christa Neu
Story by Mary Ellen Alu
Posted on:
Wednesday, June 18, 2014