'A crisis situation'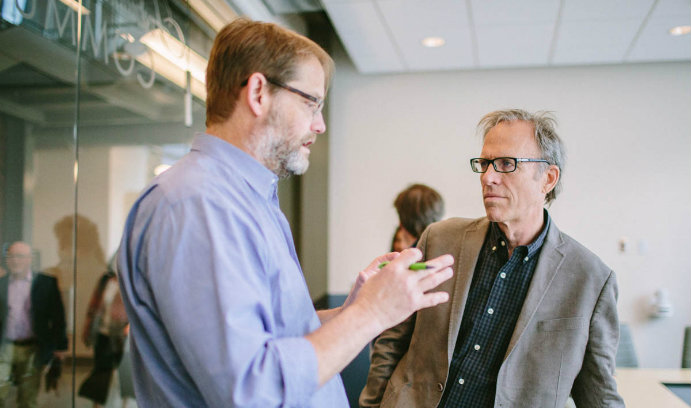 John Pettegrew, associate professor of history (left), speaks with documentary filmmaker Kirby Dick at PBS39 prior to the screening of Dick's film, The Hunting Ground.
Documentary filmmaker Kirby Dick doesn't pull any punches when addressing sexual assault on college campuses.
"We're in a crisis situation here," said Dick, following a screening of his film, The Hunting Ground, at Lehigh last week. "This should be at the top of the agenda for schools, and they shouldn't just be trying to slide by—which most are."
The Hunting Ground shares the stories of sexual assault survivors and the efforts of two women in particular to bring national attention to the problem and handling of sexual assault on college campuses. The film addresses survivors' experiences with administrators suppressing information about sexual assault in an effort to protect their schools' reputations.
Dick's previous film, The Invisible War, focused on rape in the U.S. military. When screening that film on college campuses, Dick noticed that follow-up discussions "very quickly would turn to conversations about rape on college campuses ... We knew it was a problem, but we just didn't know how it was bubbling underneath the surface."
As a result of those conversations, Dick and his producer, Amy Ziering, made The Hunting Ground.
"If you don't hear survivors' voices, then you don't really understand what's going on. I think that's one of the things that's so powerful about this film," said Dick in a question-and-answer segment following the screening.
The federal government's guidelines regarding sexual assault at colleges and universities "are really baseline," said Dick. "I think schools should be shooting way past that."
Dick acknowledged the important efforts of administrators, staff and faculty from schools nationwide who work with survivors and support institutional change. However, he said, "those people did not feel comfortable enough to come forward and talk about it on camera. That says something about the climate that exists. We couldn't get one person to talk about it."
The issue is complex, Dick said.
"If you don't understand from the survivors' point of view, [if] you're not speaking to them, hearing their stories, hearing why it's hard for them to report, you can't even begin to address it. So I think ignorance is part of it. We know that in many cases there are decisions made to suppress this information, to discourage reporting. We've seen that again and again."

Dick acknowledged the pressure that administrators experience from a variety of stakeholders: "They can't just wave a wand and change things ... The reality is you're dealing with institutions that have reacted almost exclusively all in the same way for a long, long time ... I don't think we can just assume that now they're going to go ahead and change. They might make small changes. But it's going to take pressure for any institution, not just for colleges and universities, to make change."
Noting the significance of a school's willingness to screen The Hunting Ground and participate in the conversation, Dick asked if there were any administrators in the audience.
"Wow!" he said in response to the large turnout of Lehigh administrators. "Give your school a hand."
"I'm very impressed," Dick continued later, explaining that other schools with much larger screenings had no administrator attendance. "I was shocked that I saw all those hands. So that's a really, really good sign ... The concern is definitely here. That's good to see."
Several Lehigh administrators contributed to the discussion.

"I'm willing to have that conversation," said Sharon Basso, associate vice provost and dean of students. "I think there are many people here in the audience today that are administrators and faculty members that would join in ... and continue to have that conversation."
Brooke DeSipio, director of the Office of Gender Violence Education and Support, explained her role: "To make sure that our survivors have a voice and an administrator to advocate for them and make sure they're at the table." DeSipio encouraged students to come to her for support as needed.
John Smeaton, vice provost for student affairs, encouraged students to speak up.
"If there's a student who feels that something is being suppressed, we want to know that," he said.
Members of the university counseling center, gender violence support advocates and gender violence prevention peer educators were present at the film screening. Community partners including representatives from Crime Victims Council and SAFE nurses from Lehigh Valley Hospital also attended.
The Lehigh screening and Q&A were sponsored by American Studies; the South Side Initiative; Visiting Lecture Series; Student Affairs; Residence Life; the Office of Graduate Life; Communication and Journalism; Women, Gender and Sexuality Studies; the department of political science; Dean of Students/Student Life; Gender Violence Education and Support; and the Women's Center.
To learn more about The Hunting Ground, view the film's official trailer or visit its website.
Photograph by Christa Neu
Posted on:
Thursday, April 30, 2015