Building geometric knowledge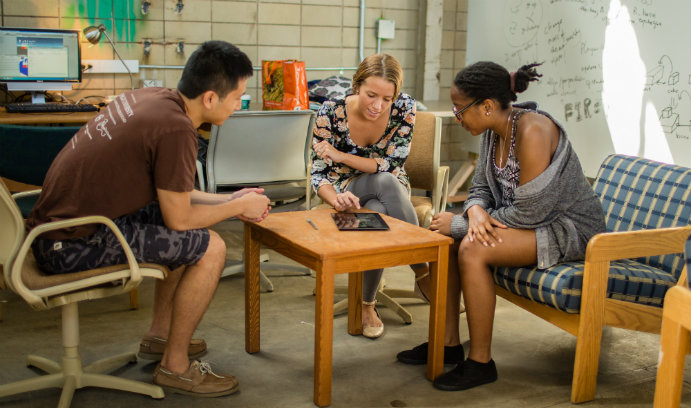 Luke Zhang '15, Brittany Kuder '14GR and Faye Sheppard '18 are working to develop an app that provides a meaningful and accessible block-building experience for children.
When young children are playing with blocks, they're doing more than building towers: they're developing mathematical skills and spatial sense. Incorporating geometric solids such as cones, cylinders and spheres can deepen the experience.
"We know a lot about kids' development in number sense but far less about kids' development of shape and geometry and spatial sense," says Robin Hojnoski, an associate professor of school psychology whose research focuses on mathematical development. "Three-dimensional shapes are really important, and how kids use shapes ... is really related to spatial sense: being able to have a design in mind and then mentally rotate to form that design and then make it happen. Those things are really important to overall spatial sense and spatial development, which are key skills related to STEM [science, technology, engineering and math] fields."
This summer, Brittany Kuder '14GR, Faye Sheppard '18, and Luke Zhang '15 are working with Hojnoski in an effort to expose more children to geometric solids. Their Mountaintop project aims to develop a meaningful and accessible block-building experience for children—without actual blocks.
'More than just cubes'
While considering different opportunities for students to explore geometric solids and perhaps even self-teach, Hojnoski noticed children swiping at apps on devices everywhere she went.
"What if we try to create one?" she wondered.
"We've been looking at block building this year in the Bethlehem Area School District preschools, and we started talking about developing a tablet application that would allow children to build with blocks," says Kuder, a doctoral student in school psychology. "We wanted ours to be data-driven and research-based. ... There are a few apps that offer building with more than just cubes, and a lot of them are based on fantasy worlds. We want one that's more explicitly educational."
"We want to look at how kids are actually using these blocks and what kinds of problems they encounter and how that happens on the computer," says Hojnoski. "That way kids can be building their spatial knowledge in ways that people use. Not everybody's going to go to [educational retailer] E.A.I. Education and buy geometric solids like pyramids, cylinders and cones. But they probably would download an app if there were one and be able to use these kinds of materials."
Under Hojnoski's mentorship, Kuder and Sheppard, a psychology and pre-med student, are spending time in local preschool and child care classrooms, observing children as they build with blocks and administering tasks related to spatial abilities and Panamath, which measures number sense. They're also looking at other developmental areas such as self-regulation and vocabulary.
"We basically want to see what child abilities relate to their geometric abilities, what they're doing with blocks [and] how complex their structures are," says Kuder.
The data they collect will help Zhang, a computer science major, to develop an app that will replicate a child's three-dimensional block-building experience on a tablet or mobile device.
A 'real-life' experience
Amidst the mid-June bustle of Building C-3 on the Mountaintop campus, Zhang places a tablet on a table. Kuder, Sheppard and Hojnoski gather around and watch as Zhang uses his fingertip to move several colorful shapes across the screen.
"It's still pretty rudimentary," says Zhang of this preliminary version of the app.
Hojnoski leans over to try it out herself.
"One of the challenges I see," she says, "[is that] the ball was sitting in a way that it would not be sitting in real life."
"Real life" is the key for this project.
When manipulating real blocks, children aren't able to change the size of a block to make it work for a structure; instead, they must select a different one or adjust the structure accordingly. The same would apply to the app, which should help students develop problem-solving skills.
"If they're trying to build a bridge and the two pieces are not close enough, but somehow—miraculously—the top still stays, well, that's still not going to assist them when they're really trying to build a structure," says Hojnoski.
Getting there is more challenging than it may seem. For Zhang, the project presents an opportunity to develop new skills while reinforcing existing ones.
"There are many exciting aspects to this work, from a cross-disciplinary perspective," says Michael Spear, assistant professor of computer science and engineering and consultant for the team. "Obviously this is not a cookie-cutter project, from a programming perspective. It involves mobile devices, 3D physics and multi-touch. But beyond the raw technical challenges, there's an exciting user experience/design aspect to the work. The program will ultimately be used by children who have not yet learned how to read. ... When the main user of a program is a young child, many of the standard approaches that we normally use just don't work anymore. You need to re-think the interface entirely."
Meanwhile, Kuder, Sheppard and Hojnoski are working to find more children to participate in their research and will continue to collect data throughout the summer.
'A perfect match'
The team hopes to eventually bring the completed app back out into the field to share with children, gather their feedback to improve the app and investigate the app's value in terms of other skills. Another possible outlet for sharing the app is the DaVinci Science Center in Allentown, where Hojnoski works with preschoolers on the development of shape knowledge as part of National Living Laboratory initiative, which is funded by the National Science Foundation (NSF). The Science Center is a perfect place to bring technology and basic learning together, says Hojnoski.
Ultimately, the team would like to learn what might be gained or lost by utilizing technology in this manner. They might also use the data they collect from the app itself to advance knowledge about child development.
The software Zhang is developing will "generate data about human behavior, which then needs to be analyzed," says Spear. "The program has the ability to make thousands of measurements per second, producing data at a granularity that allows completely new perspectives on how children learn. ... We will need to develop algorithms for aggregating and analyzing data, which is, again, a hard and exciting problem. But the more exciting aspect is how automated collection of fine-grained data has the potential to transform the research. Ultimately, we'll be able to answer behavioral questions that are too intrusive to measure otherwise. ... We can superimpose a hundred children's behaviors and identify common patterns."
"It is probably going to take a year to figure out what to do with these new abilities, but once we know what we want to do, we'll be able to go back to the data we've already collected, and mine it for new knowledge about how children learn," says Spear. "Everyone involved in the project is going to have to learn how to ask questions that they've never been able to ask before. And that, I think, is the most exciting part of the project. When we build computer systems that nobody has ever built before [and] that are designed through collaboration with domain experts, we can enable the domain experts to explore their fields at a finer granularity, with better reproducibility and at a greater scale. There's transformative research within the domain, and a chance to solve unique problems in computer science. It's a perfect match."
If this story interests you, please click here to learn about Lehigh's new Data X initiative, which focuses on strengthening Lehigh's research and teaching capacity in computer and data science across multiple disciplines.

Photos by Christa Neu
Posted on:
Friday, July 24, 2015