Bringing Special Education Expertise to Afghanistan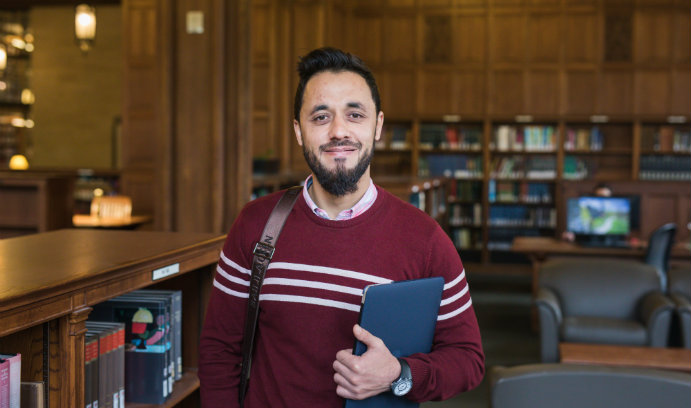 Sayed Kalimullah Abed, a Fulbright scholar from Afghanistan, hopes to improve special education in his home country.
When Sayed Kalimullah Abed was a child in Kabul, Afghanistan, a family in his neighborhood included several children with disabilities. Abed's typically developing peers told him not to talk to them, he says.
"'They have been cursed by God because they are not normal people,'" Abed recalls being told. He says he thought about that every day while passing the neighbors' house. "'What's going on with this house? Why are they cursed?'" he says he wondered.
Then, one day in school, Abed learned about chromosome disorders and Down syndrome.
"I was amazed," he says of the realization that the disabilities of his neighbors were unrelated to the deeds of their parents or other ancestors. "It was really interesting for me. I was reading about it a little bit, but we didn't have a lot of education about special education [in Afghanistan]."
Abed hopes to change that. As a Fulbright scholar pursuing a master's degree in special education, he intends to bring the expertise he acquires at Lehigh's College of Education back to his home country.
Many children with disabilities in Afghanistan need support, says Abed, "and in a poor country like Afghanistan, people are not able to just take care of their whole family financially… In Afghanistan, every day something is happening. Due to unstable conditions and a political climate where safety is never guaranteed, innocent people are getting killed. And within that situation, if you have a child with a disability, it makes it really hard, really challenging to live. And you have a lot of other things to deal with. That's your child. You love her/him. But you cannot do anything for her/him since there is no resource available. That's the biggest motivation that I have."
Learning from the World How to Help Children with Disabilities
Afghanistan, says Abed, has one government school for children with visual impairment and another for children with hearing impairment in Kabul. The country does not, however, have a school for children with intellectual disabilities or for those with autism; nor does it practice inclusion in traditional classrooms. Those children, he says, "are just at home" because teachers do not have the training needed to teach them effectively.
"I know special education is a really important field. I have chosen this for a reason and I have tried my best to just work hard in this field," Abed explains. "And for me, this is one way that I can serve my community … [In] special education, we believe that [children] can do everything. But as teachers we need to have the skills. We need to dedicate time to get them to the level that they will be able to compete with other students."
Abed began his quest by earning a bachelor's degree in special education from Kabul Education University, which established a special education department in 2005, shortly before Abed was accepted to the university. After completing his degree, he recognized the gravity of the situation. He noticed the high levels of need among individuals with disabilities but was frustrated and disappointed by the lack of resources available to support such communities, particularly those who are visually impaired. Thus, in 2011, he accepted a position as an assistant professor at his alma mater to train the next generation of teachers dedicated to transforming the lives of children with disabilities. "Our university is the first and only governmental institution that is working on training teachers for children with disabilities," he says.
Recognizing that the university setting was only one sphere of influence, Abed partnered with a colleague from Kabul Education University to develop a non-governmental organization, Education for All. Despite not receiving any external public or private funding, Abed and his colleague were passionate about starting this initiative as they recognized the need to have an NGO dedicated to training volunteers and teachers working with visually impaired children using rigorous evidence-based curriculum.
In order to develop additional skills in service of building professional capacity, Abed participated in several trainings and workshops in other countries, including Japan, Jordan and the United Arab Emirates. He participated in a two-year action research project at German-Jordanian University to enhance his competency in working with children with visual impairment through cutting-edge research-based interventions. In addition, through a State Department-funded program, the Afghan Junior Faculty Development Program (AJFDP), Abed spent three months at Purdue University in Indiana and visited various educational institutions in the U.S., such as Virginia Tech, and local schools throughout the Midwest to learn about the special education system in the United States.
Abed wanted to learn more and was thrilled when he was accepted as a Fulbright Scholar as a master's student in special education.
"In the United States, the special education system is really improved," he says. "Everything is practice-based here, and at Lehigh we learn about different categories of [disabilities]. [We have] never heard of them in Afghanistan or in other countries… All this research that people are doing here, I hope that we could find a way to distribute it for our people. It's so helpful."
Dedicated to Improving Children's Lives
The Fulbright scholarship has propelled Abed even further on his mission, but being away from home and loved ones isn't without its challenges. Abed worries about his friends and family in Afghanistan, uncertain of their safety. A visit home last summer served as a reminder of the dangers they face every day.
"During my time there in Kabul, my city, three suicide attacks happened," he says. "And beside my university, five rockets landed. … It's hard. [When I'm in the U.S.], I just don't open my Facebook in the morning because that's the time I get news. I am so scared … I cannot do something for them. When I'm here, I feel so helpless."
Abed says the worry makes it difficult for him to concentrate at times, but his passion for special education is what pushes him forward.
"I am here because I want to bring change and do something. That's the source of motivation," he says. "Even if I cannot make a big difference, knowing that I have made an impact in one child's life will be enough."
Upon receiving his Lehigh degree in May 2019, Abed says, he will be the first person in Afghanistan to have received a master's degree in special education from the United States. If he continues on to earn a doctorate, he will be the first in his home country with a Ph.D. in special education.
"I feel like because of what I have learned, a big change within myself is [attributed to] my experiences at Lehigh," he says. "This is the place where I learned about the potential within the field of special education field. It's open now."
Photo by Christa Neu
Posted on:
Tuesday, November 06, 2018