Better buildings for Senegal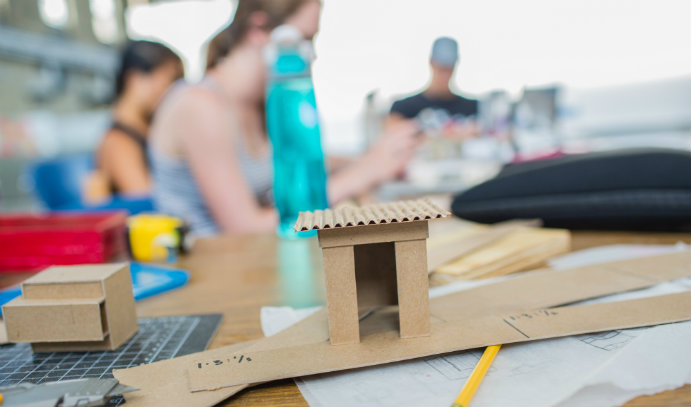 Students on the Design/Build Senegal Mountaintop team will build a 2-by-2-meter model of a typical Senegalese living space to use as a control for their project.
In the coming weeks, Chris Guilcapi '18, Hannah Han '15, Abby Winter '15, Ellie Hayden '17, Eli Hess '17, Sydney Kam '15 and Peter Kostakos '16 will construct a 2-by-2-meter home of concrete blocks and corrugated steel on Lehigh's Mountaintop Campus. The students will use this small building, a model of a typical Senegalese living space, as a control for their Mountaintop project, which aims to improve the building components of West African homes.
Team members spent their first two weeks on Mountaintop researching and brainstorming, choosing focus areas and assigning tasks. They began testing different ratios of cement to sand to water to develop just the right building blocks. However, in this case, modern technology is not at their disposal. They will not take advantage of the cement mixer offered by another team; nor will they purchase a just-add-water cement mix from Lowe's. They are mixing their cement by hand: an "authentic Senegalese experience," as Hayden writes on the project's blog. The physical, messy work of this project just beginning.
"The ultimate goal is looking at replicating the [building] process, understanding the process, but then also being able to do the research that the [Senegalese] builders don't have the time or the capacity to do," says mentor Susan Kart, assistant professor of art history and Africana studies.
That research includes finding ways to improve ventilation within a building while preventing malaria-bearing mosquitoes from entering.
The control building will sit outside the former Bethlehem Steel research bays that now serve as home to the Mountaintop project, baking in the sun as it would in Senegal. Students, in the meantime, will learn even more about design and construction through research, professional mentorship and trial and error; develop a deeper understanding of Senegalese culture through a visit to the Senegalese community in New York City; and, hopefully, come up with unique and viable solutions for Senegalese builders.
'Instead of designing the building, we're designing the parts'
Kart, whose research focuses on contemporary and emerging artists in Senegal, is very familiar with the country and its culture.
"I've always wanted to do something that engaged over the long term, trying to find ways that American students can connect with Senegalese individuals, societies, cultures, communities in order to have a truly global participatory experience," she says. "So not just go and be a tourist, not just go and be an aid worker, but go and actually have a professional and profound engagement."
Kart has taken several groups of students to the West African nation since her arrival at Lehigh in 2013. A year ago, she brought along fellow Mountaintop mentor Brent Stringfellow, an architect and adjunct professor of architecture who also happens to be her spouse. Stringfellow observed Senegal with the eyes of an architect.
Much of the construction he saw in Senegal, Stringfellow says, was ill-suited to the primary environmental conditions there. Those conditions-- blistering heat and dangerous mosquitoes—are inadequately addressed by many Senegalese homes, which often lack window screens and have poor ventilation.
"I started thinking [that] part of the problem was the materials they were building with, the basic components of construction," Stringfellow says. "We started to kick around the idea of what if instead of designing the building, we're designing the parts?"
'A sustainable, holistic endeavor'
With the early seeds for the Design/Build Senegal project planted, Kart and Stringfellow accompanied a group of students, including Guilcapi and Hayden, on a weeklong research trip to Senegal over spring break. The group visited, took photos and documented observations of different types of residential housing in both urban and rural settings.
The team believes that improving basic construction components—windows, roofs, building blocks—can help address the problems of heat, ventilation and insects that plague so many in Senegal.
"After seeing the potential that this project could do, I decided to go ahead and try something out here [at Mountaintop]," says Guilcapi.
"I got inspired," says Hayden. "I wanted to come back and work on it this summer as well."
At Mountaintop, the team has the time, resources and freedom to explore and test new and innovative solutions, comparing the results of smaller scale models with those of the control building. They can afford to make mistakes, whereas Senegalese builders cannot.
"[Students] can do the research and development and hand it over to a builder who can say yes or no... [Builders can] take advantage of this team's research capacity [and] professional educational experiences. We're hoping it's a win-win all the way around: a sustainable, holistic endeavor," says Kart.
Passing the "ick" test
Another big challenge is making the improvements attractive to Senegalese people.
"It's sort of a combination of looking at what they already have and seeing what we can do to change those elements," says Kostakos, "and also adding what we can that we think is feasible for them and not too far-fetched, something that the culture is going to welcome."
Kart and Stringfellow's 22-year-old-son Meissa, whom they adopted from Senegal, will provide what they call their "ick" test: as in "Ick, I wouldn't live in that."
"The ideal goal would be that we come up with something that's culturally acceptable enough and easy enough and cost-effective enough that it creates an internal demand," says mentor Mark Orrs, director of the sustainable development program at Lehigh and professor of practice in political science. "We understand that in terms of culture you don't really mess with food and you don't really mess with housing. ... So the idea of using what they're already doing and trying to make minor modifications that have really big impacts, I think, is somewhat unique to this approach."
By the end of the summer, this Mountaintop team hopes to design a solution that can lead to better buildings for Senegal. If they do, a group will visit Senegal to field test that tool or technique and later return for another summer of research and development at Mountaintop. Eventually, Design/Build Senegal students might partner with Senegalese builders and participate in a larger project there, such as a school or community center.
"The idea is that it's kind of a cumulative kind of project where the steps build into the next phases," says Stringfellow. "We don't know where it will end up, but the rule is not to have it end."
Photos by Christa Neu
Posted on:
Monday, June 15, 2015