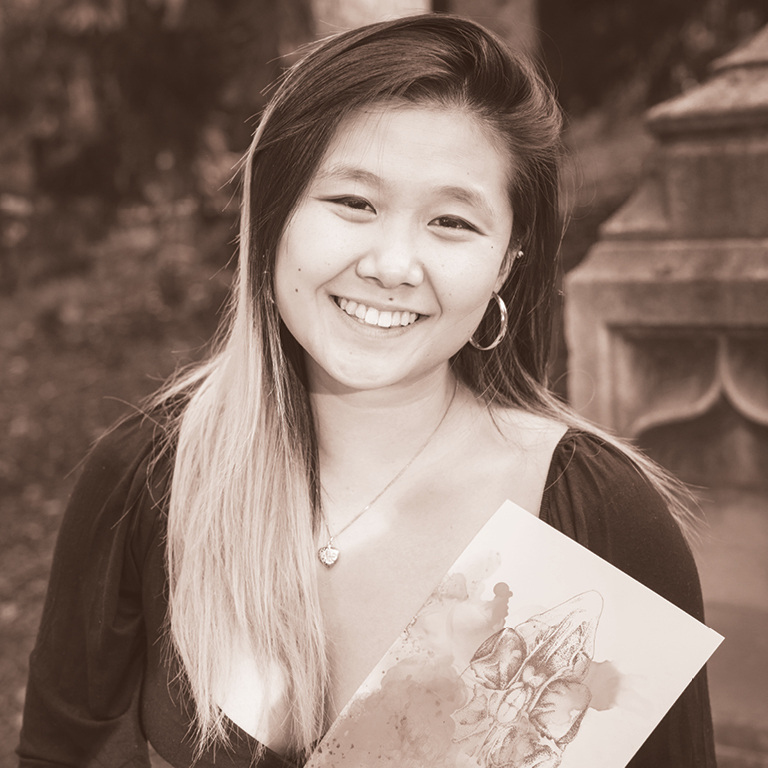 Viola Yu '21
B.S. Art, Architecture & Design
Can you tell us about the unique fellowship opportunity you had this summer?
[Fellow graduate student Sarrah Hussain and I] worked with a professor in neuroscience, Jennifer Swann, and one in the fine arts department, Deirdre Murphy, on creating medical illustrations for Professor Swann's open-source textbook [about the human brain]. We also created fine art pieces for a virtual show. It was a real mix of both science and art because knowing the science you couldn't make the illustrations. Knowing only the arts, we couldn't make any of the illustrations either. So we had to know both. And it was really interesting because one day, you might be doing something more artistic with Professor Murphy. And then the next day, you're learning about the inner workings of the brain. And then you'll get inspired to illustrate how to explain those mechanisms to other people who might not have that knowledge.
You have said that this opportunity may not have been possible if not for COVID, correct?
Before [COVID] you had a job, you had classes, you had other things going on—that's all gone. So this internship, which we could do on Zoom, became almost our one thing this summer that we could do. And everyone felt they could put 110% into this internship. This has been everything to me. This gave me purpose—to have to wake up and do something with my day when you feel like so many terrible things are going on in the world. But this gave me a sense of, you know, I can feel productive. I am doing something.
This fellowship also allowed you to make some strong new connections, including with people outside the Lehigh community.
We basically get to connect with people we might not have ever met at Lehigh—I probably would never have met Professor Swann. And with all the visiting artists in Philadelphia [that we met with] I don't know if they could even have had the time if not for COVID to come all the way up here in person and meet us. So it's great that we could meet all these people and get all the critiques and insights that they have.
This also helped you kind of figure out what you want to do in the future, too.
This was kind of like a test run for if we want to become medical illustrators once we finish our bachelor's program. For the first time, I felt like a working artist. Like, 'Hey, I have these assignments, I have a client, and they have to be satisfied with the work. You have to change it. They don't like it.' And it was great because I felt like we had to self-regulate your time—time management was really big. Like if you wanted to go out with your family for a hike you had to make sure to come back and make sure you have these assignments done. Because it doesn't stop for you.
Do you have any advice for your peers as we continue to navigate this pandemic?
I would say: Be prepared. Be prepared for everything and anything. Obviously no one really saw COVID coming. But the ability to adapt—I think that's very, very, very important and to not be set on things that can change at any moment. But obviously, look for opportunities, like the little silver lining in the terrible time. It's always what keeps you going.